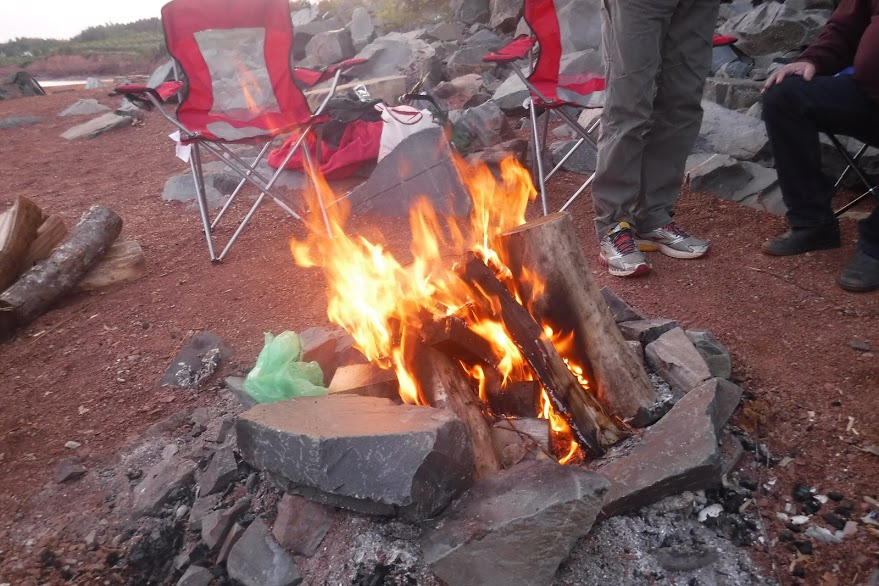 15 Great Beaches in Nova Scotia
Sit back….Close yours  eyes and think about the last time you stretched out on your beach towel and soaked in glorious sunny rays of sun…where was that, exactly?
Maybe you're recalling a vacation in the Dominican or Cuba or even Hawaii-lucky dog. But before you jump on Expedia to book a tropical getaway, think about trying out of few of our great beaches right here in Nova Scotia.
Now, I am not suggesting that February or March  is the best time for sunbathing in Nova Scotia. For that, you'd better head south. But for the sweet summertime, here are 15 beaches you should check off your beach bucket list.
*Warning-These might not be the most popular beaches, but they are among my favorites.
South Shore 
1. Queensland Beach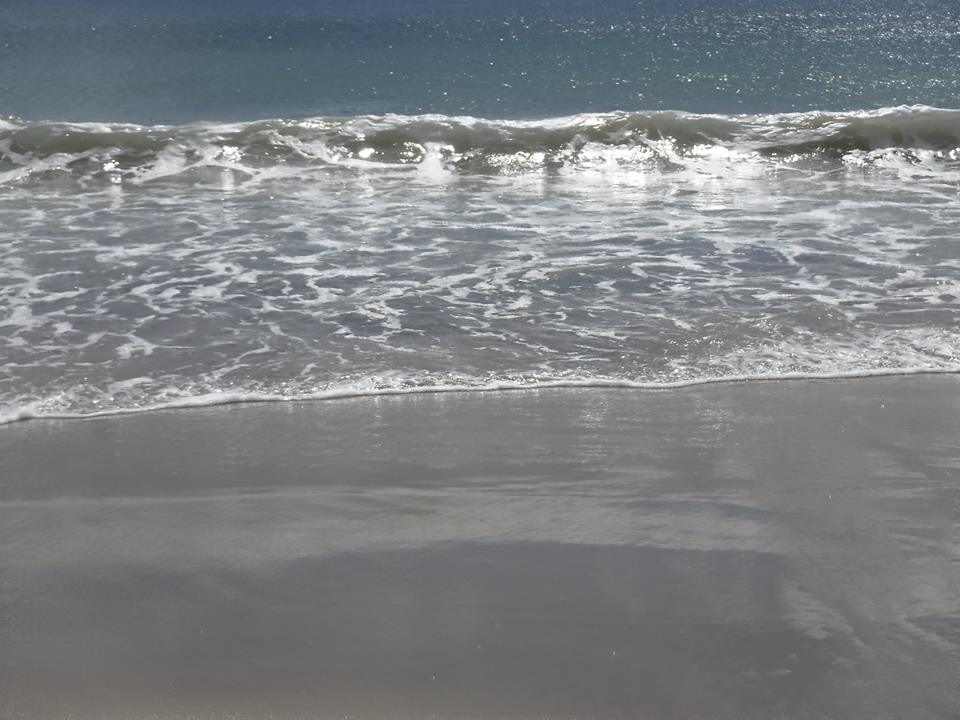 Ever popular year round, and extremely busy on summer weekends, this beach is off Highway 3  just  a couple km east of Hubbards. This is an annual excursion for me at least once.
Parking -Not enough.Be prepared to park along a busy rural highway.
Amenities– Change rooms and outdoor toilets
Lifeguards-yes, July & August.
Best For: Swimming and sunbathing
Pets: Yes, on leash and must clean up doggie messes
Provincial Park: Yes
Civic Address – 9600 Highway 3,Queensland, NS
What You Need To Know About Queensland Beach
Conrad Road, which rims the beach, was heavily damaged by a winter storm in January, but both the beach and the parking lot are scheduled to be open by Canada Day weekend.
Queensland is also a provincial park but there's no picnic tables or even as much as a restaurant nearby.I recommend you head west into Chester and grab a bite at the Foc'scle. The burgers are tremendous. If you feel alike cruise, hop on the  William G. Ernst for the trip across to Tancook. @ $7 round trip it's the best bargain you'll get all summer. Ferry schedule is here. The Ernst takes usually only bicycles  passengers and freight-you'll need to find a place to park in Chester.Good luck with that. Also of note- Graves Island Park is once again hosting the Annual Mackerel Snappers Picnic on July 14th this year-$12 gets you grilled mackerel, potatoes,cukes in cream, tea or coffee and pie.
2. Rissers Beach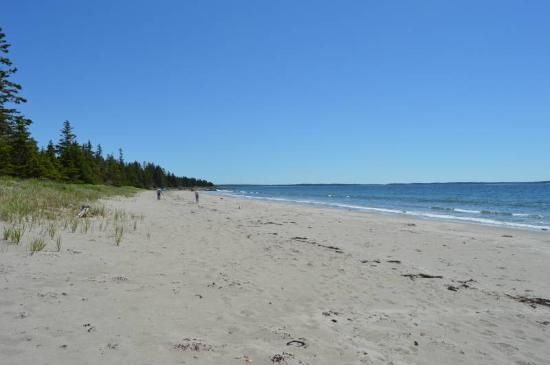 This km long stretch of white heaven is a vacation mecca for families and groups with its  wooded and open camping facilities , canteen and various activities that can be enjoyed at this provincial park.
Parking – yes, lots
Amenities- Change rooms with showers, toilets, canteen, camping, picnic area, boardwalk
Lifeguards-yes, July & August.
Pets: Yes, on leash and must clean up doggie messes
Provincial Park: Yes
Best For: Swimming and sunbathing,beach walking, kayaking, snorkeling,
Civic Address: 5463 Highway #331, Petite Rivière
What You Need to Know About Rissers Beach
Rissers is a very clean, safe beach with no drop offs. The dune system is delicate so please keep to the boardwalks. The spot is beloved by people who camp here and return year after year. Bridgewater is about 25 km away and just west of Bridgewater is a diner right off hwy #103 called the Blarney Stone. Good eats,especially the fish and chips-and lots of it. Bridgewater also hosts a guided cemetery tour from June 23rd,  to September 17th, 2018
 3. Summerville Beach
This is a beautiful beach, about a km long of white sand, cold water-as in leg numbingly cold. It's rimmed by a salt marsh  and sand dunes.
The sand dunes are breeding and nesting places for the endangered Piping Plover-please keep your pup on a leash and keep to designated paths to avoid disturbing them from May to August.
Parking – Adequate
Amenities– Change rooms,outdoor toilets and roofed picnic tables.
Accessible-Yes
Lifeguards-No
Best For: Swimming, sunbathing, beach walking
Pets: Yes, on leash and must clean up doggie messes
Provincial Park: Yes
Civic Address: 7533 Highway 3, 

Summerville,
What You Need To Know About Summerville Beach
There is no shade of any kind of this beach.Prepare accordingly. If you get hungry and haven't packed  a lunch, you could wander over to the Quarterdeck Beachside Villas & Grill or to Seascape Restaurant which has great fish and chips. Liverpool is about 15 minutes away.This year, the annual Hank Snow Tribute runs from August 16-18th 2018.If you like that sort of thing.
4. Kejimkujik Seaside Adjunct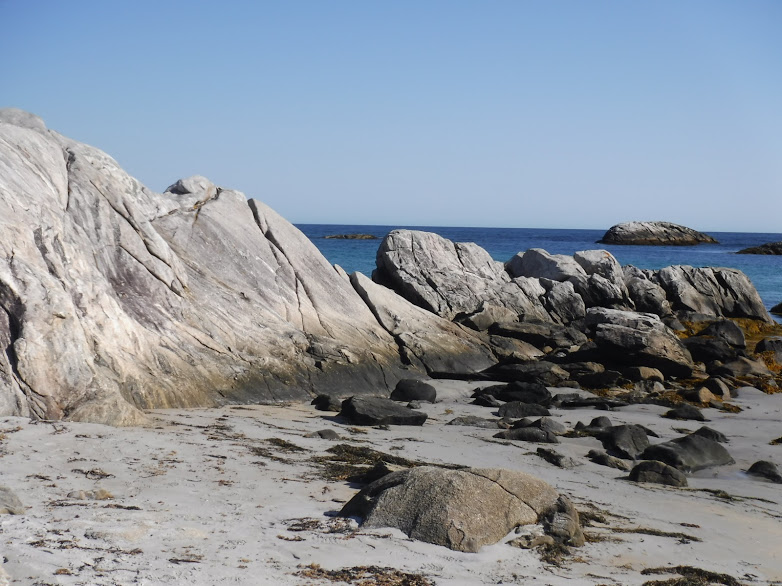 This protected and important area boasts two lovely little sand beaches, a few kms of  round rock beach and myriad birds and plants,including the Piping Plover . Grey seals often can be seen basking on the rocks just out of reach offshore. An 8 km hiking trail rims the adjunct. This park is part of the Kejimkujik National Park system.Entrance to the Adjunct is free.
Parking – Adequate at trail head- a 2.5 hike to the beach.
Amenities– Washrooms at trailhead, porta potties near the beach, benches
Accessible-Part of the trail is-but not as far as the beach
Lifeguards-No
Best For:  sunbathing, beach walking, hiking.Swimming is not recommended due to the currents
Pets: Yes, on leash and must clean up doggie messes
Provincial Park: No, but part of Kejimkujik National Park
.Civic Address:1188 St Catherines River Rd, Port Joli, NS B0T 1S0
What You Need to Know About the Adjunct:
Good footwear is important if you decide to do the entire trail. A walking stick can help you keep your balance over the rocky parts. This spot is about 30 km from Liverpool, or you may prefer to drive 35 km west and stroll around the pretty little town of Shelburne. The boardwalk is nice and you can get your picture taken in one of those humongous lawn chairs.:) Shelburne celebrates in Whirlygig and Weathervane September 16-17 2018.
 Annapolis Valley
5. Houston Beach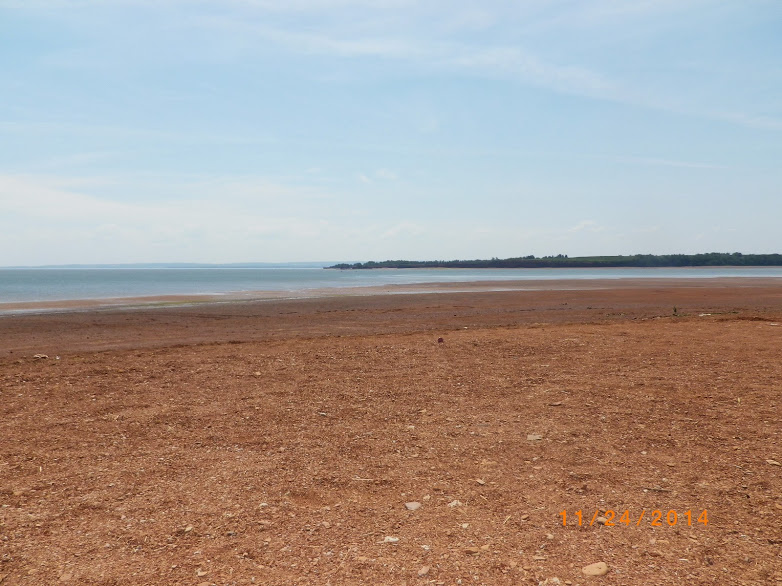 This tidal beach is found just below Blomidon Provincial Park, but it's not part of the provincial park system. You can almost walk to the beach during low tide at the Blomindon picnic area, if not for the little channel that cuts inland between the two. Take care not to stroll too close to the eroding cliff race, it's constantly wearing away. And please don't wander way down the beach as the tide is coming in.
Bonus-It's always a lot cooler here than it is down in the valley.
Parking – At the beach head-above the high tide mark
Amenities– Nada
Accessible-No, but you are really close to the beach at the parking area
Lifeguards-No
Best For:  sunbathing, beach walking, swimming when the tide is high enough. Bonfires. (check for burn restrictions-we had a visit from Dept of Lands and Forests one evening when we forgot a burn restriction was on)
Pets: Yes, leashed
Provincial Park: No
Civic Address: Stewart Mountain Rd, Canning, NS B0P 1H0. Head up towards Blomidon Provincial Park( highway 221)and when you come to Stewart Mountain Rd, turn right.
What You Need to Know About Houston Beach
This beach is pretty quiet,Occasionally you'l have some kids having a good time with a campfire or even a camp out-obviously they are aware of the tide. Those times, (Cape Blomidon) are here.
If you turn left on the 221 at Stewart Mountain Road, (dirt rd) and then turn left again, you will come to the Look Off, one of the prettiest views in the Valley. There is a small cafe there where you can grab an ice cream.There is a public outhouse at the Look Off-but the last time I wanted to make use of it..well, let's just say I didn't. Might be better now-who knows? A half hour away is Wolfville, home of Acadia University .Wolfville has some unique shops.The Deep Roots Festival goes from September 27030 2018.
6. Aylesford Lake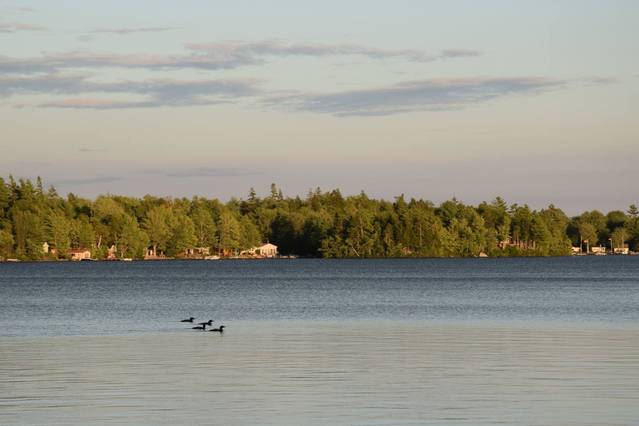 Did anyone say all the beaches needed to be on saltwater?? I think not.
This Provincial Park beach, as you may have inferred from the title is on a lake, and is the winner of the Bluenose Achievement Award 
It's a natural, freshwater medium size white-ish sand beach with lots to  keep kids busy all day.
.Parking -Adequate
Amenities– boardwalk,  picnic tables, canteen, change houses, washrooms, trail.
Accessible-A little on the boardwalk.
Lifeguards-Yes, when beach is open, which  mid June to Labour Day
Best For: Swimming Sunbathing, kayaking, walking, fishing
Pets: Not at any time
Provincial Park: No
Civic Address:580 North River Rd Aylesford, NS
What You Need to Know About Aylesford Lake
There is a strict no alcohol, no pets,no open fires here.  It can be windy so no floatation devices except PDF's are allowed.There is a public boat launch, but it has a teeny parking lot. As with most lakes, there are many cottages located nearby. The closest town with a good sized grocery store is Berwick, which is 25 kms away. if you are heading to Berwick, you may want to grab a bite at Jonny's Cookhouse, a favorite with the locals. The 15th Annual Fox Mountain Country Music Festival will be held August 2-5, 2018. This is a scant 15 minutes away on 6128 Aylesford Rd.
7. Margaretsville Beach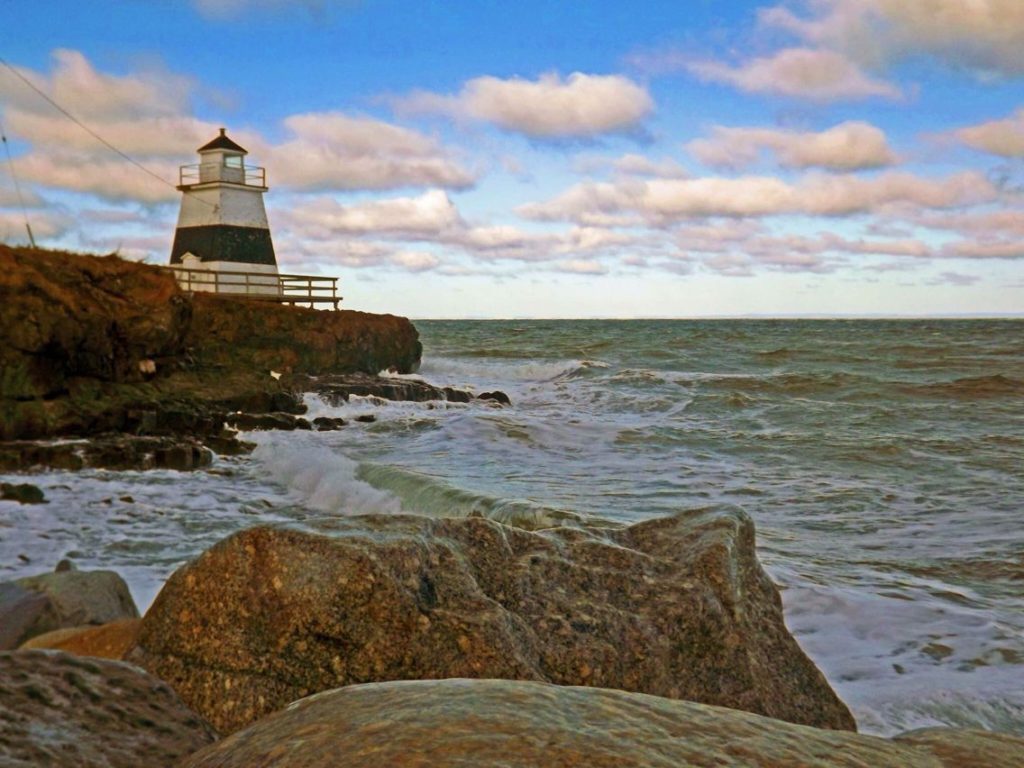 There's a little lighthouse, a thriving artisan community and it's a working fishing village.There's a popular theatre in Margaretsville,The Evergreen, located in an old church, serving up live entertainment to locals and visitors.
You pick your way along the beach ( big roll-y rocks, good shoes ,please)or walk the wharf both are enjoyable- but take care, part of the wharf is off limits due to the ravages of storms and time
Parking -Adequate
Amenities– None
Accessible-No
Lifeguards-No
Pets: Yes, leashed.Please clean up after them
Provincial Park: No
Best For: Walking(take care, there are big roll-y rocks) bonfires, beach combing. I don't recommend swimming or boating due to currents
Civic Address: 8 Lighthouse Rd, Margaretsville, NS
What You Need to Know About Margaretsville
Well first the tides. Please restrict your beachcombing and long, romantic walks to no later than 3 hours before high tide.
This is beach is about 60 kms from the world famous Hall's Harbour, which is exactly why I'm listing it. Want succulent lobster or a bowl of steaming chowder-go to Hall's Harbour. Want a  quiet and peaceful beach stroll-go to Margaretsville-it's not nearly as busy. The weekend of July 20-21st is Heart of the Valley Festival in Middleton, which 15 minutes away.
8.Blue Beach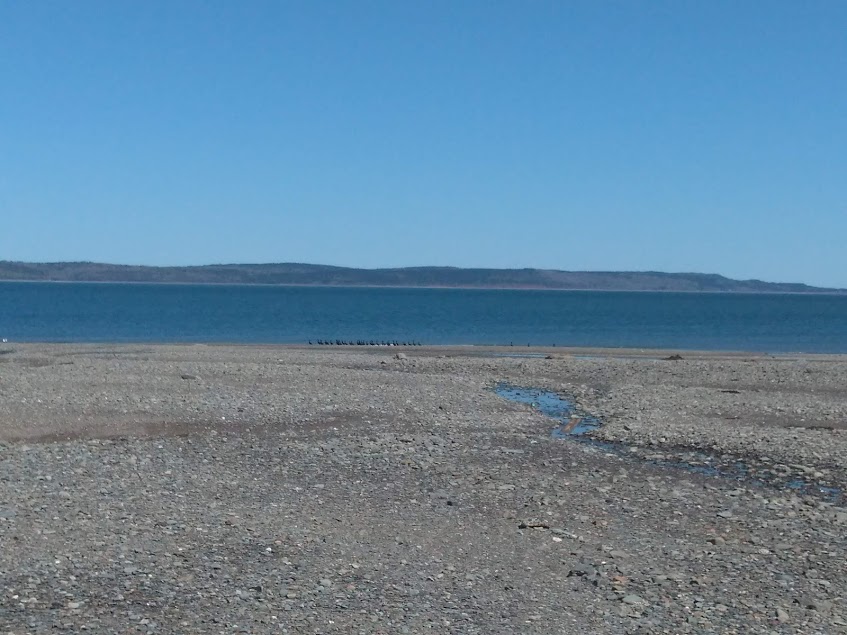 I grew up on this shale beach (hence the name Blue) Learning to swim here is great, if you don't mind salty,cold, brown water or picking shale off your wets legs forever. Today Blue beach is pretty famous for the discovery of rare and important fossils,and fisherfolk eager to snag a striped bass. I was down there just the other day and was it bus-eee. Fossils hunters, walkers, fishermen and swimmers all out to enjoy the day.
Parking -None. In fact you need to park at the train bridge and walk to the beach.About 5 minutes with a  short but steep slope at the very end
Amenities– None
Accessible-No
Lifeguards-No
Best For: Walking,fishing bonfires (remembering you need to carry all your supplies down to the beach), beach combing, fossil hunting, swimming.
Pets: Yes, please clean up after them
Provincial Park: No
Civic Address: 127 Blue Beach Rd, Hantsport, will take you to the train bridge and Blue Beach Fossil Museum
What You Need to Know About Blue Beach
Be aware of the tides, and don't wander to close underneath the cliffs (falling rocks).The tide is constantly changing the beach so a fossil could show up anytime. Fossils are the property of the Province of Nova Scotia.If you find a unique one, haul it up to the museum to have it identified if you like.
Chris Manskey is the head fossil finder and guy – in – the – know at the museum, stop in and learn all about the rare discoveries made at Blue Beach. Hantsport-5 minutes away, hosts the annual Hantsport Music Fest which is July 21st this year.
Northumberland Shore 
9. Melmerby Beach Provincial Park
This photo of Nova Scotia is courtesy of TripAdvisor
This beach is great for the whole family, with very warm water and lots of room-no squeezing your beach towel next to someone you don't know.  Great for strolling or beach combing-it's over 2 km of white sand.
Parking -Yes, lots.
Amenities– changing rooms flush toilets,  outside  rinse showers, picnic tables, boat launch.
Accessible:  Boardwalks provide some accessibility.
Lifeguards: Yes
Best For: swimming, sunbathing, beach combing, birding, kayaking, sand castle building and  supposedly clam digging.
Pets: On leash, must clean up doggie messes
Provincial Park: Yes
Civic Address: 6380 Little Harbour Road, Melmerby Beach
What You Need to Know About Melmerby Beach
Water shoes might be good – little round rocks will dig into your feet when you are in the water.Pack a lunch-there are no canteens or restaurants near this beach.If you don't want to pack a lunch-you are only 20 minutes away from New Glasgow where you will find a plethora of eating establishments. The Museum of Industry, while sounding boring, is actually pretty interesting with plenty of hands-on exhibits and it's only about 20 km from the beach. The New Glasgow Music Jamboree is August 3-5 2018
10. Pomquet Provincial Park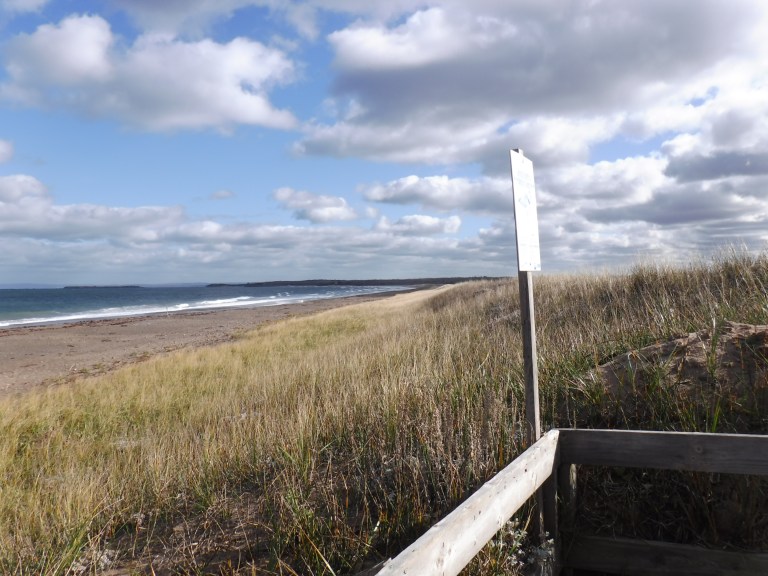 I discovered this little gem last November. There are boardwalks everywhere, protecting the dunes and the plant life and allowing a gentle stroll that's accessible to all-you don't get that everywhere. It's also helps protect the important Piping Plover nesting grounds. Lots of sandy spots amidst some rockier areas on this 3 km beach.
Parking -Yes.
Amenities– Picnic tables, pit toilets,
Accessible-Yes
Lifeguards-Yes
Best For: Walking,beach combing, swimming.
Pets: On leash, must clean up doggie messes
Provincial Park: Yes
Civic Address: 432 Pomquet Beach Road, Pomquet
What You Need to Know About Pomquet Provincial Park
There is a tea room near the park-Chez Deslauriers, which offers a selection of Acadian lunches on Fridays during July and August .There is also an interpretive centre on site, relating the history of Pomquet from the Mi'kmaq  to the  Acadian inhabitants.In nearby Antigonish,(about a half hour drive) you can catch a Scottish Ceilidh every Wednesday starting at 6 pm at Piper's Pub.
Halifax Regional Municipality
11. Crystal Crescent Beach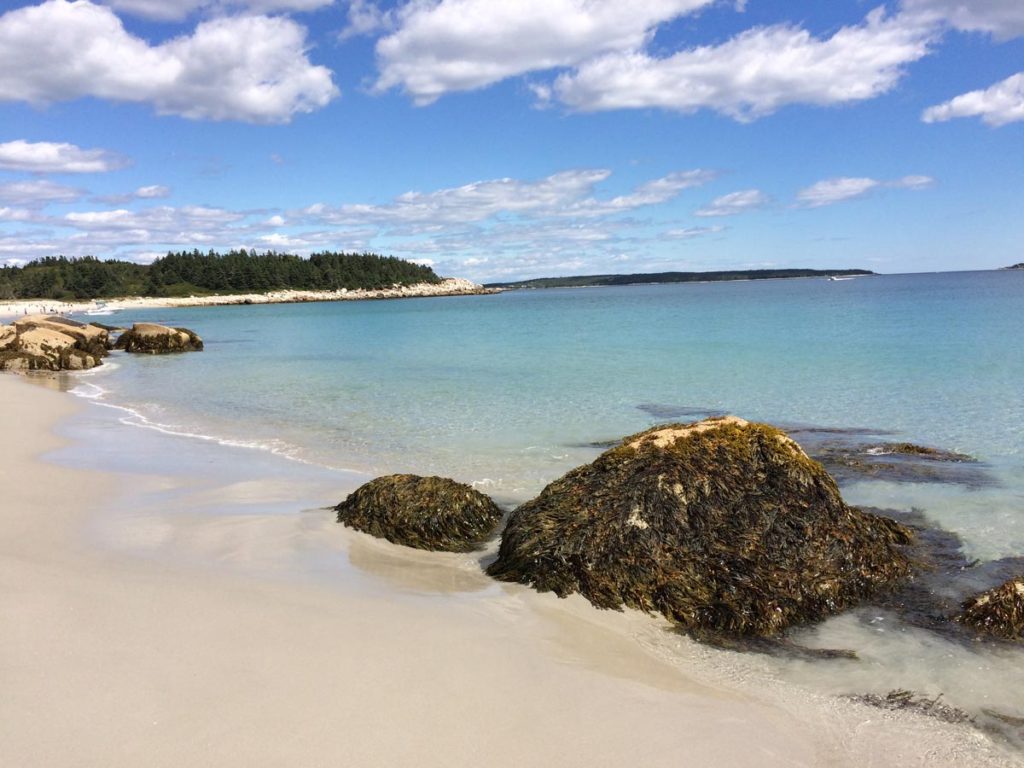 One of Halifax most popular white sand  beaches and usually packed in the summer. There is a 11 km hiking trail  (Pennant Point ) that begins at the beach parking lot and loops back around to the beach and although I have not yet done it, I hear it's not for the faint of  heart.Some of it is hard to follow and some is rough, wet and or rocky.The first bit of the trail, however,is well used and easy to follow.
Parking -Yes, but at times, inadequate. .
Amenities-Toilets
Accessible: No
Lifeguards: No
Best For: swimming, sunbathing, beach combing, birding, hiking
Pets: On leash, must clean up doggie messes
Provincial Park: Yes
Civic Address: 223 Sambro  Creek Road, Sambro
What You Need to Know About Crystal Crescent Beach
The Pennant Point Trail passes by a clothing-optional beach.
There is no canteen but this beach is only about a 35 minute drive to downtown Halifax.
Closer by (10 km ) is the S.S. Atlantic Heritage Park where there is a small museum dedicated to the victims of a  the SS Atlantic immigrant ship ship wreck. Snacks and drinks are available for purchase. There's certainly lots to do if you take the 30 km drive into the city of Halifax, but one thing you may want to put on your list is the Halifax Seaport Beer Fest, August 10-11th 2018.
12. Conrad's  Beach
This photo of Conrad's Beach is courtesy of TripAdvisor
This little beach is very close to the surfing capital of Nova Scotia.(Lawrencetown Beach) Conrad's is certainly safer and more family friendly than Lawrencetown.
It doesn't have the dangerous rip tides and currents and it's  a great 1.3 km sandy beach and only 25  minutes away from Halifax.
Parking – VERY limited.. .
Amenities-None
Accessible: No
Lifeguards: No
Best For: swimming,sunbathing,kite surfing, paddle boarding, bird watching
Pets: Yes, must clean up doggie messes
Provincial Park: No
Civic Address:Conrad Road, Lawrencetown, NS
What You Need to Know About Conrad's  Beach
Pack a lunch as there is no canteen. You are only 15 km from the Cole Harbour Farm Heritage Museum and walking/hiking at the Cole Harbour Heritage Park and the Salt Marsh Trail. Even closer, it's only 5 km to the Atlantic View Trail. As well, a mere 10 km away you'll find Black Cultural Centre for Nova Scotia and Acadian House Museum if you feel like getting out of the sun for a bit.Heron's Nest Tea Room is 6 km and is supposed to have great chowder and a great view after your fresh air filled day.
Conrad's Beach is tucked in near the more popular Lawrencetown and Rainbow Haven beaches-and it's a favorite hideaway for locals. This is again a nesting spot for Piping Plovers, and there are signs to  asking you to please do not disturb.The parking is really the pits so be aware of this. But if you can grab a spot, the beach more than makes up for the hassle. Conrad's Beach is a half hour drive from pretty Fisherman's Cove and this year the Tallahassee Days Pirate Festival 2018 in the Cove is scheduled for August 16-19th 
Cape Breton Regional Municipality
13. Inverness Beach

This photo of Inverness Beach Boardwalk is courtesy of TripAdvisor
This is a family friendly(shallow water)  sandy beach only a stone's throw away from the famous Cabot Links Golf course. The water is warm (for Nova Scotia) and it's a beauty of a spot to spend the day.
Parking – Lots
Amenities– a canteen, a change room, washroom
Accessible: Yes, boardwalk and soon right into the water
Best For: swimming,sunbathing,beach combing,walking, bird watching.
Pets: No
Provincial Park: No
Civic Address:158 Beach No. 1 Road, Inverness.
What You Need to Know about Inverness Beach
The roughly 2 km long  boardwalk runs between downtown Inverness and the beach.The boardwalk over looks the beach,above the protected sand dunes and  has a wonderful view of the Cabot Links Golf course which runs right next to the boardwalk. Sea glass is often found here. If you travel in October, you will see gorgeous falls colors around the Cabot Trail,but you'll also be able to enjoy some of the fabulously famous Celtic Color Festival which stretches island wide and runs from October 5-13th 2018.
14. Ingonish Beach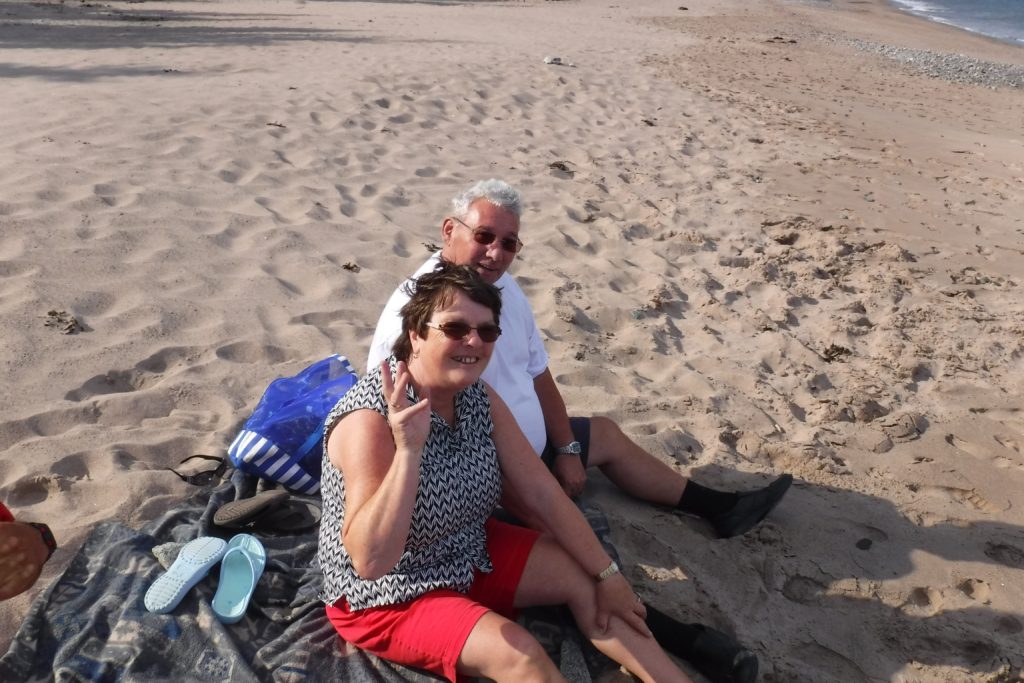 Found this lovely little almost-deserted beach in September of 2017. While the water was cold(as are almost all the beaches in Nova Scotia, especially in September) the  3 km beach itself was clean and sandy. It's right on the Cabot Trail and we could see Keltic Lodge across the bay.
Parking – Adequate
Amenities-Picnic tables, pit toilets, change rooms, playground, canteen
Accessible: No
Lifeguards: Yes, July and August 10-6pm
Best For: swimming,sunbathing,beach combing
Pets: Not in supervised areas
Provincial Park: No
Civic Address: 90 Beach Road, Ingonish Beach Cape Breton Highlands
What You Need to Know About Ingonish Beach
From the parking lot,you have to walk over a stretch of loose rock to get to the sand and in bare feet  this is not fun. The beach is small, sandy but with rocks too. There is a canteen on the beach, but if for some reason it happens to be closed, there are several restaurants with 5 km.  Stomp on down to  Baddeck,  for the Festival of Cape Breton Fiddling, August 18-19 2018.
 Eastern Shore
15. Clam Harbour Beach

This photo of Clam Harbour Beach is courtesy of TripAdvisor
This beach is famous for it's annual Sand Castle Competition, which draws thousands of competitors and onlookers. (August 12th, 2018) There is a shuttle that ferries people back and forth to the beach from the parking lot on competition day,beginning at 9 am. Adults can register for the competition on site for $5, kids and youth are free.
Parking – Adequate
Amenities-Picnic tables, flush toilets, change rooms,showers, boardwalk,hiking trails, interpretive displays.
Accessible: Yes
Lifeguards: Yes, July and August (weekends only )
Best For: swimming,sunbathing,beach combing, building sandcastles,hiking, bird watching.
Pets: Yes, must clean up doggie messes
Provincial Park-yes
Civic Address: 158 Beach Road, Clam Harbour
What You Need to Know About Clam Harbour Beach
It can by mosquito- y. Bring a picnic because there is no canteen.There are several restaurants within an 11 km drive, such as the highly reviewed Lunch Room in East Jeddore. The Fisherman's Life Museum is also located in Jeddore. On August 11th 2018, Atlantic Canada Harmonica Festival takes place in Lake Charlotte, just 10 km away
I realize I haven't even scratched the surface of the awesome beaches in the awesome province. Now, let me hear from you-what are your favorites, are they dog friendly and so on.