Morse's (Moore's) Brook Falls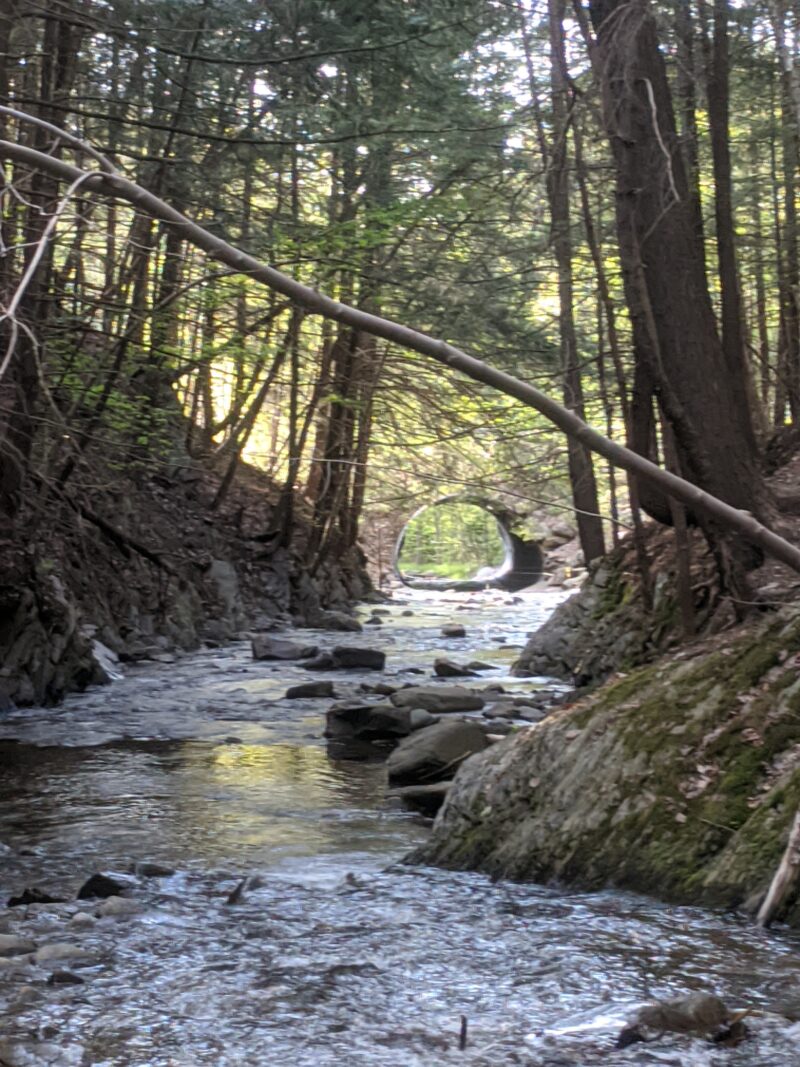 More Kings County explorations. This time it's Morse Brook Falls in New Minas.
This is a spot I've wanted to find since an acquaintance mentioned it to me….
This is a lovely set of three falls with a spectacular 50 ft one in the middle, and we had the most fun getting there.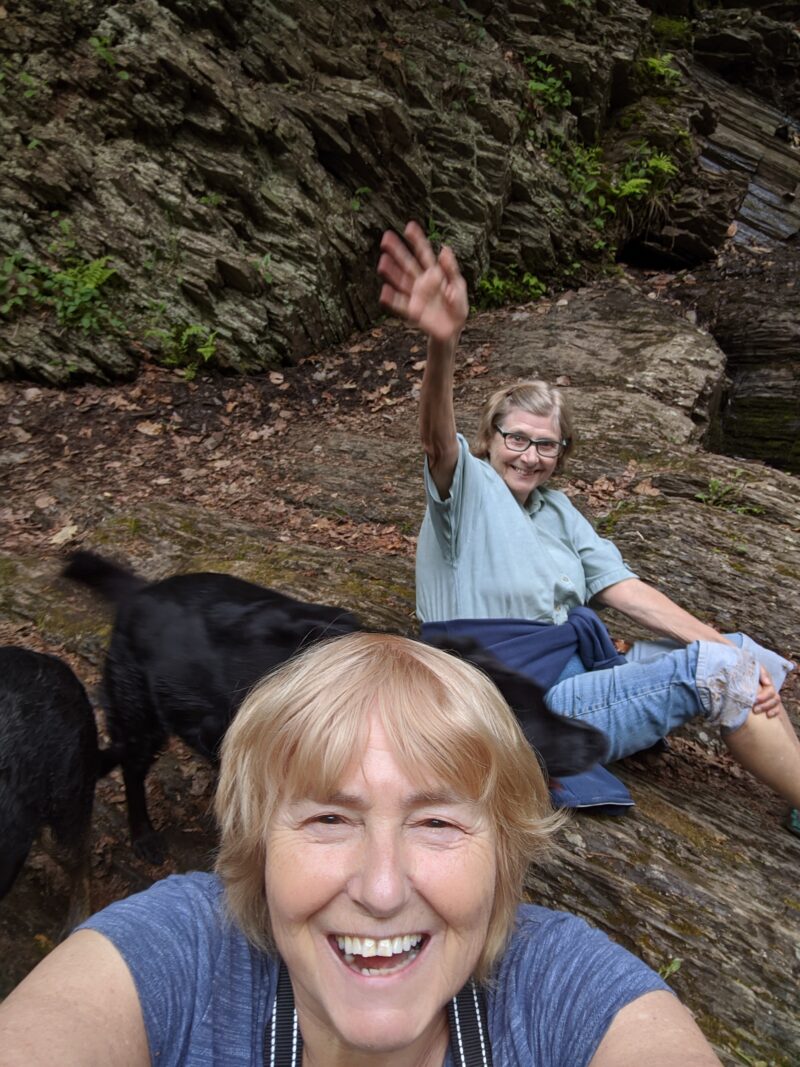 The far side of the brook is a high rock wall. The trail is about 2 km out and back.
Any of the pools beneath the falls are really too shallow to swim.
Some accounts I've read say it's a good hike for kids…but I wouldn't be bringing little ones.
Now, the path up the brook  can be slippery. You ease your way down the hill to the brook. The path goes along the brook and sometimes in the brook. Take your time and be careful of slippery wet rocks ,leaves and mud.
Getting back is another story altogether. Read on.
Once you get to the first falls, only then you spy the awesome second one. Keep inching your way upward.
At the top of #2, there are a set of ropes to pull yourself up. Yes, you heard me right. Unless you are afraid of heights, you can do it. After all, I am almost 67 and my friend is, ahem, older than me and we did.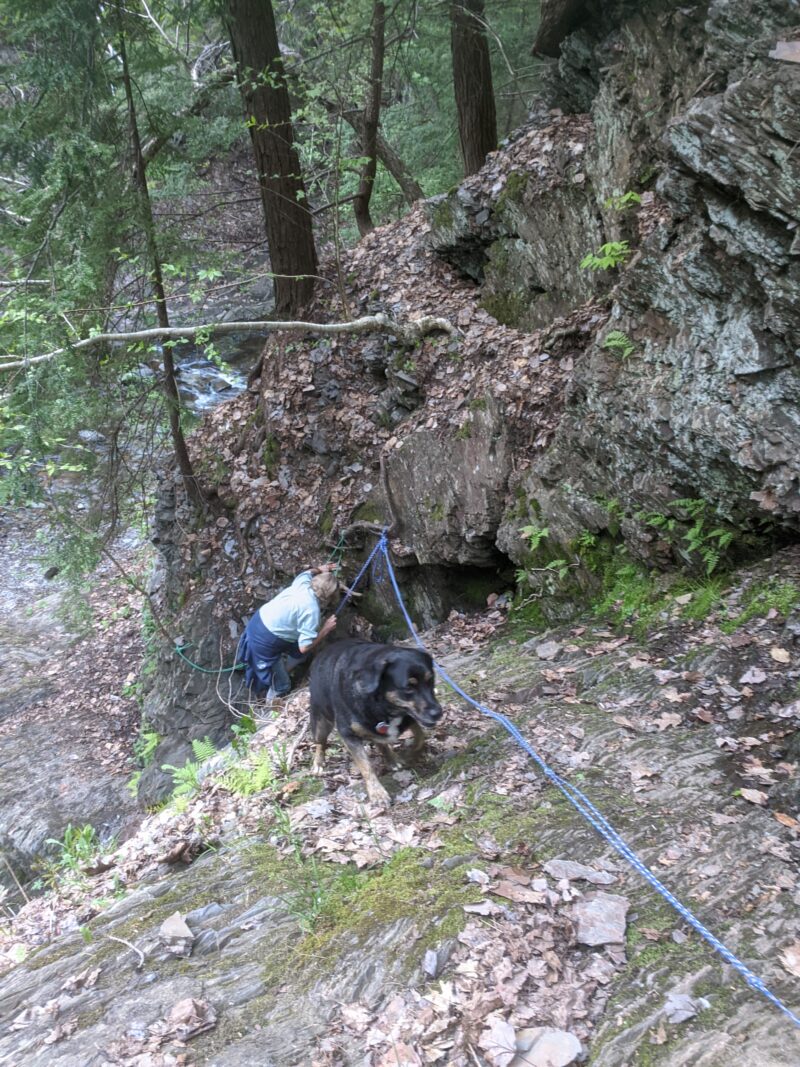 Once you are done with the ropes,and are at falls number 3, there is a short foot path up and to your left.
This is where the trouble begins.
Once we scaled the short (maybe 2 foot) path,there was a choice, go right or left. Neither is good.We turned right, walked through a tunnel and found ourselves on the roadside of Highway 101.
We backtracked a bit, got turned around, and  ended up on private property . ( They were quite nice in giving us directions , but I don't want to send you there.)
The next day I went back with hubby. I wanted to see what would happen if we turned left instead at the top of falls #3.
This is because I don't want to climb back down the ropes. I may be confident climbing up but I am a wuss when I am going backwards and can't see where to put my feet on slippery rocks.
So we turned left, walked along for aways and there was the same bloody house on private property.
To avoid that, I decided we should get down the hill to connect with the path we came in on earlier following the brook.
It is steep. And not much on the way of trees and shrubs to hang onto. I lost my footing and went down entirely on my bum. I had pine needles in my underwear when I got home, but I am just glad I didn't: a) get stopped by running into a tree or b) not get stopped at all and end up over the rocks and in the brook. The brook, I don't mind.The rocks,I do
I did a bit of research after to see what was written about a return route. Basically nothing, even in Waterfalls of Nova Scotia.
I would still turn left at the top of the falls and then look for a spot to connect with the brookside path rather than climb down the ropes.
If I find an alternative, I will let you know.
Directions to Morse Brook Falls
Take Exit 12 off highway 101. Turn right at the off ramp and then left at the lights to go past Kent Building Supplies.
This is Prospect Road.. Drive along until you get to Morris Crescent on your right. You should park on Morris Crescent.
We parked on Morris Crescent, and walked a very short way on Prospect Rd.until we saw a path going up through the woods across from a house with a No Parking sign out front. Follow that path and you will find yourself on top of the bank overlooking the brook.