Hiking the Crystal Falls Trail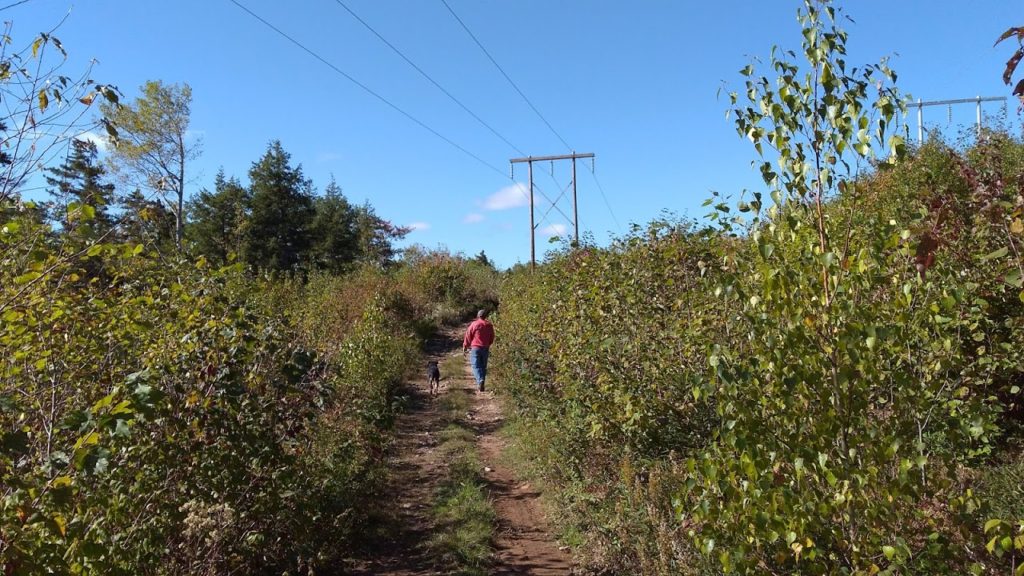 I first heard about the Crystal Falls trail when perusing fellow blogger Laura Churchill Duke's write up on Valley Family Fun, so on a day off hubby and I decided to give it a go. Laura had already gotten good directions from the Kingston Visitor Centre-we used those. I have included them below. Autumn is my favorite time of year and I love it especially for getting outdoors and exploring.
Directions to  the Crystal Falls Trail
Take Exit 17 to hwy 1 and continue west into Kingston, then turn left at the lights to Greenwood. Turn left at the lights in Greenwood ( across from Canadian Tire) and then right at the next set towards the mall.
Go past the Greenwood Mall and across from Walmart, turn right at the Enviro Depot onto Rocknotch Road.
Cross a one lane bridge and come to a T in the road,where you will take a left turn, then right onto a dirt road. There is a red barn on the corner. This is still Rocknotch Road.
Continue until you come to a T in the road,then turn left on Harmony Road, crossing a one lane bridge.
At the top of the hill, park along the road.
The hike begins at the first dirt lane on your right.
Walk along until you come to a intersection- turn right and go down and  over the bridge, or turn left and head along David Morse Trail.
We queried a dad four wheeling with his boy and he said that David Morse route, although more rugged, was shorter.
Liar!!!
But it certainly was rugged.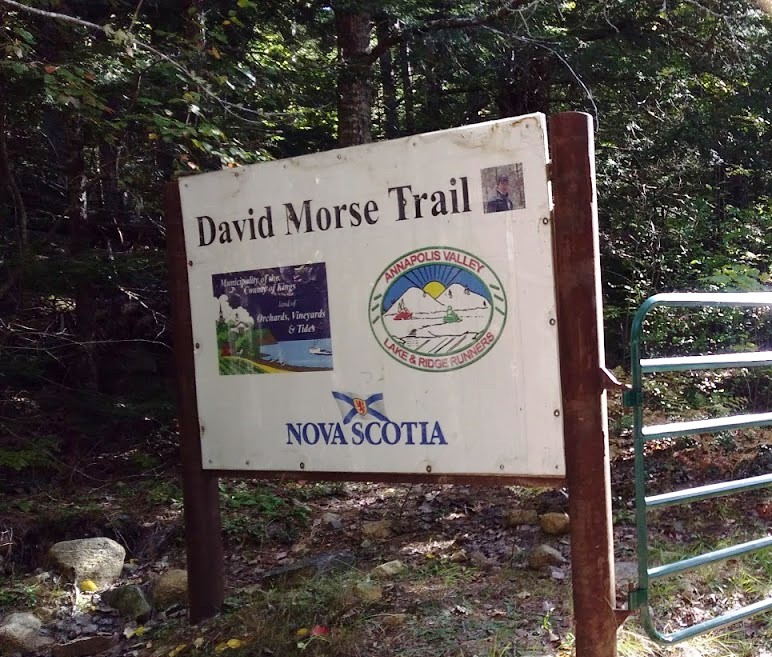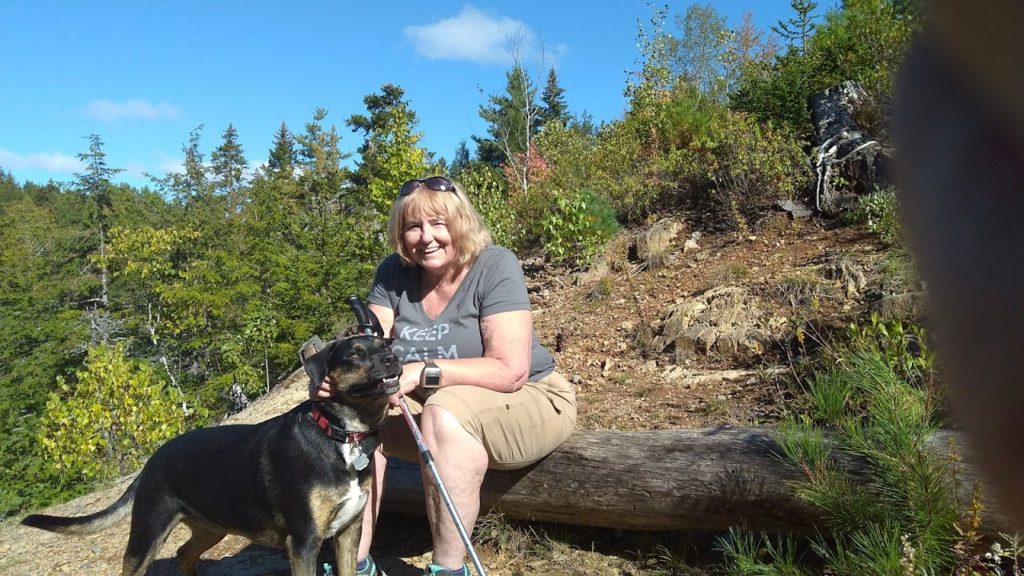 Very rocky- luckily the rocks were firmly embedded in the trail and not loose and rolling around under your feet. It was pretty much an uphill climb too. But it was a gorgeous fall day so that was ok.
When we got to the falls,we decided we wanted to get across to the other side and return that way.
Crossing Crystal Falls
Did we work our way to the bottom of the falls to get across? Noooo.
That would have been too easy. Instead we clamber up along the side of the brook until we found a place where we could possibly cross.
And cross we did. Hubby took his hiking boots off and slung them over his should,then inched his way across.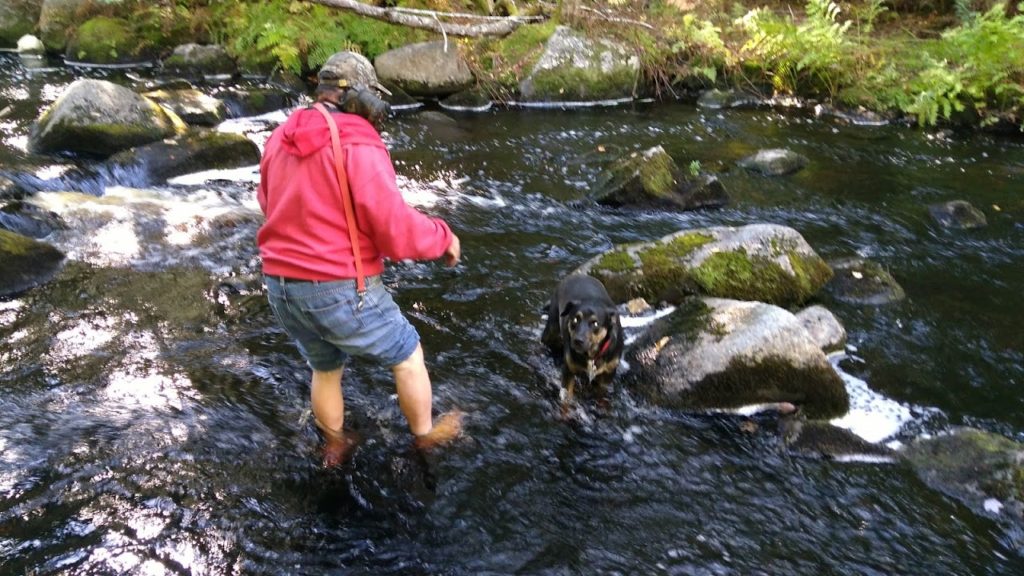 I kept my boots on-I need them for stability and with the help of my sturdy hiking pole, made the other side with only wet feet.
Emma, our 2 year old pup, worriedly accompanied both of us, one at a time.
On the other side the trail climbed up-but also along the side of the brook.I took the high road -it saved me from having to sling my stiff leg across so many tree branches.
Once we climbed up from the falls, it was a pretty easy hike  back out to the road and then  to where we had parked the car.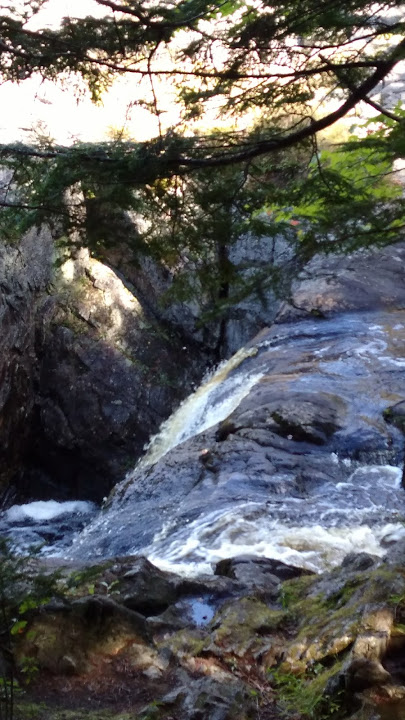 What You Need to Know About the Crystal Falls Hike
Hunting season begins Oct 30th and ends Dec.5th  Hunting is allowed the first two Sundays of the season this year. So, please be aware of this and wear blaze orange if you are hiking anywhere except Provincial and National parks during this time.
All in all it's about a 5 km hike-which took us 2 1/2 hours. including picture taking time and time where we scrambled back and forth along the brook figuring out where we would finally cross.
It looks like great swimming at the base of the falls, and it is certainly a beautiful hike in the autumn.
Be aware that the terrain is rough and rocky along the David Morse trail and the entire trail includes uphill climbs. Gauge your accessibility accordingly.
If you decide to go the other way around, the trail leading to the falls is marked with a yellow painted survey marker and hunters tape.It's a bit off road and in amongst the trees so look closely.