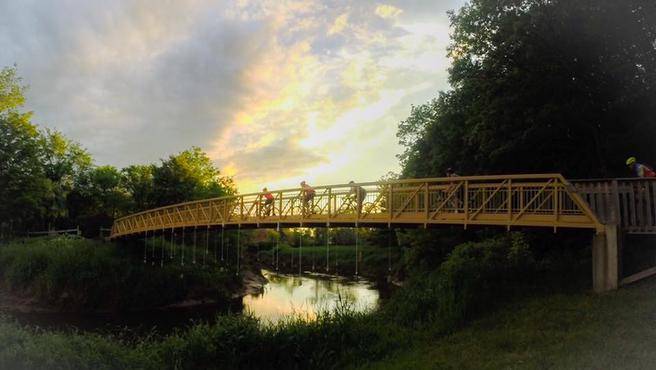 Almost All You Need to Know about the Harvest Moon Trail
Updated Sept 14 2022, just in time for prime biking season
Feature photo compliments of We're Outside 465 Main St, Wolfville
*all rights to all posts belong to Hello Weekend.Please don't copy without permission.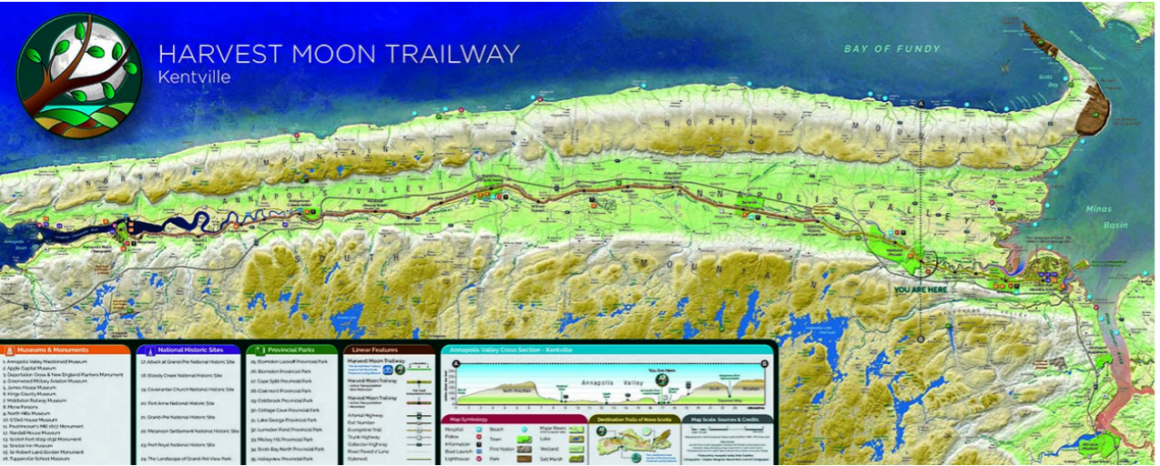 Harvest Moon Trail East to West
 The Harvest Moon Trail officially opened in the fall of 2017, after the section from Grand Pre to Wolfville was complete, and was the culmination of 20 years of sweat equity from volunteers and stakeholders to make it happen.
The trail snakes throughout the heart of our beautiful Annapolis Valley  for 110 km, from Grand Pre to Annapolis Royal, crossing highway #1 in many places and allowing (or forcing) it's users to experience many different kinds of trail surfaces- gravel, pavement , sand, plain old dirt.
And people flock to use it. Bikers, runners, hikers, dog walkers.
There is some information that I have yet to uncover,but I am thinking seriously about attempting  to bike the trail in the fall. Then you will hear the stories about my sore backside and chafed thighs.Something to look forward to. For neither of us.
I was surprised at the lack of solid information out there about the trail access points and amenities along the trail way. Many of us will need a meal, a drink,a soft bed after several hours of traveling on the trail. Some(me) might need an ambulance. 
So, I did a bit of research and comprised some rudimentary facts that may prove helpful to  other Harvest Moon trekkers.
Please note, I've only linked to restaurants that I have tried.
Here we go.
Grand Pre
This is easterly beginning point of this awesome trail. Lots of parking at 2242 Grand Pre Road up and across the road from the Grand Pre National Historic Site, which is only a few feet from the trail head. This is the  National Historic Site's preferred parking area for trail use, leaving the Site's parking lot for visitors.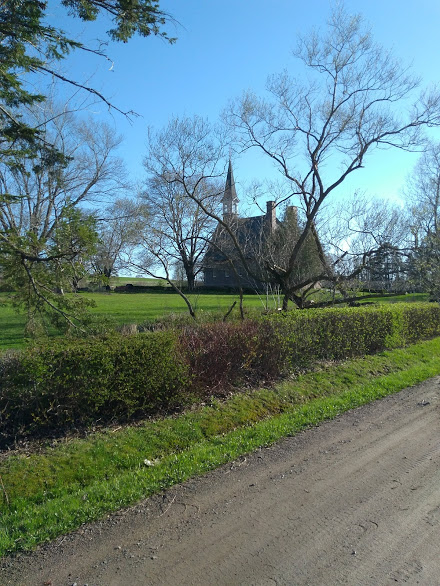 Grand Pre has the only section of the Harvest Moon Trail where you can access a winery right from the Trail and that's Mercator Winery
Please bike/hike responsibly. 🙂
 Wolfville
Access the trail directly across from Willow Park when the Wolfville Visitor Centre is located. You can refill your water bottle from a fountain behind the Visitor Centre. There's a  all-day parking lot at the trail head. The trail passes close by a Tim Horton's (turn  left on Habourside Drive)  On Main street, there are some good spots to grab a bite. Try the Naked Crepe Bistro,  For craft beer lovers there's Paddy's Pub.or the Church Brewing Company
The Wolfville  Memorial Library has bikes and now even eBikes for loan.  You need a library card and bike must be returned 30 minutes before closing. 902-542-5760
In need of repair or a bike rental? Banks Bikes is located at 360 Main St. Wolfville.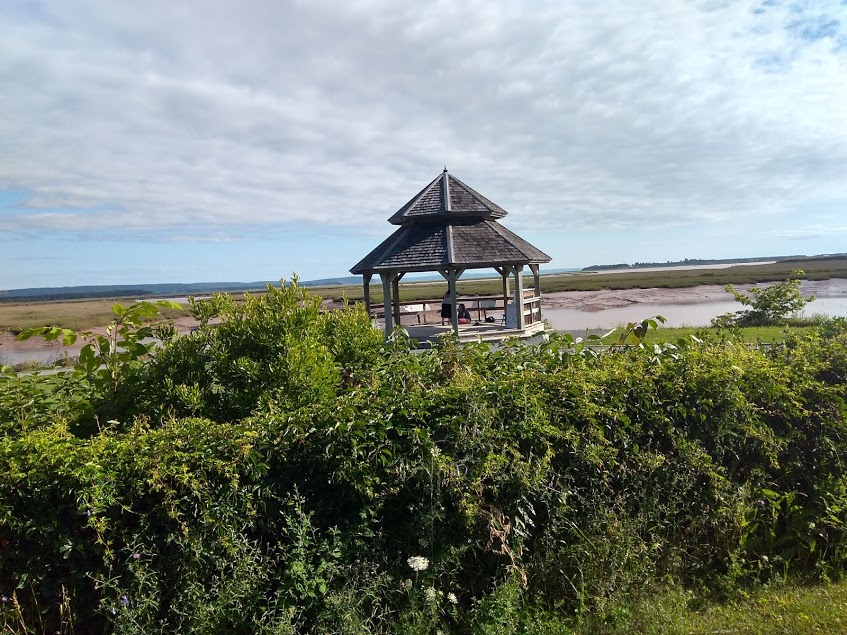 Along the Harvest Moon Trail in Wolfville – Susan Carey
Port  Williams is about another 3 km west. The only parking is down the road towards the village where there is a small parking lot on the right before the Gladys Porter bridge. Port Williams is home to Wayfarers Ale Society. The Noodle Guy is well known for his well, noodles and is just up the street from the parking lot. Check out Planters Ridge Winery and Fox Hill Cheese House. The first two you can see from the parking lot, the last two are a bit of a ride-10-11 km. Planter's Ridge has added an accommodation aspect to their winery – a farmhouse  with 3 rooms graced with a bit of luxury and including  delicious breakfast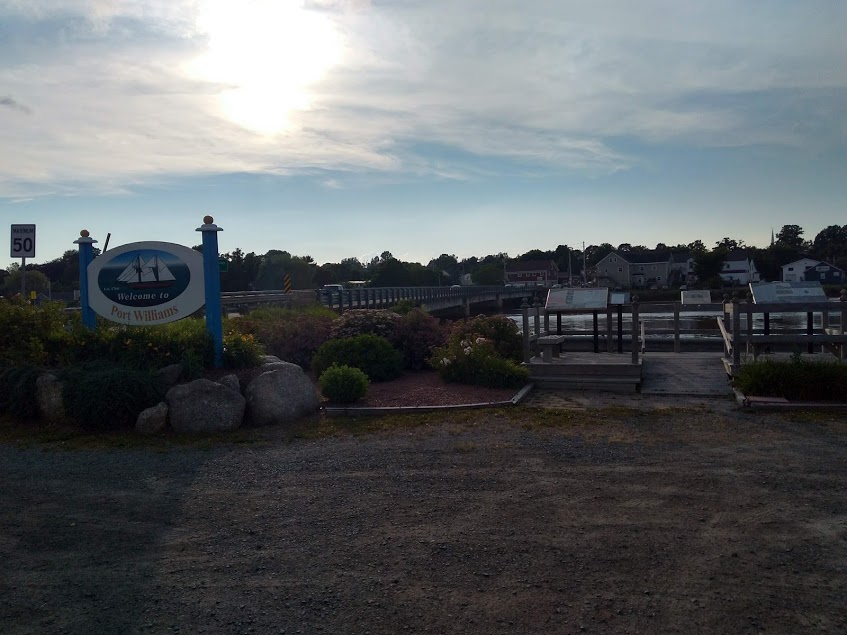 Kentville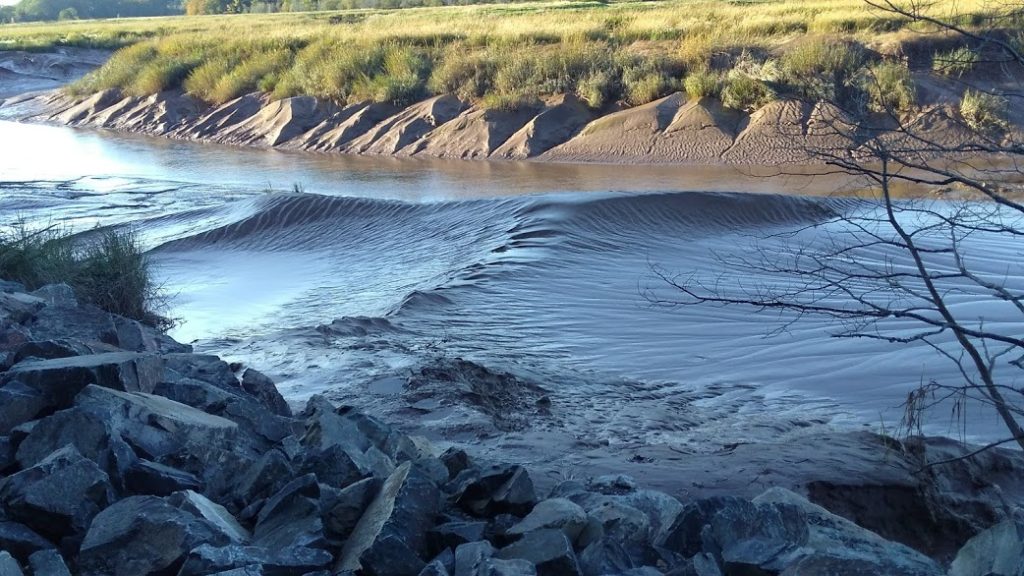 Kentville has several entry points to the Harvest Moon Trail, the first being Eaves Hollow at 19 Main St/Hwy#1. There's a fair bit of parking .Another good spot is at the  Recreation Hub, next to Kings County Academy(  35 Gary Pearl Drive, Kentville)  The Kentville section of the Harvest Moon Trail has a  bike repair station near the Kings County Academy playground. There are benches along the way.
Getting through the downtown area of the trail in Kentville is tricky.
Enter the town  via the trail from the east end  at Justice Way,turn right and ride a short way along Cornwallis St., crossing via the crosswalk by the Kings County Courthouse  and then take another crosswalk at Aberdeen by White's Funeral Home to get to River St. From there you can ride along River St. until  Webster St. and access the trail again to the right  behind the Baptist church.
There are several spots to grab a coffee and a sandwich, including two Tim Horton's-Centre Square from Webster St.and a drive through at Aberdeen St.Tan and Half Acre Cafe are on Main St. Kings Arms  Pub-Main St. and Paddy's Pub-corner of Aberdeen and Webster are both great places to grab a bite.
Valley Stove and Cycle -353 Main Street can help you if you're in need of more than air in a tire. If you want to give the trail a try you can rent a bike at Valley Stove and Cycle as well. 902-542-7280
Berwick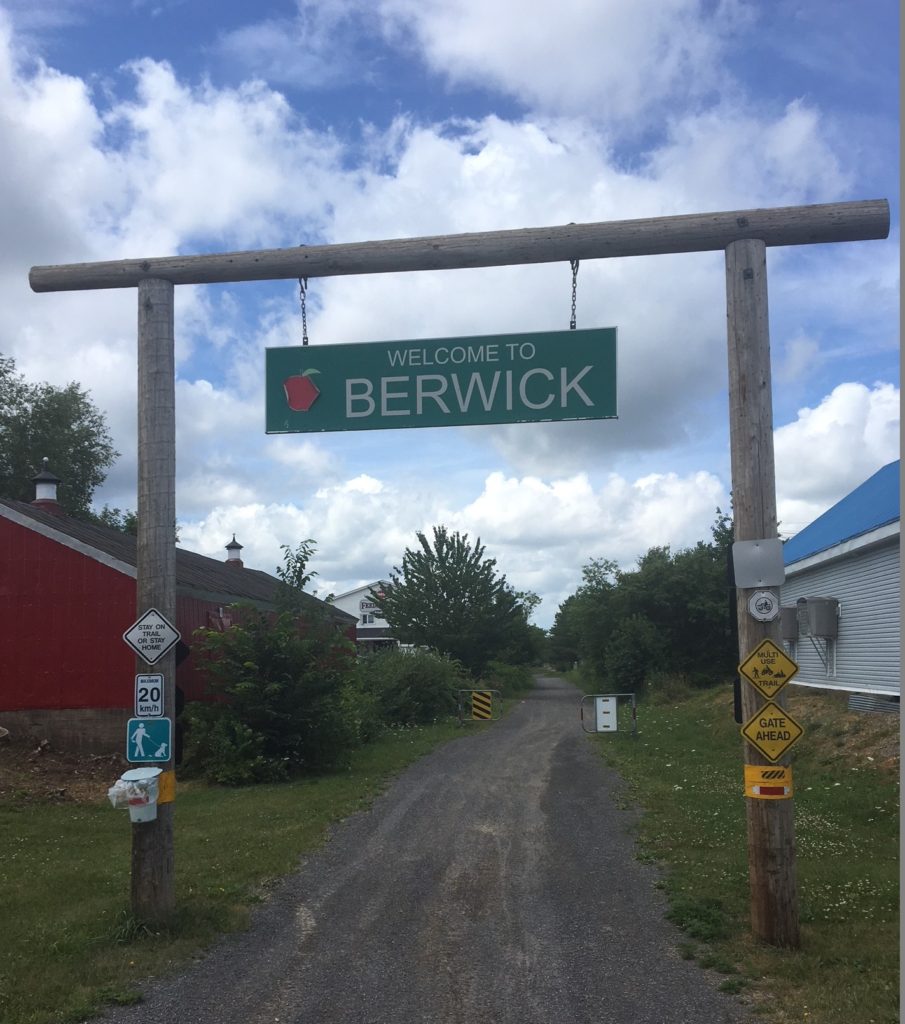 The Harvest Moon Trail head in Berwick can be  accessed left off Commercial Street from Hwy #1 but for parking,turn left onto Mill St and you will see a picnic area with parking on the right next to the trail. It's a little  sandy and tougher going. There are several places to eat on Commercial St. in Berwick, but if  you aren't too sore, I'd scoot out to hwy #1 and grab one of those big burgers at Jonny's Cookhouse , about 1.5 km away.There's a Tim's on Commercial St, close by the trail and
The Berwick and District Library -236 Commercial Street-has bikes for loan for the day if you have a  adult library card. All  bikes have to be back 1/2 hr before the library closes .It's first come first serve and the helmet,light, bell and basket is included.In front of the library there's a bike Fix It station, where you can pump up your tires,adjust your handlebars or whatever.
Kingston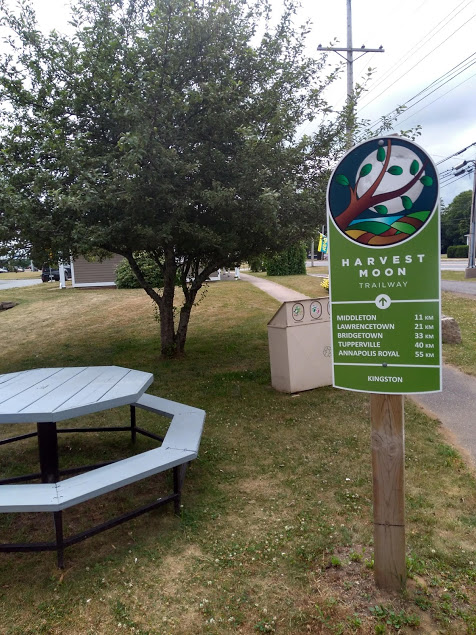 Since Kingston is  the half way point to Annapolis Royal, the Aurora Inn – 831 Main St, Kingston, is less than ½ a km east away from the Centre of the Village , if you'd care to stop for the night (The offer a free continental breakfast). The Green Elephant Cafe comes highly recommended by  Tripadvisor and it's usually busy and the food is pretty good.  I see that the cafe is open from 7 am-8 pm and serves breakfast. Tim Horton's is 1.3 km peddle east on Hwy 1. 
Middleton 
The trail head is located almost at the  very end of Commercial St. There's lots of parking next to the trail- Foodland and some other stores are to the left of the trail and there is a spacious parking lot. Middleton has several motels on Main St. Fundy Spray Motel(free breakfast)-turn left on Main st at the lights, and  Middleton Motel and Suites( with a pool!) -turn right at the lights onto Main Street.Each are each roughly 1.5 km away from the trail in Middleton. Again, I haven't eaten in Middleton but Angie's Family Restaurant is well reviewed and it's just  over 2 km  from the trail head going west on Hwy 1. (71 Main St.) There's a  busy Tim Horton's you can stop at for breakfast-241 Main St.
Bridgetown.
This took a little sleuthing. The trail  head is located on Queen St., right off the parking lot of the  now closed End of the Line Pub. I checked. Bridgetown Motor Inn is 1.2 km east on Hwy #1 from the trail head.[click_to_tweet tweet="FYI-the trail from Annapolis to Bridgetown is very sandy and soft and tough going." quote="FYI-the trail from Annapolis to Bridgetown is very sandy and soft and tough going."] For bike parts or repairs,try Oakhaven Bike Barn at 7019 Hwy #1 in Hampton. (902) 665-5044.
Annapolis Royal–
Access the trail by the Old Train Station on Victoria St.This is the end of the trail-(or the beginning) There's lots of parking there. You can also take the French Basin Trail- 112 Prince Albert Road-it connects with the Harvest Moon Trail. I have to tell you, this section of the trail is sandy and harder pushing. 
From the trail head there is easy access to Annapolis Royal's waterfront with it's neat little shops, historic Fort Anne and the Historic Gardens. There's a Farmer's Market on Saturday mornings May to October (8 am-1 pm) and on Wednesday in July and Aug.(10 am-2 pm) There are any number of Inns and B&B's close to the trail head.If you are looking for a motel, the Annapolis Royal Inn is 3924 Hwy #1 .  It offers free breakfast and has a heated salt water pool from June-Sept.It's  about 1.5 km from the trail head here.Remember though, the trail ends in Annapolis Royal. You not only will be riding on the road, you'll be adding extra km to your trip.
The Annapolis Royal Library-285 St. George Street, are also part of the bike loan program.
We do have a great biking resource here in the Annapolis Valley and that's Kings Transit that  goes from Grand Pre to Weymouth including stops all the way along in places like  Wolfville and Annapolis Royal.  All the buses are equipped with bike racks until late fall so if you can't push that peddle another inch-stop and hop on the bus.The schedule is here.