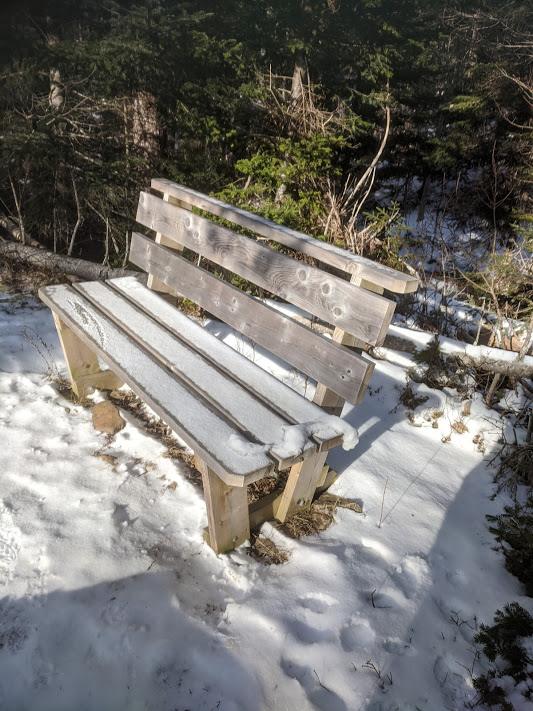 Exploring the Avondale Hiking Trail
It's been a while since I moseyed over to explore the  Avondale Hiking Trail-  almost 5 km of winding paths through the woods and alongside fields.
Last weekend  a gaggle of us gals went to Avondale. It was a perfect day-not too cold, not too icy underneath. We had  a lot of fun, and yes we got some exercise in too-lots of hilly ups and downs.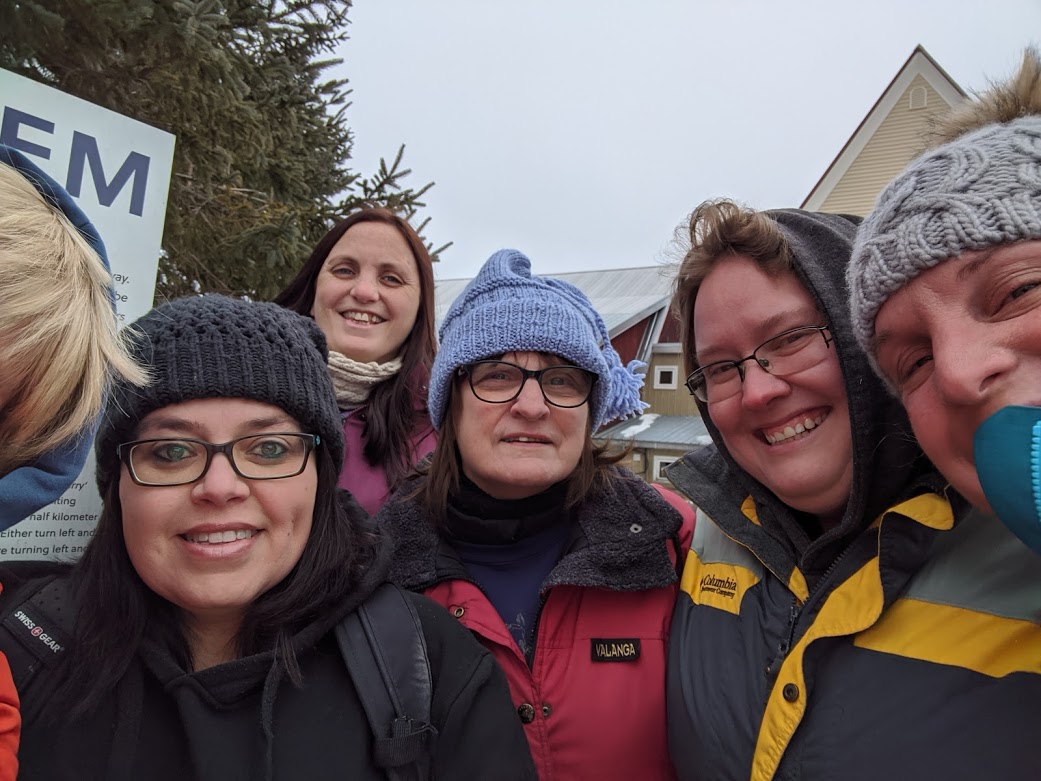 We parked at Avon Sky Winery ,which has a fascinating history itself( click the link to find out more)  But you can also go counter clockwise by parking behind the Avondale Community Hall. Either way you will have  a little walk along the pavement to get back to your car.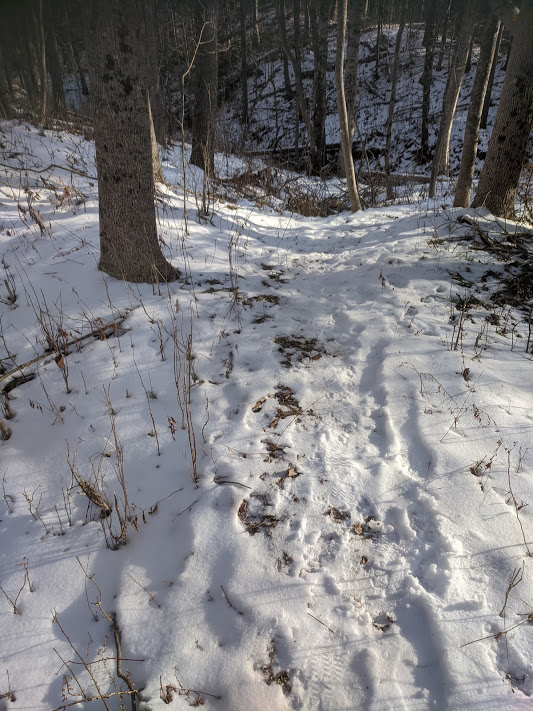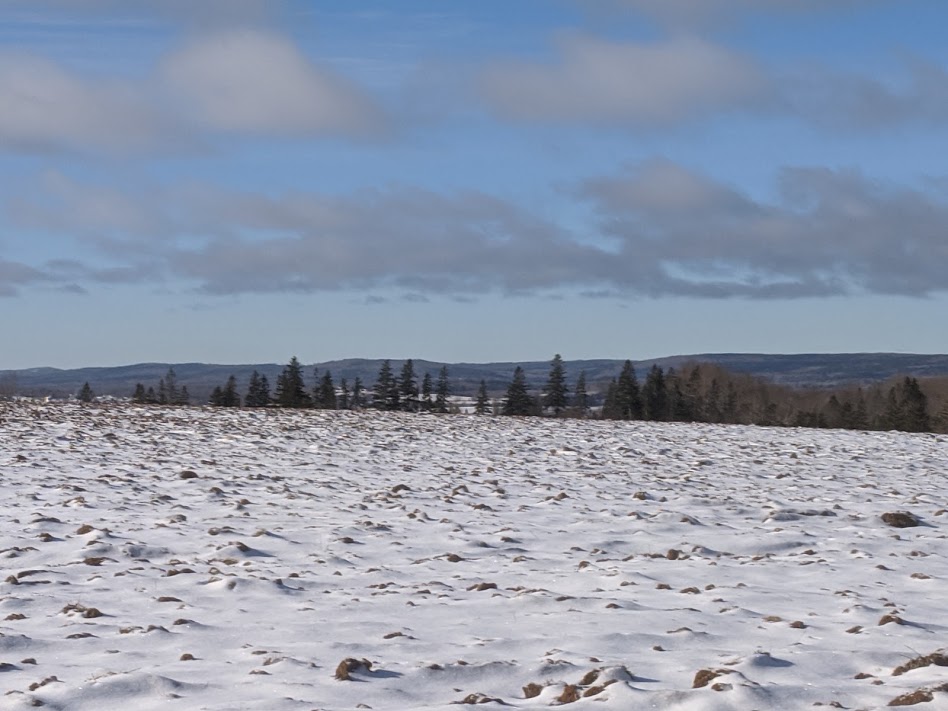 There are actually 3 separate parts to the Avondale Hiking trail if you don't have time for the entire length (West Brook Trail  2.3 km , Tunnel Quarry Trail .5km and Mosher Trail around 2km
The Mosher Trail runs along beneath rows of grape vines and veers off into the woods.  A short way along you have the option of taking the short Quarry Trail Loop, then continue left to wander through the rest of the Mosher Trail until it connects to the Westbrook section. My 'Map My Trail' app says it's 4.77 km counting the road back to the cars.
We did have the benefit of tracks to follow in the snow, but these trails are well marked with yellow strips tacked along the path on the trees and signs at major trail intersections. I love that, because we could easily tell where we were and how far we were from the end. (Are we there yet?)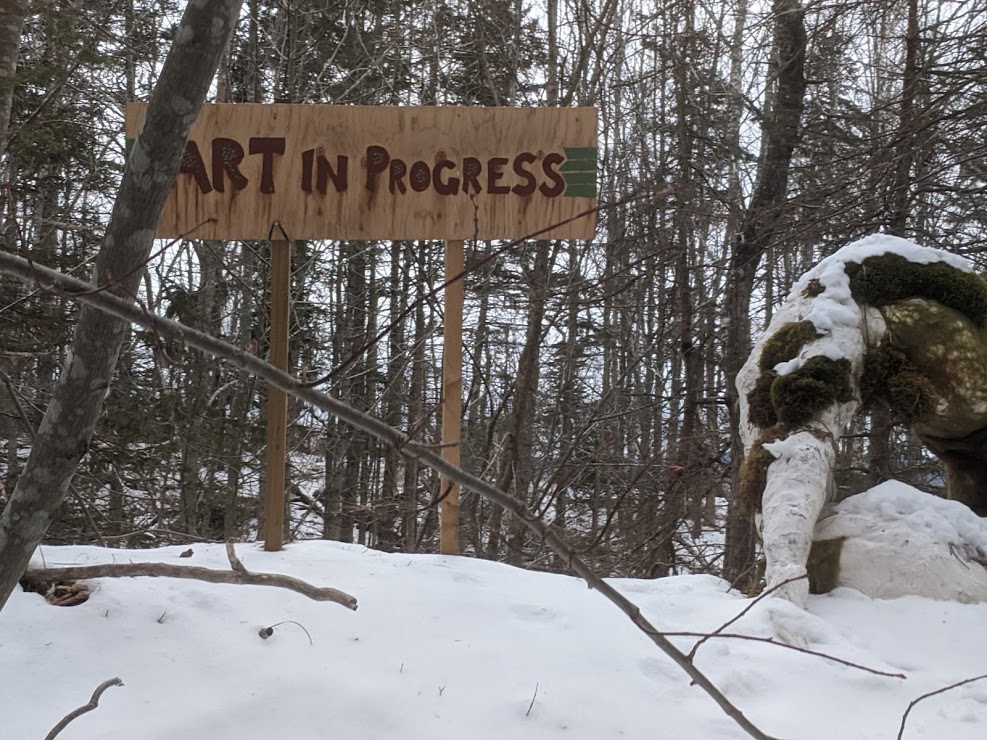 What You Need to Know About the Avondale Hiking Trail
From Highway 101, take exit 5a onto highway 14 (towards, Brooklyn, Truro)
Turn left just up and across from  Tidal Bore Farm market. At the stop sign (You 'll pass  Mantua Cash and Carry on the left ) turn left towards Avondale . You'll start to see winery signs. Turn right onto Avondale Cross Road. The winery is on your right @ 80 Avondale Cross Road
Caution! Google maps seems a little crazed when it comes to finding the location of the trails.
These trails are intended for walking, hiking, running  snowshoeing, cross country skiing and bicycling.
Dog friendly. Please clean up after you pet-and that does not mean hanging the poop bag from the trees.
The Avon Sky Winery is closed right now due to Covid, but it's a beautiful place to try some wine or have lunch once it reopens, For now, they offer   online delivery options and free local pickup.
Down in Avondale proper during the summer months you can visit the Avon River Heritage Society Museum. Again, it's closed  right now due to Covid…
There's one attraction that is NEVER closed and that's the Mantua Bridge Tidal bore-you crossed the bridge when you headed to the Avondale Hiking Trails. Of course, there IS this little thing of the tide…. .To find the time of the Mantua Tidal Bore (they are all different ) go here , first (make sure you put in the correct date you are looking for-better do this a couple days in advance) to find the low tide in Hantsport and the subtract 26 minutes to find the time of the Mantua tidal bore. Plan to be there 15 minutes early. There's room to stand along the bridge to watch. Make sure you park well off the road. Or you can simply go to the Avon River Heritage Society's Facebook page to Mantua find bore times there