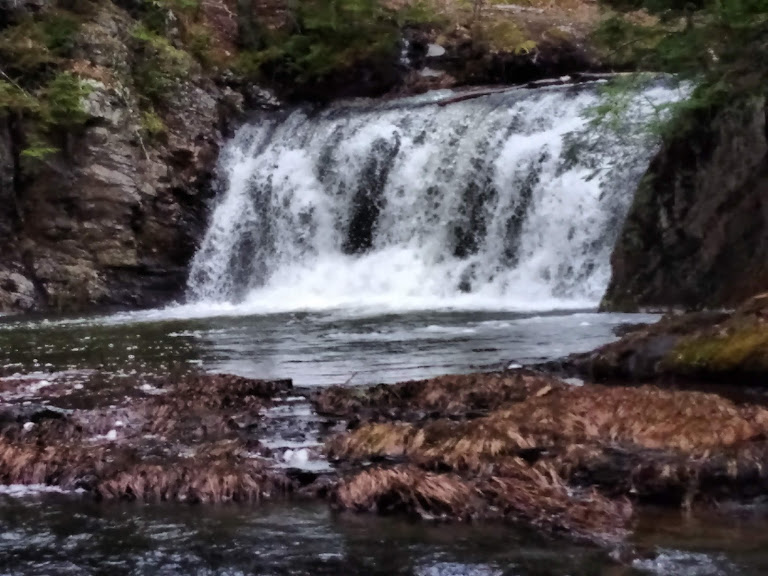 Meandering to Meander River Falls
It was a perfect day to attempt to find the Meander River Falls-not too cold, not too hot, not raining and not icy,like the last attempt..
It was just right. Good thing too, because we spent an inordinate amount of time, while still heading in the general direction of where we thought the falls would be,climbing up and down the ravine in search of the trail.Great leg workout,though.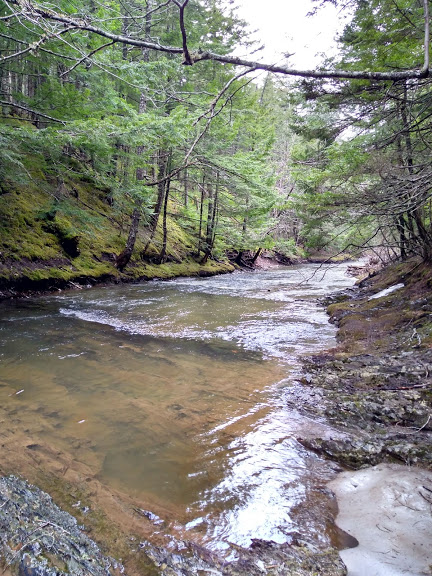 There were sections that absolutely resembled a path where humans  trod. Others I'm pretty sure were game trails…which we gamely followed.
The path is clear once you step off the road, easily leading you to the falsehood that it will be that obvious all the way.
Huh. Nope.
Keep trodding along with the river to your right, following the path the best you can. Then,after about 1.25 km (this is a educated guesstimate) you'll come to a teeny  stream you can step over. Climb up the bank on the other side of this stream and follow the 'path' until you get to the waterfalls. It's pretty easy to get down to the bottom of the falls and I bet there's swimming there in warmer weather.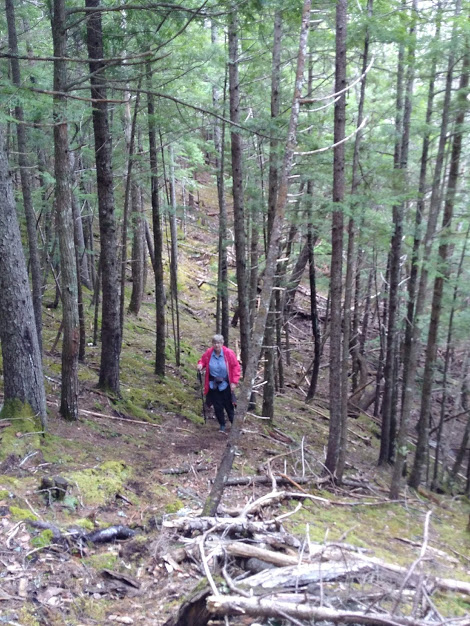 What You Need To Know About Meander River Falls
Directions:
From Highway 101 take Exit 5 and turn right on Highway 14  towards Brooklyn. Turn left at the gas station to continue on Highway 14 and head towards  and turn right on Clayton McKay Road (look for signs to Smiley's Provincial Park)
Go right past the park to the end of Clayton McKay Road and turn left. (This is Hwy 215) There's a bridge just down the way a bit with a small pull off spot on the right. The trailhead is right there by the bridge once you cross it.
There is no cell service by the bridge, however we had service in some areas along the trail-go figure.
Surprisingly, the moss was not at all slippery and actually helped us with traction on the up and downhill climbs. A walking stick helped with balance.
Stayed tuned for a guided hike to Meander River Falls at some  point-I need to become much more familiar with the trail first though. If you go go on your own, just remember follow the river and keep it on your right going in on your left coming out.