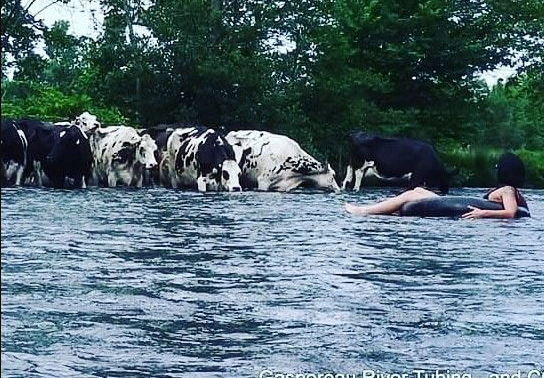 10 Tidbits for Tubing the Gaspereau River
Tubing is on my list this summer.
Of course it's been on my list for the last few summers, but have I gotten there?? Nooooo.
Its a hella fun thing to do and if you haven't tried it, I suggest you put it on your Summer To Do List.
Here are some tips for the newbies out there..
10 Tips for Tubing the Gaspereau River
 Join this private Facebook  Group.  This is run by the owner of King of the River Tube Rentals and she is in regualr contact with Nova Scotia Power. She posts when the river is up and running or down. Down means you will walk the river instead of riding in a tube.
Plan for two vehicles. Leave one at the bottom by the bridge (very limited parking so you can drive back up to the beginning-it's a long walk.  Two trucks are ideal because the tubes are large.-..if you don't have access to that, you'll figure it out.
Don't go barefoot. Wear old sneakers t or footwear hat will stay on your feet. There's always the possibilty of soemthing sharp on the river bottom.
You'll need to leave your license as security when you rent your tube.
 If the river is fast prepare for  some restrcitions when it's comes to renting a tube for children, such as 1 adult per child. If Nova Scotia Power opens the river gates and the river is quite high and fast, KOTR will not rent tubes for kids for their own safety. I think it's a very good rule.
A tube ride down the river usually takes about 45 minutes, untils the current is really strong. Click To Tweet
What to expect along the river? The odd rock lurked just below the surface-watch fro ripples and paddle around or tuck your bum up. Branches . Poles. Sometimes cows. Nothing that you cna paddle around iwth your hands. you may want to grab onto a branch to wait until the cows cross the river though.
Leave valuables at home. Stuff has been lost in the river never to be found again. If you are locking it in your car, make sure it's well hidden.
Wear sunscreen
There a few ways to get there, I will just give you one of them from Wolfville. Turn up Gaspereau Ave in Wolfville, the drive until you get to White Rock Rd Turn right and drive until you see Black River road on your left. Turn down there and go down and your will see KOTR tubing on your left and jsurt below that is the tubing entry pointand parking area.

tubing Gaspereau River
This is a random video I found on YouTube. Wish I were in the water right now!