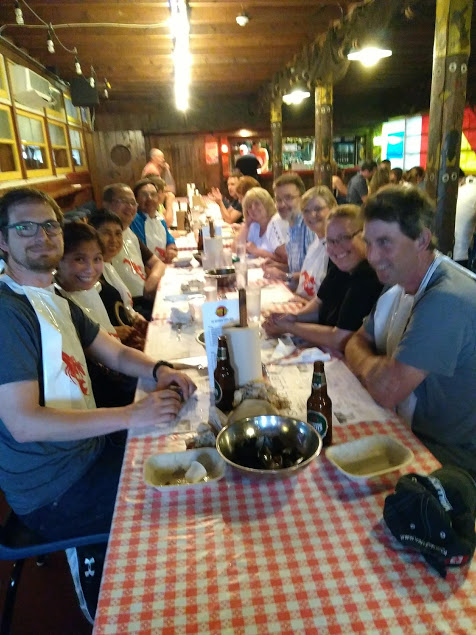 Shore Club Hubbards-A Restaurant Review
In 2018,The Shore Club in Hubbards is celebrating 81 years of offering visitors and locals alike  the experience of an old-fashioned lobster supper in an old-fashioned dance hall.
For those of you who haven't had that experience -it's a must do. You won't go away hungry, I guarantee that. And, the servers, though busy, were fantastic.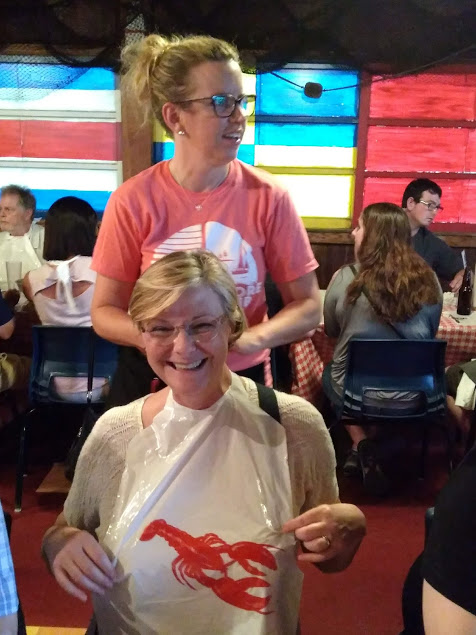 For the price of your lobster, steak, chicken or veggie dish, you get all you can eat mussels, all you can eat roll and salad which includes pasta and potato salad, some kind of grain-maybe quinoa? and all the fixings to make a mile high  tossed salad,,,although I did not notice any dressings.
I  nixed the mussels but had two large servings of salad-bad idea.
We were a party of 10 & ordered lobsters, 2 Chicken Crème Brie & Apple entrees and I opted for the steak. The place was absolutely hopping, and it was quite a wait for our main, but eventually out they came- lobster in all it's naked beauty (no sides) and the chicken and steak with sides. I was already full, but whatever. I tried to pawn my potatoes and grilled peppers on my table mates, but they were likewise feeling the effects of overindulgence.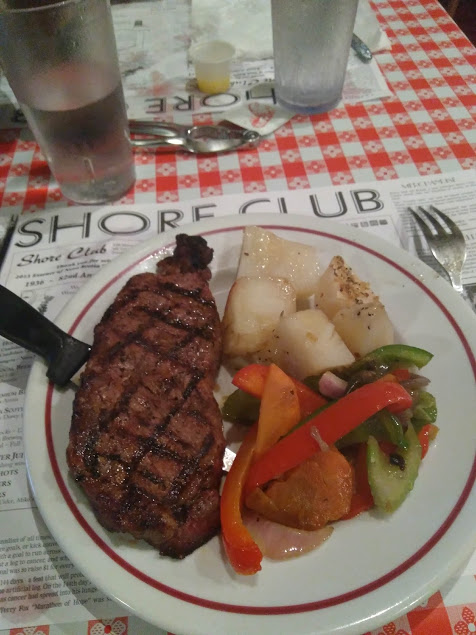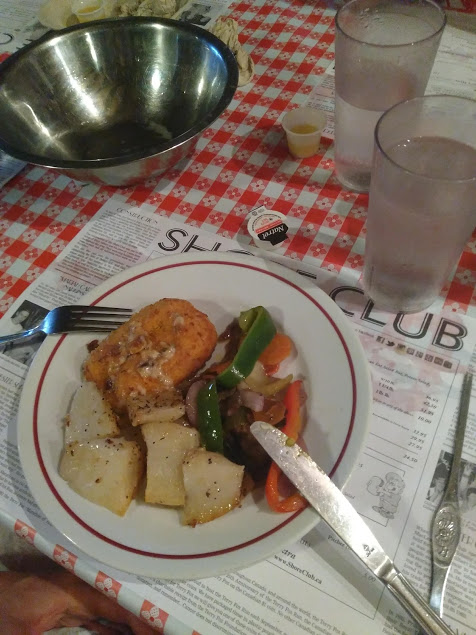 And to add insult to injury, the dessert – blueberry shortcake-was included. I already had a stomach ache so I only managed a bite (or two).
Coffee/Tea is  get- it -yourself.In fact all beverages are pretty much self-serve. It's faster to go to the bar yourself and stand in line then to  wait for a waitress to get around to taking your drink order. There is  only one bartender and he was getting  our drinks,the waitresses drinks orders and taking people's supper payment.I can't fault that guy.  I can't fault the waitresses either-they worked their butts off.
It's set up like an big barn style dance hall  with long tables covered with plastic checkered tablecloths. Big yawning aluminum bowls brimming with mussel shells. Line up for the bar and the water pitchers. There are two levels and both were packed-there was a dance about to break out.
So, how was the food?
Thumbs up all the way around. Mussels were fresh-my son said they were the best they have every had. Salad bar  with plenty of choices. Lobster lovers loved their lobster.  Chicken went over well-and my steak was great, tender, cooked the way I'd requested. I' m not disappointed at all. It's not a cheap supper, but for a special occasions such as our family gathering – I'd do it again. And really, isn't it more for the experience?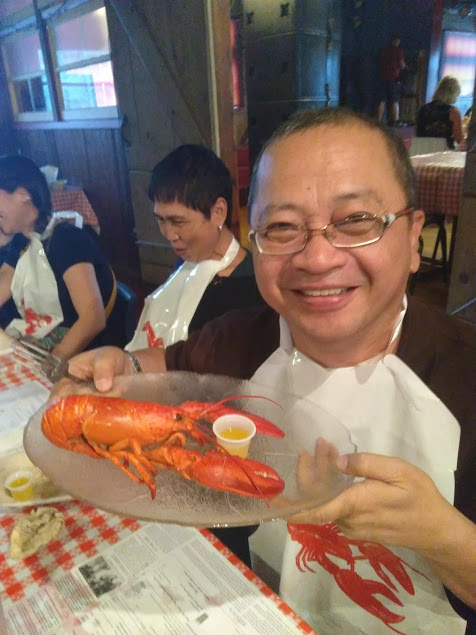 What You Need to Know about  Shore Club Lobster Suppers
Find the Shore Club@ 250 Shore Club Road,Hubbards NS
Menu is here.
Reservations are recommended. Call 902 857-9555 to reserve.
Save $2 on your supper by buying your dance tickets at the same time-dances are every Saturday night. Ticket prices vary according to the band and are only available at the door.
The Shore Club is open from Mother's day  until early October.
Take a stroll on Queensland Beach before or after supper- to increase your appetite or to work off the food.