Delaps Cove Wilderness Trails-The Bohaker Trail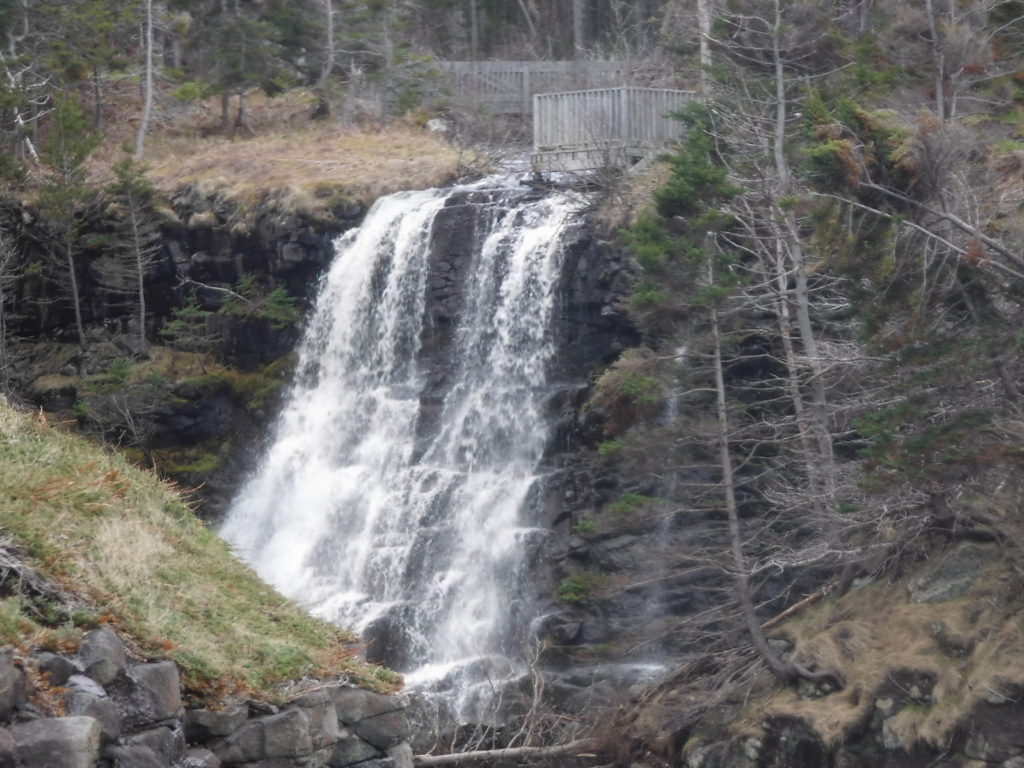 It"s been years since I've done the Bohaker Trail in Delaps Cove in Annapolis County . I remembered it was  a fairly short hike and that there was a point along the trail where one could see the Bay of Fundy and a waterfall at the same time. The trail was indeed short-just over 2 km, and that includes a careful decent to the bottom of the falls.
Once again, a perfect day. No bugs. No rain. No blistering heat. The rainfall the day before left some wet and mucky sections, but nothing we couldn't get past.

Bohaker trail  is one of  a pair of short trails that make up the Delaps Cove Wilderness Trail.  You can lengthen your hike by taking the Shore Road and linking up with the Charles Trail. Honestly, when we  hiked here years ago-I thought the shore road WAS the second trail and was underwhelmed-it's just  a dirt road after all.  I missed out,because evidently this trail  was once a thriving freed black community that settled along this section of coastline around the time of the American Revolution.
Originally owned by the Bowaters Mersey Paper Company , these trails are meccas for lovers of flora and fauna with  three main ecosystems: forest,  coastline, and stream.  Hiking the entire trail system,including the Shore Road connector is suggested to take 2-3 hrs , while the Bohaker Trail  by itself can be a 30 minute hike to a hour long 60 minute stroll. I suggest the 60 minute wander if it's your first trip- you'll want to enjoy the spectacular beauty of the Bay of Fundy with it's fishing boats, the Falls (spring runoff time offers the most majestic view of these)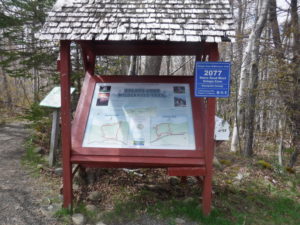 There are plenty of benches including a rest spot at the falls which I particularly enjoyed after I climbed back up from the bottom of the falls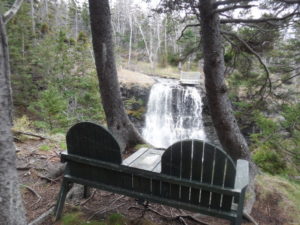 What You Need to Know about the Bohaker Trail
How to get there from Hwy 1 just east of Annapolis Royal 
Head north on Nova Scotia Trunk 1 E toward Victoria St
Turn left onto Parker Mountain Rd
Turn left onto Shore Rd W
Turn right onto Delaps Cove Rd
The trail is named for its proximity to Bohaker Brook, which, in turn, was named for an early landowner.
In season, look for Mayflowers, lilacs, bunch berries and cranberries.
Low tide offers up the local seaweed treat dulse, which is a favorite for many locals (but not me) when dried. Please, please, pretty please be aware of the tide times-Bay of Fundy tides come in as fast as a running horse. Rocks along the low tide line are slippery – wear good shoes and tread carefully.
You may be just lucky enough to spot a seal or even a porpoise in the Bay.
Although Annapolis County  Rec seems to do a great job,the trails are not constantly supervised and  maintained. It's your responsibility to err on the side of caution in all situations, lock valuables in your car,  be aware of rocky and uneven trail surfaces,  and supervise children closely.
Hunting season runs from the end of Sept through to the end of December depending on the species. Please be aware and wear hunters orange when traveling through the woods (any woods actually, except for provincial and federal parks).
The parking area at the trail head offers picnic tables and an outdoor privy.I rated this particular privy a 'A' .