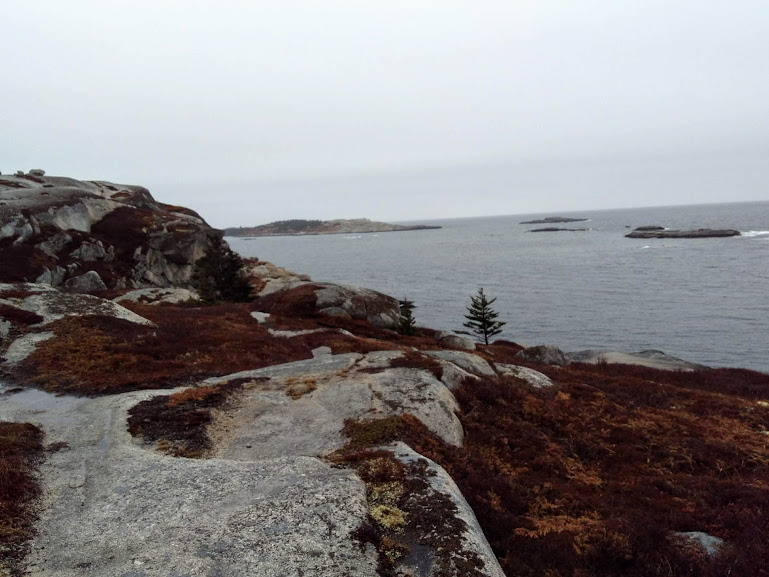 Polly's Cove Hiking Trail
It took me three tries, but I finally found  the Polly's Cove hiking trail. And it's not because it's all that hard to find either. I don't know what that says about me. We won't go there, I guess.
The parking at the trail head is sparse indeed- 4 vehicles would mean each being perfectly parked. Highway 333 is winding with some sharp corners and there is very little in the way of shoulder so not the safest place to park by the side of the road. There is another small parking lot  just down the road (towards Peggy's Cove).That just means a short hike before your hike.
The terrain at Polly's Cove Hiking Trail is a mixture of bog, glacial erratics, and short scrubby brush. It's starts out wide, but soon narrows to a foot width when it's not snaking over granite boulders. It's early April as I write this and there are some very wet areas to slog through. More 'research' is needed to see what the trail conditions are like in summer.
All that aside, this trail is fun. Yes, fun. I felt like  a kid again splashing through waterlogged moss and scrambling up and over rocks – the granite was not slippery at all, despite the weather gifting us with a rain/snow mix.
And that is not to mention the spectacular scenery.
What You Need to Know About Polly's Cove Hiking Trail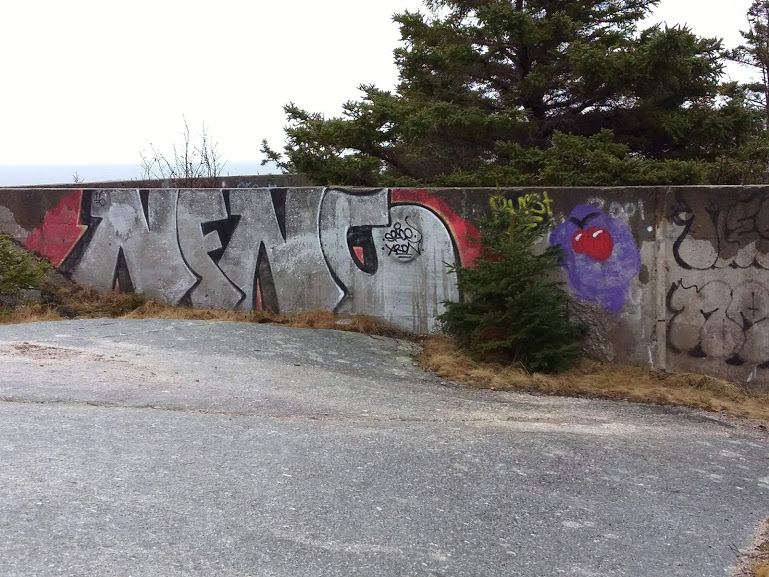 I would class this as easy but due to weaving in and over granite boulders, some with less mobility may find it moderate to difficult.
Not a place for flip flops. Good hiking shoes are recommended, and if they are waterproof, more the better. if not, pack dry shoes and socks you can change into upon return.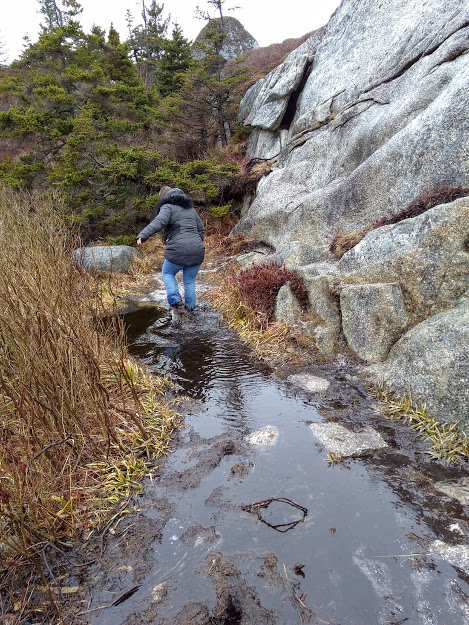 The path narrows drastically, so hikers are encouraged to stay on trails to protect the sensitive barrens vegetation.
There are many little paths shooting off in all directions from the 3 km main trail and of course no markings. But since there is not much in the way of trees once you get past the first bit of the hike, all you really need to know is to keep the ocean on your right on the way in and on your left on the way out. This is for those of us who feel faint at the lack of trail signage.
The breeze from the Atlantic should keep most pesky bugs away but it wouldn't hurt to carry some repellent.
I heard a rumour that one may find cranberries here in late fall. Yet another reason to return.As if I needed one.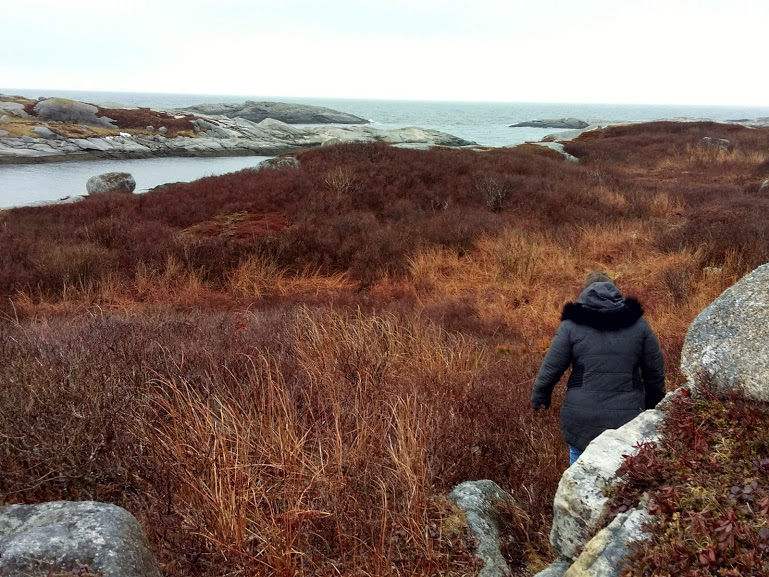 Directions:
Jump on Hwy 103  (or the more scenic hwy 3) and head to Upper Tantallon. From there, take Hwy 333 towards Peggy's Cove. Go past Peggy's Cove. Once you get to East Dover, keep your eyes peeled for the small parking spot on the right side of the road just after West Dover.Don't bother looking for signs for the trail- there are none. If you miss it, go to Peggy's Cove, turn around and start looking for it after the 2km mark.