Part 3 26 Nova Scotia Day Trips Q-Z
Well, that title lies. I could get z..I tried. I went through phone books, maps, online resources and atlas to find  a place that I have visited or could visited that started with Z so I could offer  you a choice of  Nova Scotia day trips from A to Z.Nope.
And in the spirit of transparency-I couldn't find X either.
However, I WILL give you 26 day trips. And I will gather all this info into a little e-book – print it off  and use it to plan your summer.
Here we go.
Q. Queensland Beach. I am beginning to sense a theme-water, water everywhere. This is nice little beach that's not a terribly long drive for me,so it's a frequent visit for me..This beach not too far from Hubbards seems to be busy all year long-we took a drive down that way a couple weeks ago( March) and there were cars coming and going the entire time we were there. Some of even got out on the beach but them it started to sleet so we wrapped THAT idea up pretty quickly. The entrance to the parking lot is still accessible after a storm surge smashed up Conrads Road which runs between the shore and Queensland Lake. Water-cold. Beach in summer-packed.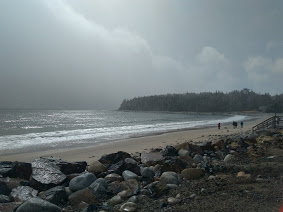 R. Round Hill – located on highway 201, Round Hill is a rural community only 10 km from Annapolis Royal.This site is one of the first locations in North America continuously occupied by families of French origin. The last Acadian owner was Pierre Thibaudeau who owned a mill on this property until the Deportation. A grinding wheel is still visible on site. A bit further west you'll find Bloody Creek National Historic Site , commemorating the struggle between the British and French with their Mi'kmaq allies. For even more history, continue to Port Royal for the Habitation and then to Annapolis Royal's historic Fort Anne. Want even more history? Stop in and check out the Sinclair Inn National Historic Site and The O'Dell House or immerse yourself in it but taking in a Candlelight Graveyard Tour.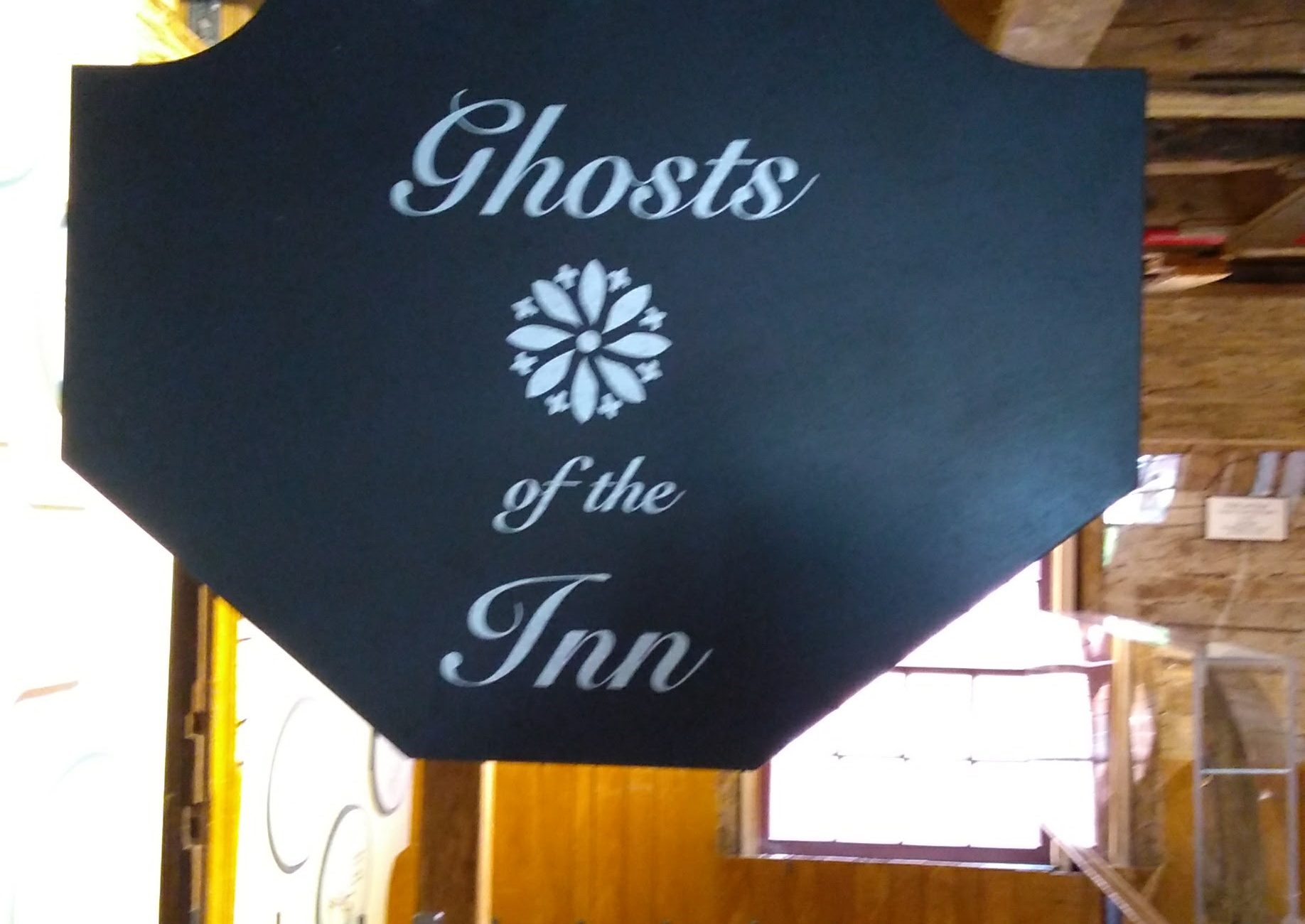 S. Shelburne .We spent a little bit of time in Shelburne this past October . Would you believe that once upon a time (that time being
1784) Shelburne had grown due to an influx of American settlers to around 10,000 and was estimated to be the fourth largest community in North America-larger than either Halifax or Montreal.
Today, a stroll through Shelburne will reveal quite a variety of museums such as the Black Loyalist Heritage Centre, Ross-Thomson House & Store Museum and Dory Shop Museum, and many of the buildings date back to Loyalist times. The historic waterfront is very pretty. Take a break and taste a cold craft beer and have a tour at Boxing Rock Brewing Company
If you want a good stretch of the legs, the Kejimkujik Seaside Adjunct is about 50 km east of Shelburne. It's about a 8km hike, part of it on those round ankle rolling rocks.Wear good hiking shoes.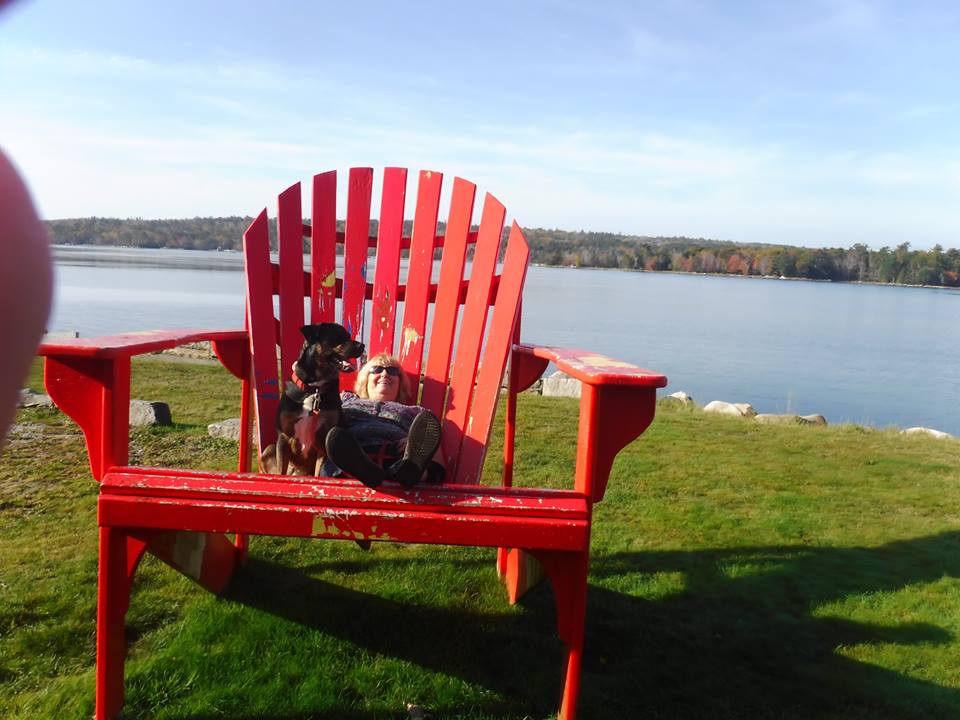 T. Truro – Known as the hub of Nova Scotia, this busy town has both Mi'kmaq and Acadian roots. Start your day with a trip to Victoria Park,1000 acres of beautiful urban park. Get the blood pumping by climbing the 175 steps making up Jacob's Ladder. Have a picnic, birdwatch, snap photos of the waterfalls and just enjoy nature at it's finest.
This is my favorite place to catch the tidal bore as it shows the speed of the tide and how fast it covers the mud flats- you're close-standing right on the bank at 104 Tidal Bore Rd
.Please be there about 20 minutes before the bore arrival time- find the times here.
You may also enjoy a stroll through the gardens at the Dalhousie Agricultural Centre in Bible Hill.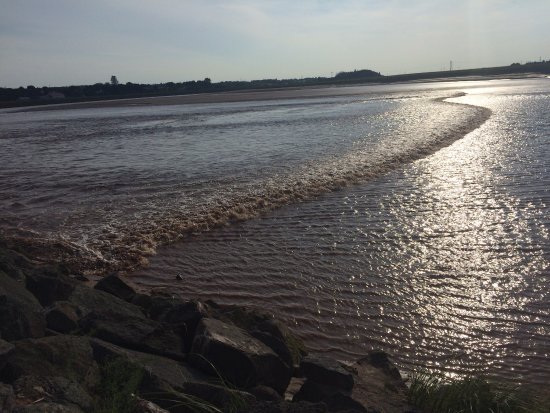 U. Upper Tantallon. Upper Tantallon is a scenic community of less than 3500.
If you feel like a bit of fresh and and exercise, try hiking or biking the 33 km long The St Margaret's Bay Trail near the historic Train Station Bike and Bean Cafe. If that seems like just too much exercise, grab your BBQ and and plan a swim at the Jerry Lawrence Provincial Park. Add a tour through Acadian Maple Products facility. Close by in Tantallon you can book a boat tour from Four Winds Charters. If you are hankering for a feed of mackerel, drop you line off the government wharf at Boutilier's Point a scant 9 km away.
V.`Victoria Beach Named after Queen Victoria on the occasion of her silver jubilee in 1862, this seaside hamlet was also the western 'end of the road' for the Nova Scotia Pony Express- from there, mail was transferred via  steamer to Saint John.This service which began in 1849 lasted less than a year.  Lighthouse lovers will want to visit the one on Battery Point,built in 1901. Love dulse? Try gathering your own on the outgoing tide. One of my favorite short hikes is  at Delaps Cove about 20 km away. And I hear good things about the Crows Nest Restaurant in Parker's Cove . It's supposed to be really good-as in strangers recommend it to you good. It's on our to-try list for this year. Let me know if you've tried it.
W. Westport. Situated at the tippy tale of Digby Neck and Islands, it's known for whale watching and birding. I've gone out several times with Brier Island Whale Watch and Seabird tours and last fall is was especially rewarding. We saw a ton of whales! And the crew was so knowledgeable.And why not? These are research vessels dedicated to the study of whales, seabirds and other marine life. On the other end of the island by the lighthouse are a few picnic tables and a walking trail along the coast. There are few choices for accommodation and restaurants on the island-one that we've tried is Brier Island Lodge and we enjoyed our stay there. You'll need to take two ferries from the Mainland.It will take about 2 hours from Digby, so keep that in mind when you look at the ferry schedule. Allow time on the way back to hike to the Balancing Rock in Tiverton-it's a 2.5km flat hike EXCEPT for the over 200 steps to reach the Balancing Rock-but it's worth it. There's a provincial picnic park in Lake Midway that's about 18 km from Digby -you can swim and kayak and lots of tables with lake views.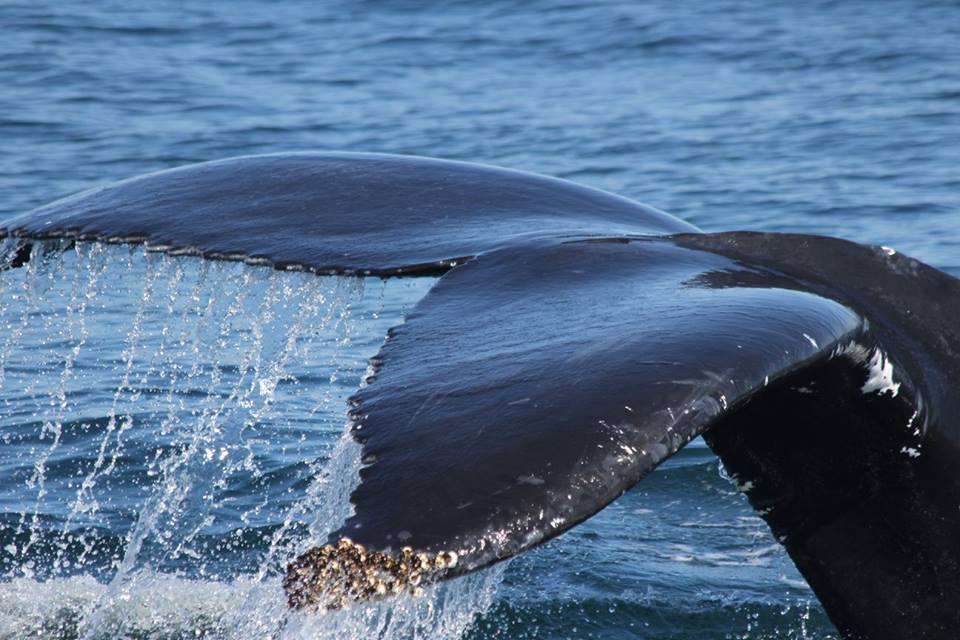 X
Y Yarmouth-I love strolling along the boardwalk in downtown Yarmouth- I've spotted a few seals there at times. Downtown Yarmouth has some unique shops which are fun to poke around in. Of course,everyone needs to drive out to Cape Forchu lighthouse and climb around the rocks-maybe even watch the ferry come in. We discovered a teeny beach on the way to the lighthouse-it's on your left as you drive out. Plenty of restaurants from fast food to diners to pub food. We enjoyed a meal at Rudders -it's located on the waterfront and offers a wrap around deck where you can sample inhouse crafted beer.
If you have the time, you may want to drive east up highway one about 17 kms to the fishing village of Sandford which boasts a very small drawbridge, built in the early 1915. Once is was touted as the world's smallest, but there is also one in Bermuda that is claiming the same.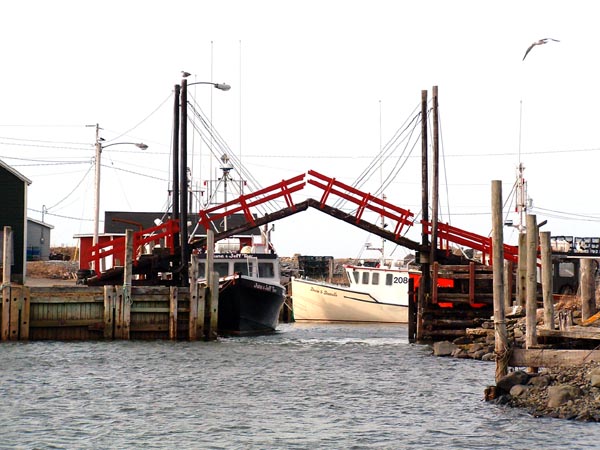 A. Antigonish. Ahh. This is the place I escape to for my week long retreat every fall. While I'm there, I get out and about and explore the town and surrounding area. The Bethany Centre has a lovely contemplative trail right on the property-not overly long, some uphill areas, benches to sit and, well, contemplate. No dogs allowed on this trail. There is also the Antigonish Landing Trail 4km return which runs along a estuary of Antigonish Harbour-lots of waterfowl. Lots of provincial parks/hiking close by such as Arisaig Provincial Park,Beaver Mountain Provincial Park and Keppoch Mountain.Cape George Provincial Park is less than 30 km away. Last fall I found my way to Pomquet and explored Pomquet Beach Provincial Park. Antigonish has a nice Farmers Market every Saturday from May-Dec on James Street behind the arena. Antigonish also has a thriving Arts and theatre culture.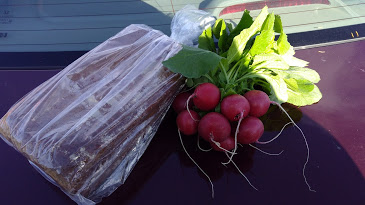 B. Blue Rocks. The small community of Blue Rocks has been described as "Lunenburg's answer to Peggy's Cove" For the life of me, I don't see why. It's very pretty, but does it resemble Peggy's Cove?? Maybe I am missing something….
Be sure to bring your camera -it's lovely. Once we were thrilled to watch our Bluenose sail past to her berth in Lunenburg. Stop in to Blue Hog Gallery for inspiration. You can also book a kayaking tour with Pleasant Paddling. Blue Rocks is less than 10 km from Lunenburg – so you could add the Fisheries Museum of the Atlantic, (I've eaten at the restaurant there and it was pretty good) or enjoy some of the many arts and crafts shops. Tour this UNESCO World Heritage Site via horse and buggy-contact Trot in Time to reserve.
Here's your printable booklet 26 Nova Scotia Day Trips