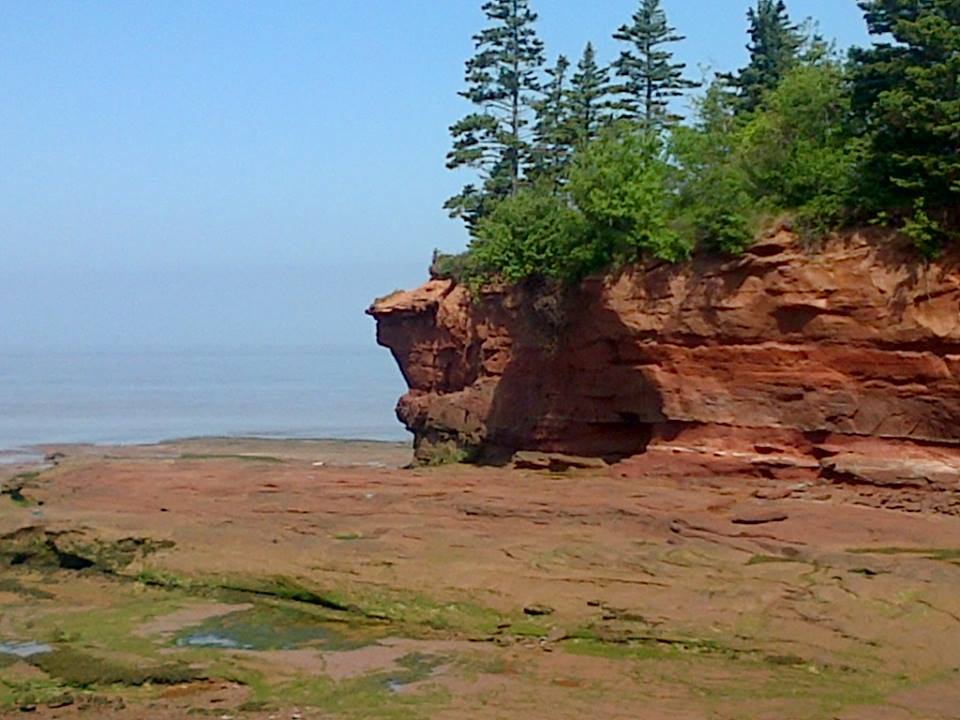 Nova Scotia's Mighty Bay of Fundy:  Nova Scotia, My Heart and My Home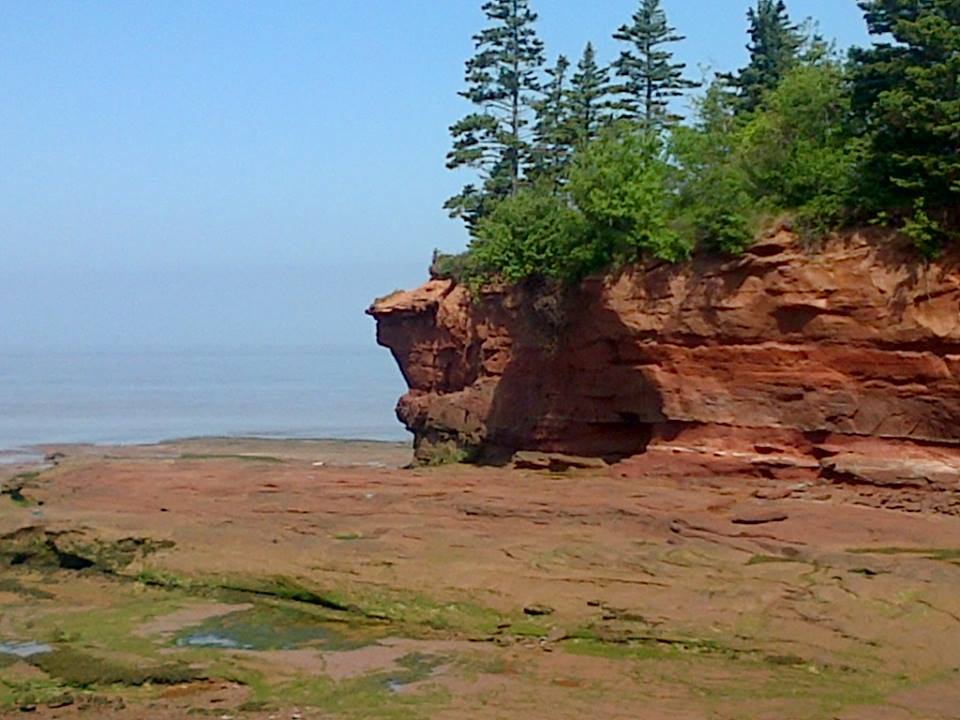 Years ago, as a newly wed, my husband was offered an interview with a company in British Columbia. That interview hinted at wonderful opportunities and a good life.
How did I take this exciting news?
I cried. I cried for days at the very thought of moving from Nova Scotia.
Finally, my husband cancelled the interview.
And, after all this time, I still wouldn't want to live anywhere but this beautiful province. Why would I? As a child, there wasn't much opportunity to explore. As an adult, I am sure as hell making up for that. Even so, I could never experience all I wanted to do, see, taste and smell in one lifetime in Nova Scotia.
Every shore is different. Every shore is a natural playground all its own. I love being so accessible to rivers, lakes, the Atlantic and my personal favorite-the mighty Bay of Fundy. After all, it was practically on my front door step.
As a child,I learned to swim in the rust colored water of the Avon River.
I walked the ocean floor before it became a THING, and  sunk in red mud up to my shins, scraped my toes on barnacles and ruined white tee shirts that will never again be even close to white.
Of course, many flock to the Bay of Fundy solely to witness its amazing tides, which can reach as high as a then 5 story building, and come in as fast as a running horse. Tidal bores, flowerpots, fishing boats resting on a bed of mud. It's all good.
I may start a fight here, because a few places lay claim to the highest tides, New Brunswick, certainly and even Maine. Actually, no. The biggest tides of Fundy occur in the Minas Basin, an eastern arm of the Bay of Fundy.
I often get asked about beaches along the Bay of Fundy. We have 'em, of course. But we don't have the white sandy beaches that many people are looking for. The closest we get to that are spots such as Evangeline Beach in Grand Pre and Kingsport Beach near Canning. Blomidon Beach and Houston Beach are also sandy favorites -we love to take our pup and let her run free. (Although, we really are not supposed to-don't tell the leash police!)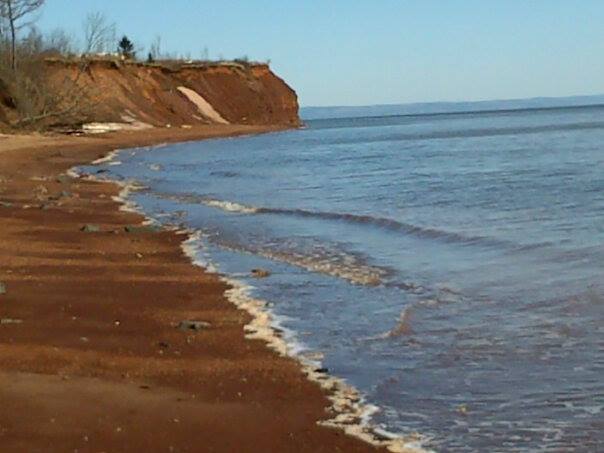 However, those and other beaches carry the danger of the incoming tides. I recommend that beach meanders be confined to no later than three hours before the high tide.
Besides the tides, what would be of interest to an adventurer such as yourself?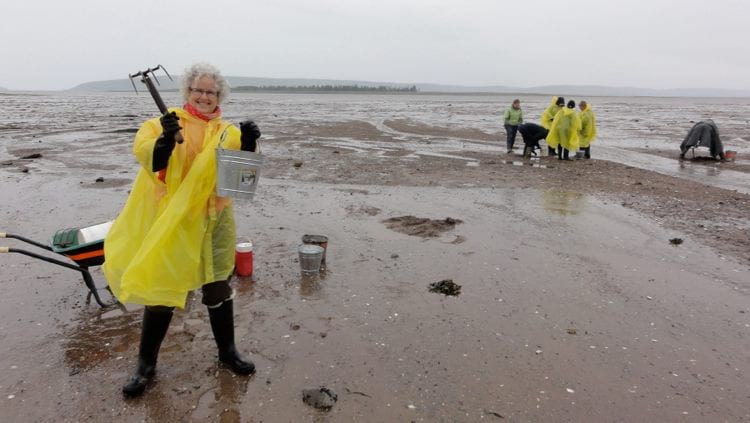 Possibilities are near endless along the Bay of Fundy. Dig for clams. Fish for stripers, smelts and very bone-y gaspereau from a tidal riverbank. Look for fossils, amethyst and sea glass. (Blue Beach, Scots Bay and any beach, respectively) Have a corn or lobster boil on the beach and let the butter drip down your chin. Jump in a zodiac and ride the bucking bronco that is the Shubenacadie River. Visit a ship builder's home (Lawrence House, Maitland) Climb up into a lighthouse. (Walton) Crawl over the rocks where the world's highest tides were recorded (Burntcoat Head)
How would you like to try backpacking, all the while cursing and swearing at the seemingly endless uphill climb? (Cape Chignecto Provincial Park) What about a boat trip out to Isle Haute (Advocate Harbour) A whale watching excursion off Digby Neck and Islands, the best place in Nova Scotia to view these mammoth mammals in their summer feeding grounds.
Maybe you'd just enjoy a quiet stroll.
Or,at ebb tide watch shore birds. August brings tiny sandpipers, who follow the tide out to feast on mud shrimp, fuel for the birds on their autumn migration to South America.
As I said,possibilities are endless.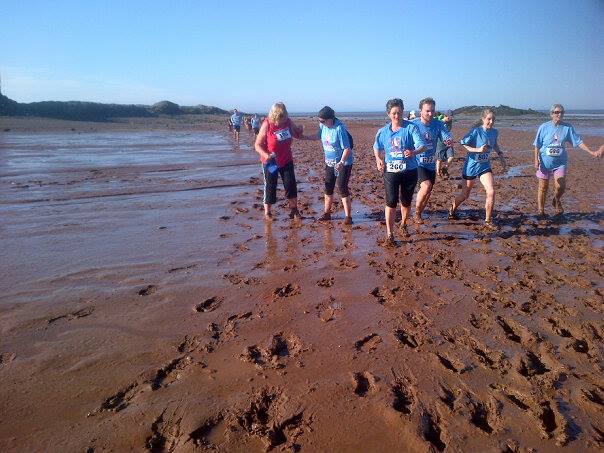 What You Need to Know About the Bay of Fundy:
We do indeed share the Bay of Fundy with our neighbour, New Brunswick.Tides there are just as mighty-and just as dangerous.
The Bay is known for it's rip tides, whirlpools and rapids- I would strongly discourage those unfamiliar with the Bay to kayak without a guide. Try Nova Shores Adventures
Not only is the Bay of Fundy world famous for its tides, but also for semi-precious metals and rare fossils.
Clam digging sounds like fun, but not if you get ill. Check for safe harvesting areas here.
Traditional Mi'kmaq folklore states that the tides in the Bay of Fundy are caused by a giant whale splashing in the water.
Recommended Experiences on the Bay of Fundy
I 'participated' (walked, ran, got stuck in mud) in the Not Since Moses Run in Five Islands, Nova Scotia and I highly recommend it.
I also enjoyed rafting the Shubenacadie River and whale watching on Briar Island.
Bonus Points if you walk out to the Balancing Rock  (it's not the walk, it's the steps,but worth it.)