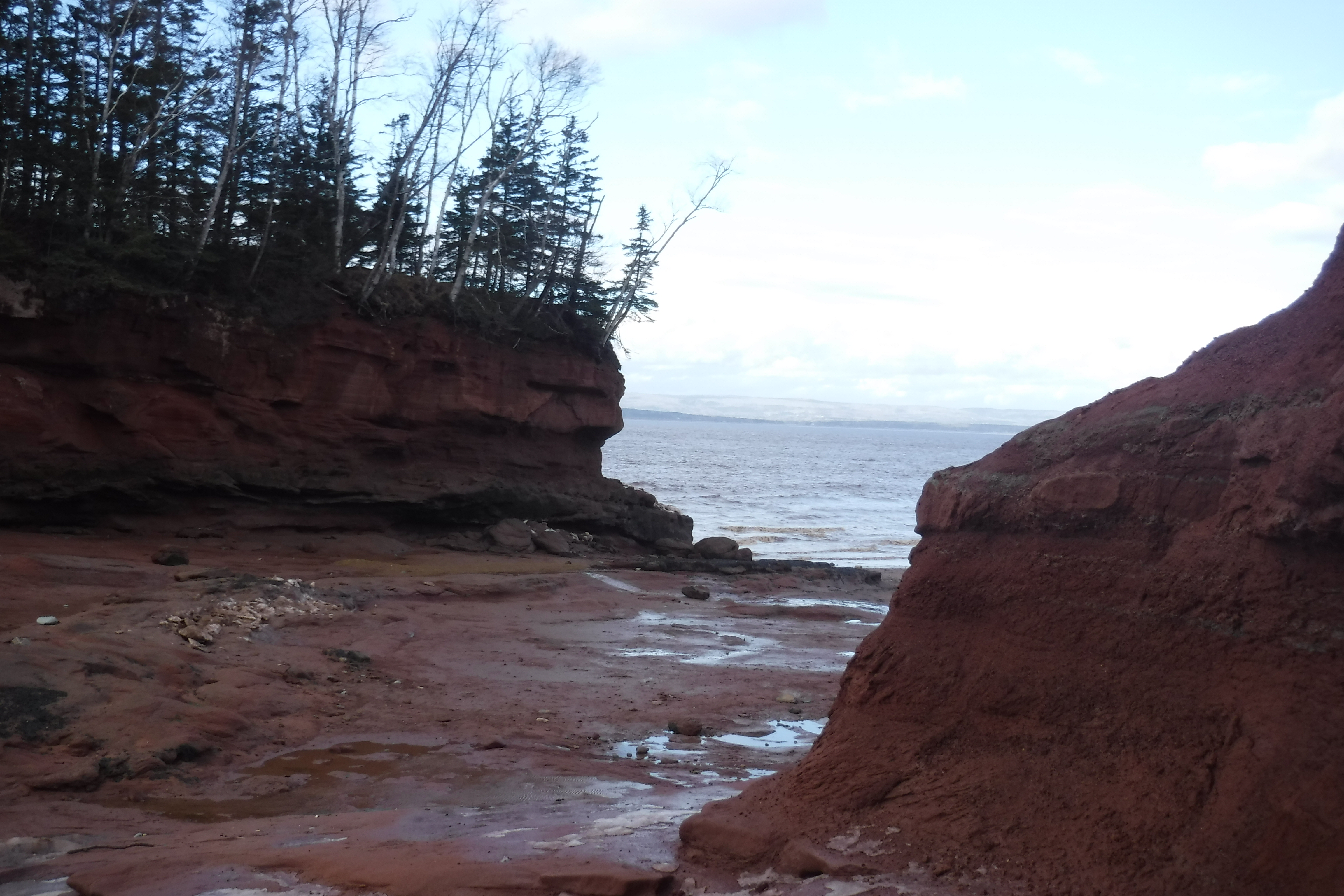 One of the spots I love  to poke around  is Burntcoat Head  Park in Noel, Hants County. This park is just another of the special gifts the Bay of Fundy offers up for us.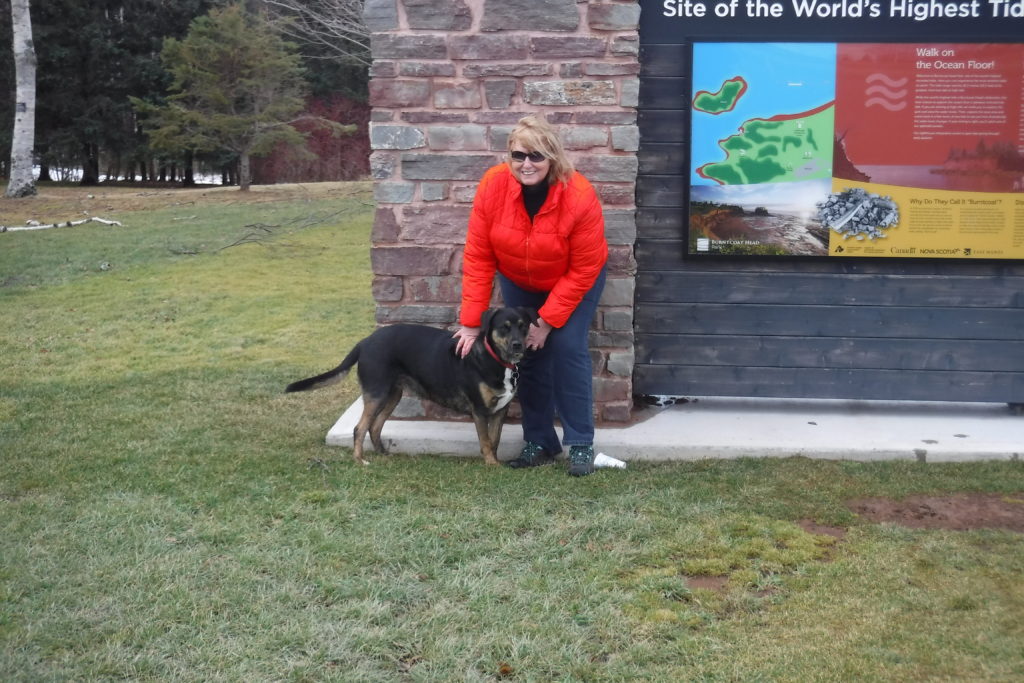 Known world wide for having the highest tides on earth, Burntcoat Head entered the Guinness Books of World Records in 1975 as having that designation. However,other communities communities along the Bay disputed the fact  and even Ungava Bay in Northern Quebec wanted to lay claim to this title.
A tide gauge installed by the Canadian Hydrographic Services in 1998 confirmed  once and for all that Burntcoat Head does indeed own that title. Yay for us.
Upgrades over the the last several years to the park including  flush toilets, better accessibility to the beach (no, not wheel chair accessible,although some of the trails are)  and upgrades to the interpretive centre and surrounding walking trail all lay testament to the growing popularity of Burntcoat Head Park.
And why not? There is literally something for every outdoor lover at Burntcoat Head Park.
Not to Miss Experiences to Enjoy at Burntcoat Head Park
If you are there for the tides, the best way to experience those are to plan your visit to see both the high and low tides, which are about 6 hours apart.
Feeling like walking on the ocean floor? This is safest done on the ebb tide-allow 2 hours after the tide it at it's highest, then you will have 8 hours to explore Burntcoat's caves and beautiful red shoreline Tide times for Burntcoat Head are here. I recommend old sneakers and clothing.I guarantee those red mud stains will not come out. By the way, iron ore particles suspended in the water create the rusty color -and the stains in your new white tee shirt.
Bird lovers will love the varied species of birds who live at Burntcoat Head from pileated woodpeckers to  migratory birds such as the tiny sandpipers who stop to feast on mud shrimp before continuing their trek southward.
Take a guided tour.Tours are available in late May until  Thanksgiving. These are quite popular so it's recommended that you book 24 hrs in advance.
Or grab a booklet from the Interpretive Centre and explore on you own.I hate to be a nag but I beg of you to pay attention to the tide and head out 2 hours after the high tide. Absolutely do not go meandering down the beach any later than 3 hours before the high tide.
Find fossils. But please leave them for everyone to enjoy. Fossils can only go a wandering off site with you if you happen to be in possession of a Heritage Research Permit.
Enjoy a picnic or treat your self to Dining on the Ocean Floor, hosted by the award winning  Flying Apron Inn and Cookery in Summerville. 2018 dates are not yet set, so start saying your pennies now-This unique feast was priced at $350 plus HST per person in 2017-and every date was sold out!
Sunsets at Burntcoat are spectacular.Bring your camera.
Visit the replica lighthouse and learn but the tides, Acadians who lived there and the shipbuilding industry locally.

Replica lighthouse-a wealth of information on Burntcoat. Head Replica lighthouse-a wealth of information on Burntcoat. Head
How to Get to BurntCoat Head Park
Directions from Halifax (just over an hour)
Get on Hwy 102 heading to the Halifax Stanfield International Airport/Truro
Take Exit 8 for NS-214 towards Elmsdale/Lantz/Windsor **
Turn left onto Elmsdale Rd./NS-214 (signs for Belnan/Nine Mile River/Windsor)
Turn left onto NS-14W (signs for NS-14W/Windsor/Rawdon)
Slight right onto NS-202W
Continue straight onto NS-354N (signs for NS-236/Kennetcook/Noel)
Slight left in Kennetcook to stay on 354 (signs for Noel/Walton)
At the junction of 215 in Noel turn left and a quick right onto Burntcoat Road
Park is 5 km on the right
From The Annapolis Valley
Take NS-101E towards Halifax
Take Exit 5 onto NS-14 toward NS-1/NS-215 (not 5A,please)
At the end of the road turn left onto Highway 14
Turn left onto Avondale Road
Turn right onto Lawrence Road, keep right
Turn right onto Highway 215
Take a slight left onto Highway 236
At the end of the road turn left onto Highway 354
Turn left onto 215 and a quick left onto Burntcoat Road There will be  a sign.
The Park is 5 km on the right
From Truro: 50 minutes 
Take NS236W  (19 km)Turn right to stay on Glooscap Trail/NS-236W (signs for NS-215/Maitland/Windsor)
In Noel turn right onto Burntcoat Road, the Park is 5km on the right
Turn right onto Glooscap Trail/NS-215W/NS-236W  (signs for Maitland/Windsor)
Burntcoat Head Park is open officially from May to mid October.