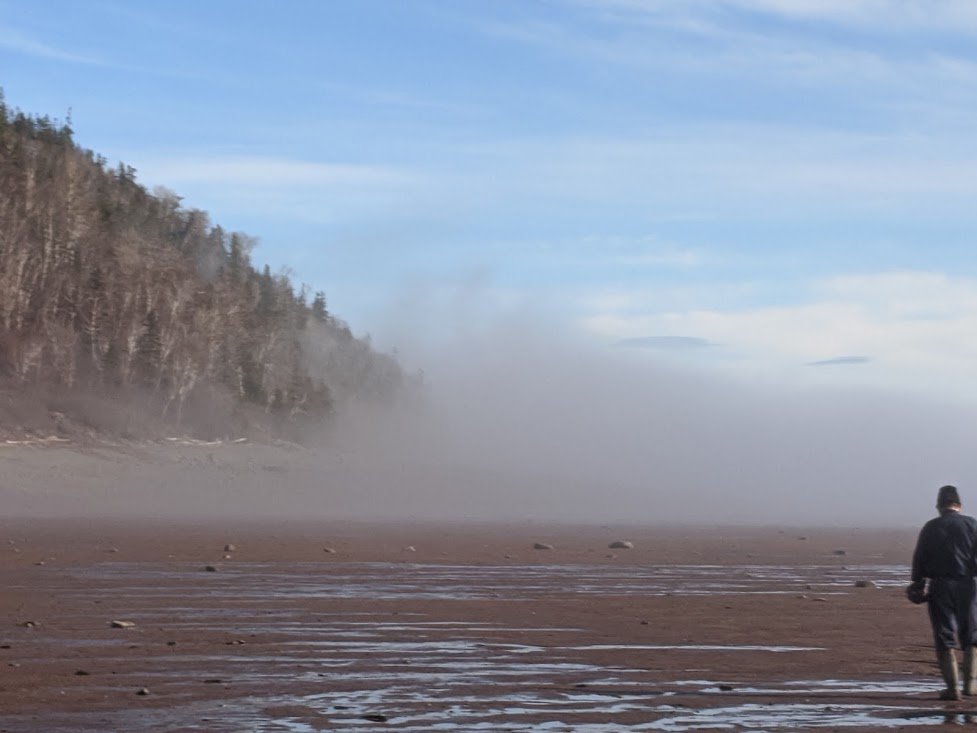 How to Walk on the Ocean Floor
Unless you've been hiding under a rock, you know that the Bay of Fundy's Minas Basin has the highest tides in the world. Twice in a 24 hour period, these mighty tide rush in (as fast as a running horse ) to cover the ocean floor and lap  greedily the base of cliffs.
I've been blessed to live near this briney water  my entire life. I learned to swim in it. I've fished smelts (yuck) flounder, striped bass.
I've walked kilometers along the ocean floor, too.
Walking on the ocean floor is  a relaxing pastime for many. Depending, of course, on the tide times.
This is the most important piece of information you'll need to plan a  walk along the ocean floor.  But its easy to find. Just click on the link above, then on the area you wish to explore, or from the drop down list. (Choose Atlantic )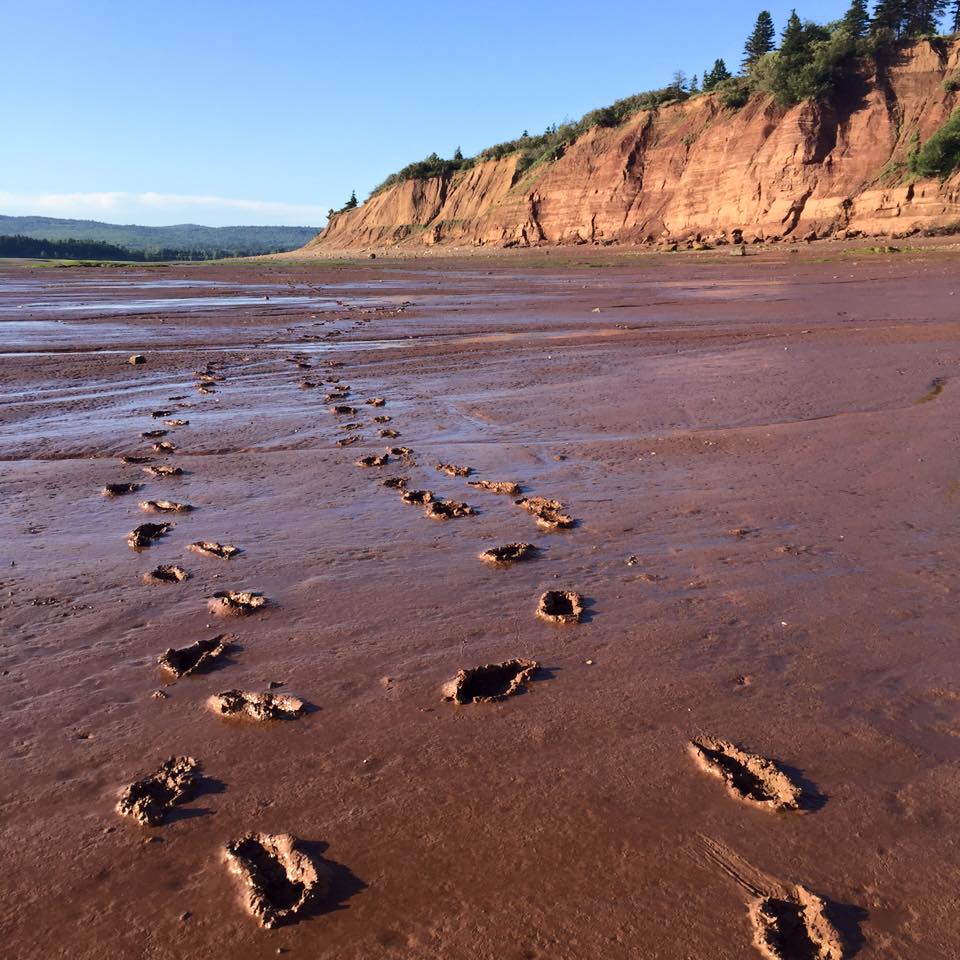 From there on the next screen choose Fundy, and narrow down you choice .I recommend Cape Blomindon, Burnt Coat head or  Five Islands in Nova Scotia .Click on your choice and tap go. On the next screen, choose your destination, input the planned date of your visit and voila!  you will see the times for Bay of Fundy high and low tides.
That's step one.
The best time to go is on the ebb tide…. once the tide is high, wait about 3 or 4 hours -the tide will have dropped so you can get on the beach  and it gives you lots of time to explore.
I always insist (of course, I'm not the boss of anyone) that folks be off the beach NO LATER than 4  hours before high tide. Why? Any later and those waters may already be lapping at the bottom of some cliffs (Cape Blomidon or BurntCoat Head) for example.) The route back may be cut off. The cliff is too steep to climb. You DO NOT want to be caught in that position.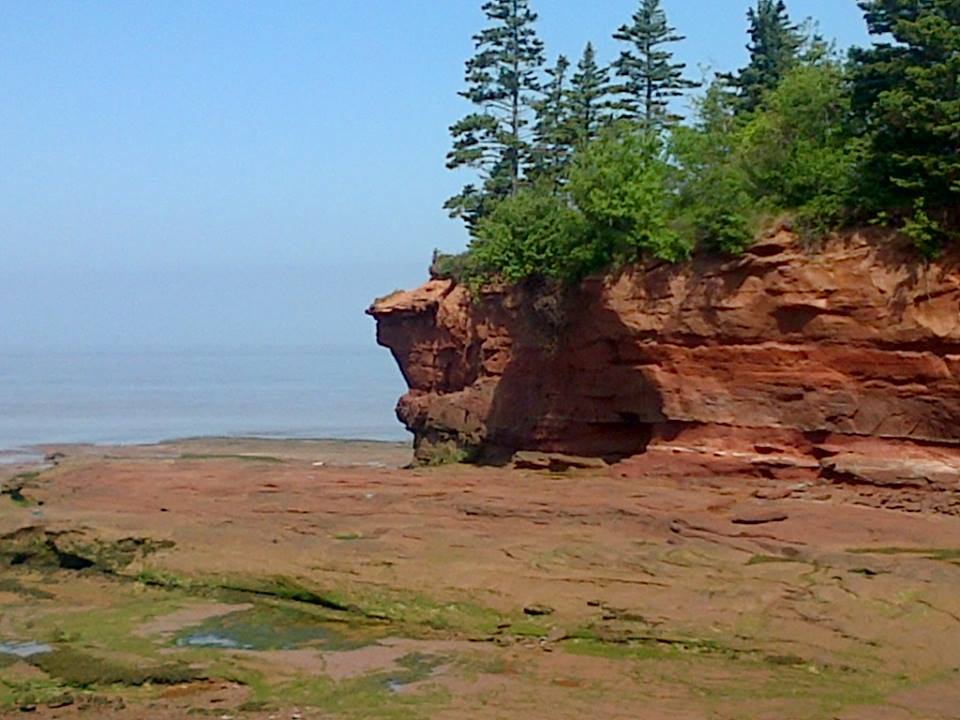 What else should you know about planning a walk on the ocean floor ?
Well, it's muddy. What starts out as pretty firm sand,  quickly disintegrates to thick mud, Mud that will suck your shoes right off your feet. You can always stick close to the shore and avoid a lot of that mud-but now what fun is that? I'd keep water and an old towel and clean shoes in the car for when you return. And maybe extra shoes.
It's best to walk perpendicular to the water. I once walked out to the Elephants Trunk from Delhaven and it took a good 45 minutes to walk out -and by the time we came back incoming tide was already running up little streamlets. And I pride myself on knowing the tide.
Deciding to skip the shoes and go barefoot? You can and I certainly have but be aware there will be the odd broken shell or periwinkle covered rock you will probably step on. That's not fun.
Wear clothes you don't care about – you may lose balance while pulling your foot out of the ooze and land on your keister. Bay of Fundy mud contains iron ore  and it doesn't seem to wash out.  Ever.
If you want to do this foolishness along with others, sign up for the Not Since Moses run. It's a 5 or 10 k walk/run at Five Islands  and it's hella fun. ** to do the 10k you must be able to run it-you won't beat the tide in  if you walk.
If you want a high class experience ocean floor trying dining on the ocean floor hosted by Flying Apron Cookery at Burntcoat Head. Tickets sell out very fast. Of course this is all Covid dependent-nothing seems to be scheduled for 2021.  Start checking the calendar for this in January .FYI tickets for 2 for this event can run over $1000,
Alternately you can pack a sandwich and thermos yourself! Again, plan for 3 or 4 hours after ebb tide
Also at Burntcoat Head there are guided tours offered 
Finally, don't forget about the treasures Fundy reveals with every change in the tide. Fossils can be found in several places, but I have had good luck near my home at Blue Beach. Don't forget the tide times . * Fossils belong to the people of Nova Scotia.  To identify a fossil, stop in at the Blue Beach Museum , just up from the beach.
.