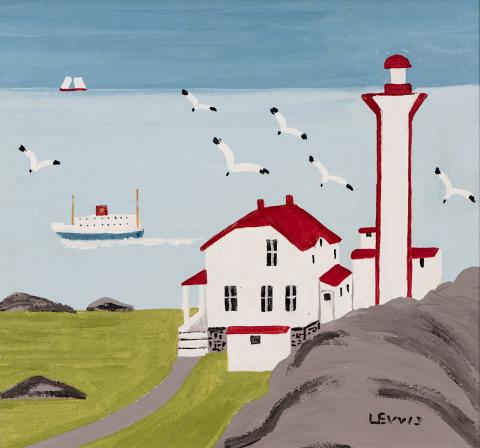 I've always been a little bit curious about Maud Lewis. Being native Nova Scotian, it's hard not to be-she is one of the more recognizable names in recent cultural history, especially with the overwhelming popularity of last year's movie "Maudie"
I was treated to a special showing of Maudie last fall at the Art Gallery of Nova Scotia, along with  a chance to see her wee house itself.
And wee it was!  For the life of me,I cannot fathom two people living in this- bigger houses have been made by kids with refrigerator boxes!
Actually, we are pretty lucky to have this  gem. After the death of both of Maud and Everett,( Everett was murdered during an attempted robbery 9 years after Maud's death in 1970 from pneumonia)  a local group of citizens who wanted to save the landmark formed  Maud Lewis Painted House Society. In 1984, the Province of Nova Scotia bought the house,restored it and installed it as  a permanent exhibit in the Art Gallery of Nova Scotia.
The house is one of over 50 Maude Lewis works the province now owns.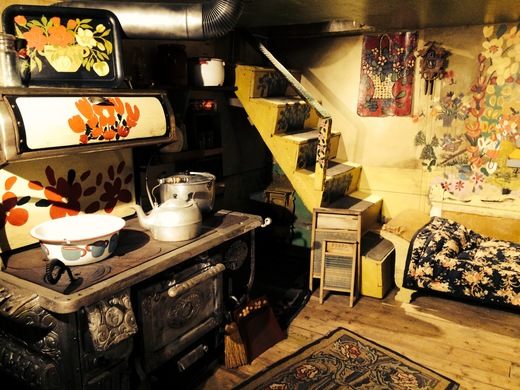 Of course we weren't allowed to actually go in the house-But as you can see it's delightful. I would have loved to peek upstairs-if I could fit upstairs.
Each work was  a labour of love and sacrifice.Back then her work sold for a few dollars,but even that pittance allowed her to pretty much be the breadwinner of the house.
Today those same pieces go for thousands of dollars.In fact, one of Lewis's painting  "Portrait of Eddie Barnes and Ed Murphy, Lobster Fishermen, Bay View, N.S.",-found in a Ontario thrift store ,sold at auction for  $45,000.
What You Need to Know About Maud Lewis and her Works
If you haven't been to the Art Gallery of Nova Scotia to see the Maud Lewis permanent exhibition, I'd recommend seeing the movie Maudie first. While it does give a somewhat romanticized account of her life, it also give so much color to her story, especially her perseverance in the face of  her acute disability.
If you are a NSAG member, the exhibit os free-otherwise Adult $12; Senior (age 60+) $10; Student (with valid ID) $7; Family (max 2 adults & 3 youth) $25; Youth (age 6-17) $5; Child under 5 free.
Currently there is a traveling Maud Lewis exhibition in Yarmouth until May 6th ,2018.
If you are traveling down Digby Neck way, check out the Maud Lewis Replica House built by retired fisherman Murray Ross. It's located at 11585 Highway 217. I haven't seen this myself yet-but I plan on it.

Maud Lewis Replica House