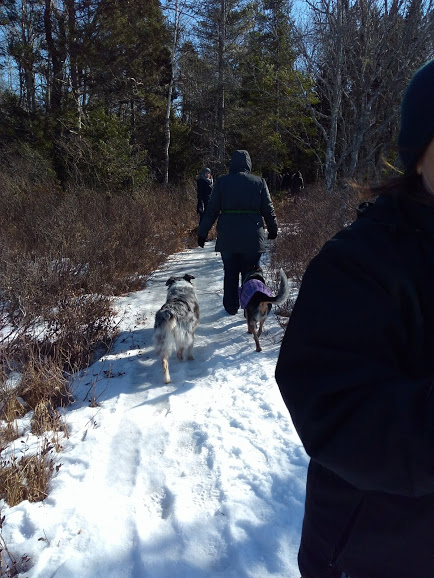 Forest Lakes Trails -Hike to Cameron Lake
Don't you love Facebook events? It's an opportunity to find trails I would probably never know about.
This was the case on a recent frosty Sunday when a couple of  friends and I took advantage of a guided trail along the Forest Lakes Trail system in Ardoise.
Forest Lakes is a country club with luxury seasonal and overnight housing rentals and real estate. Out of my price range ? Absolutely.
No matter. The trails are open to everyone. I suspect this was a marketing maneuver to get people up close and personal with their property.  And why not? But with my my less than stylish hiking gear-I was wearing my oldest coat because it covers my bum – I don't think I  fit their target market.
Two dozen of us meet in the lodge prior to hike time and were given two options.  We could take a 2 km hike or a longer 5 km hike-which actually turned out to be almost 6 and a half. We opted for the longer trail to Cameron Lake.
Most of the hikers took off as if they were shot from a cannon.  There were many icy spots so we followed at a more sedate pace, giving us lots of time to enjoy our surroundings while trying not to break a hip.
The  wide, gravel trail wound over bridged bogs and alongside hardwood stands, spruce and fir. The view of  smooth, glassy Cameron Lake was spectacular. I wanted to skate on it right then and there. And I don't even skate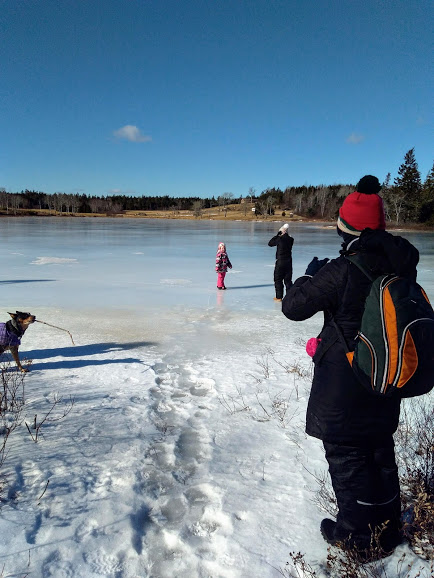 The Forest Lake Trail system is well marked by color coded signage. I would like to see trail names as well as the distances on the signs, because, yes some of us did get separated for a short time despite having three leaders. If you didn't take note-and of course you should-of what color trail you were on at the trail head, it could happen.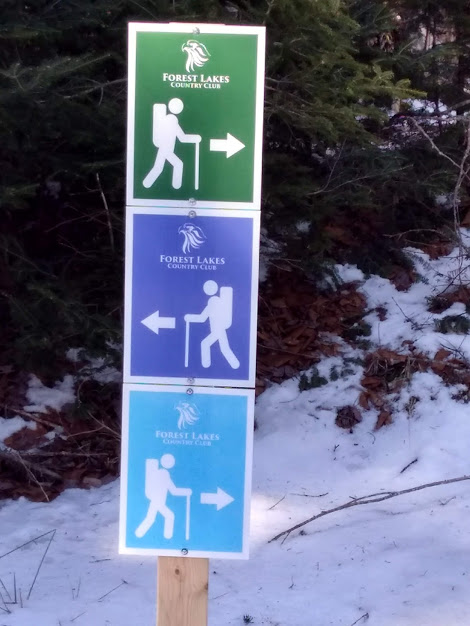 What You Need To Know About Forest Lakes Trails:
Find it at 40 Eagle View Drive, Ardoise. You can't miss it-there is a huge sign off Highway #1
Lots of parking up by the lodge
There are over 10 km of multipurpose trails for hiking, biking and horse riding. You can find a  a trail map on the Forest Lakes website
And, according to the trail  amp, hikers are welcome to use the lodge to fill up water bottles and use the washroom. Good on them for that,