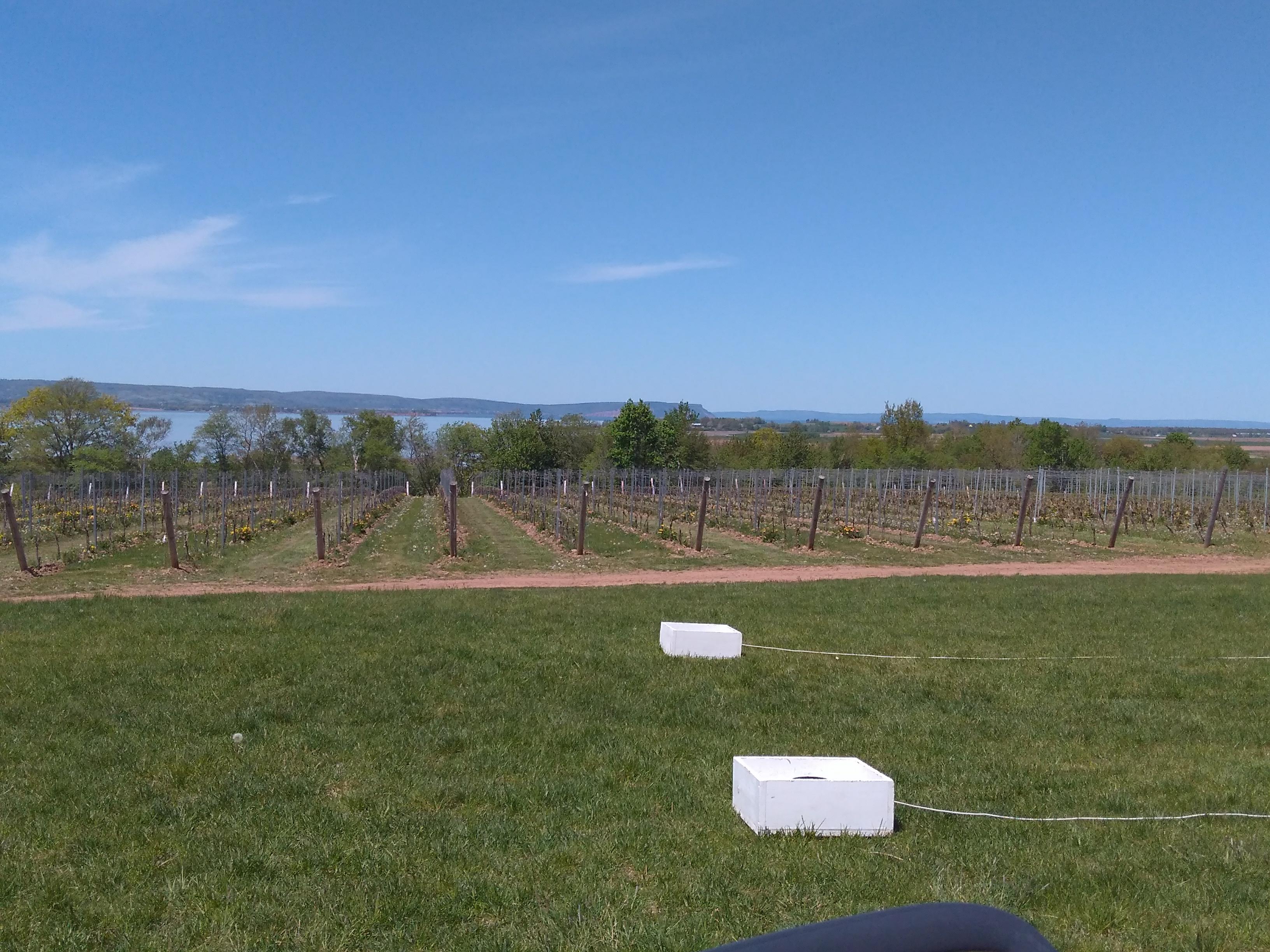 Lightfoot and Wolfville Winery-A Restaurant Review
I've been wanting to check out one of the Kings County's newest wineries (not THE newest-that's Mercator) not for the wine but for the wood fired pizza that I've heard so much about since the opening of Lightfoot and Wolfville Vineyards.
Finally, an opportunity presented itself.
Lightfoot and Wolfville 's executive chef Geoff Hopgood is a Nova Scotia native who honed his craft in the big cities of  Vancouver and Toronto before opening a successful restaurant in Toronto. Eventually, the call of the sea and the Nova Scotian air lured him Hopgood and his family back here.
Now he oversees the kitchen at Lightfoot and Wolfville,using fresh, seasonal quality ingredients.
First, a stop at the wine tasting bar. My accomplice for lunch 'volunteered'  to taste a couple of the wineries offerings, including the Lighthouse and Wolfville's version of Tidal Bay.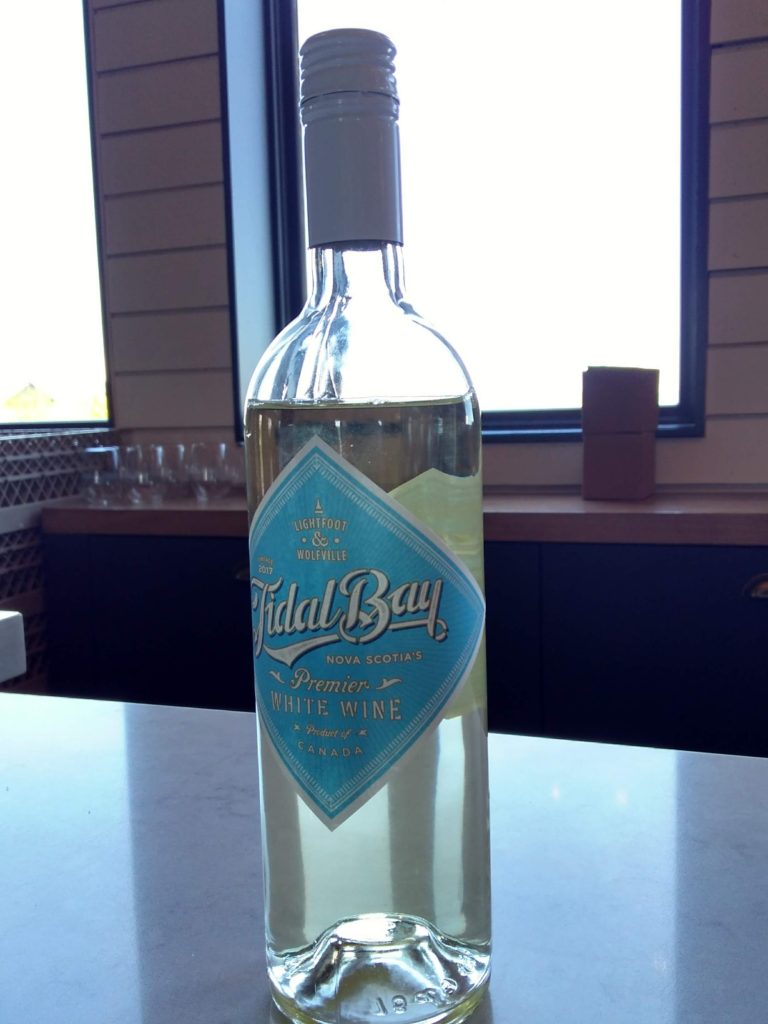 Then it was on to pizza. It was a gorgeous day and we opted to sit outside overlooking the rows of grapevines with Blomidon rising in the distance. Our waiter, who shall remain nameless, well, because he didn't tell us and he had no name tag, hustled over with menu and an offer to fetch drinks.
I ,being somewhat of a traditionalist, chose the spicy Charcuterie with San Marzano ( a tomato, I discovered), salami, spices and mozzarella.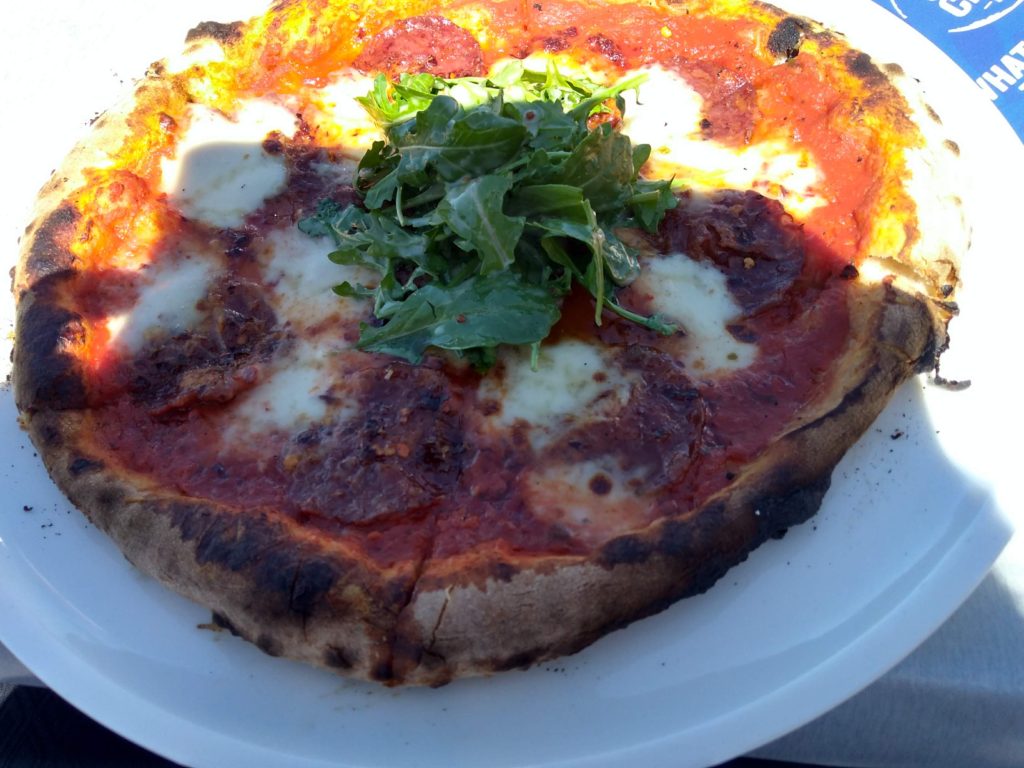 My friend ordered the New Haven Clam. I would not ever have chosen clams on my pizza.Guess what.It was delicious! (We shared a slice with each other) Better than mine, really.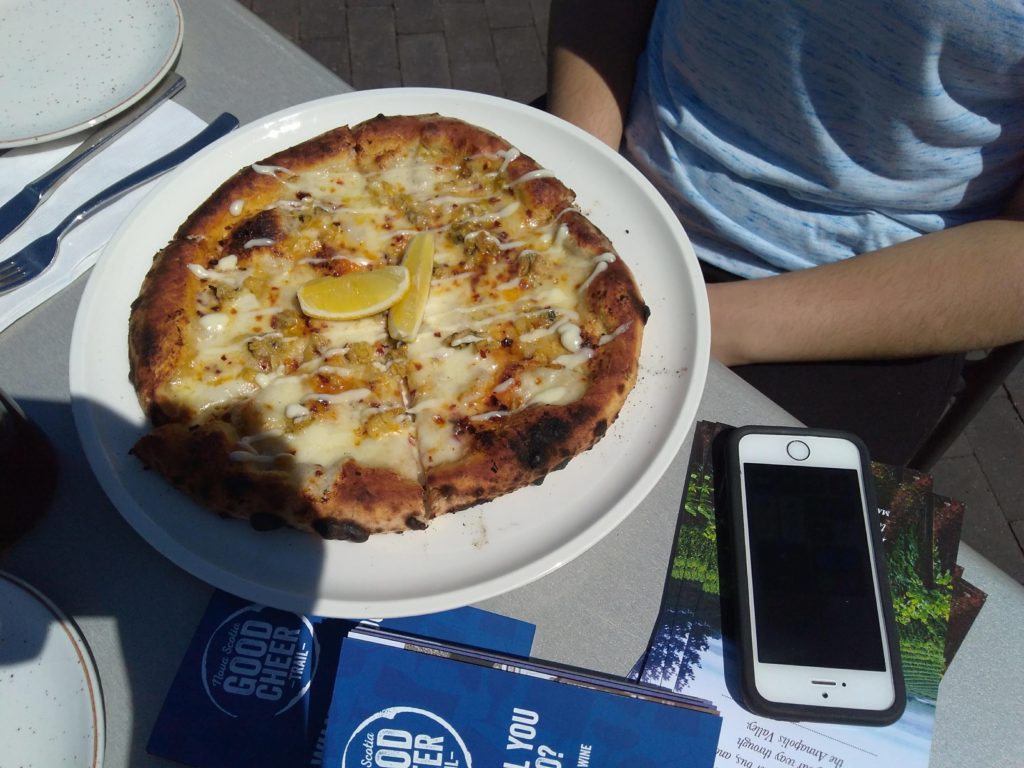 The pies are all 12 inches so certainly big enough to share and  ranged in price from $14 to $19.
Of course, pizza is not the only item on the menu, which includes seafood chowder, salads, and desserts.
What You Need to Know About Lightfoot and Wolfville Winery
Find them at 11143 Hwy 1-just east of Wolfville's downtown.
We were there about 1:30 and it wasn't too busy, but I'd suggest a reservation if planning to enjoy dinner there.
We were there to try the pizza but if wine is your thing, pick up a 'Good Cheer Trail passport ' at the winery or a local visitor centre and enjoy getting them stamped, not just at Lightfoot and Wolfville Winery but the other 10 wineries in the area. Salud!