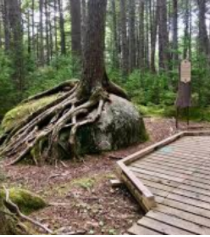 Hemlocks and Hardwoods Trail- Exploring Kejimkukjik
I've spent a lot of time at Keji over the years, camping with the kids,with the husband, by myself. I've hiked it and biked it and kayaked to an island for lunch.
One of Keji's most popular trails I hadn't had a chance to explore until recently is the Hemlocks and Hardwoods trail.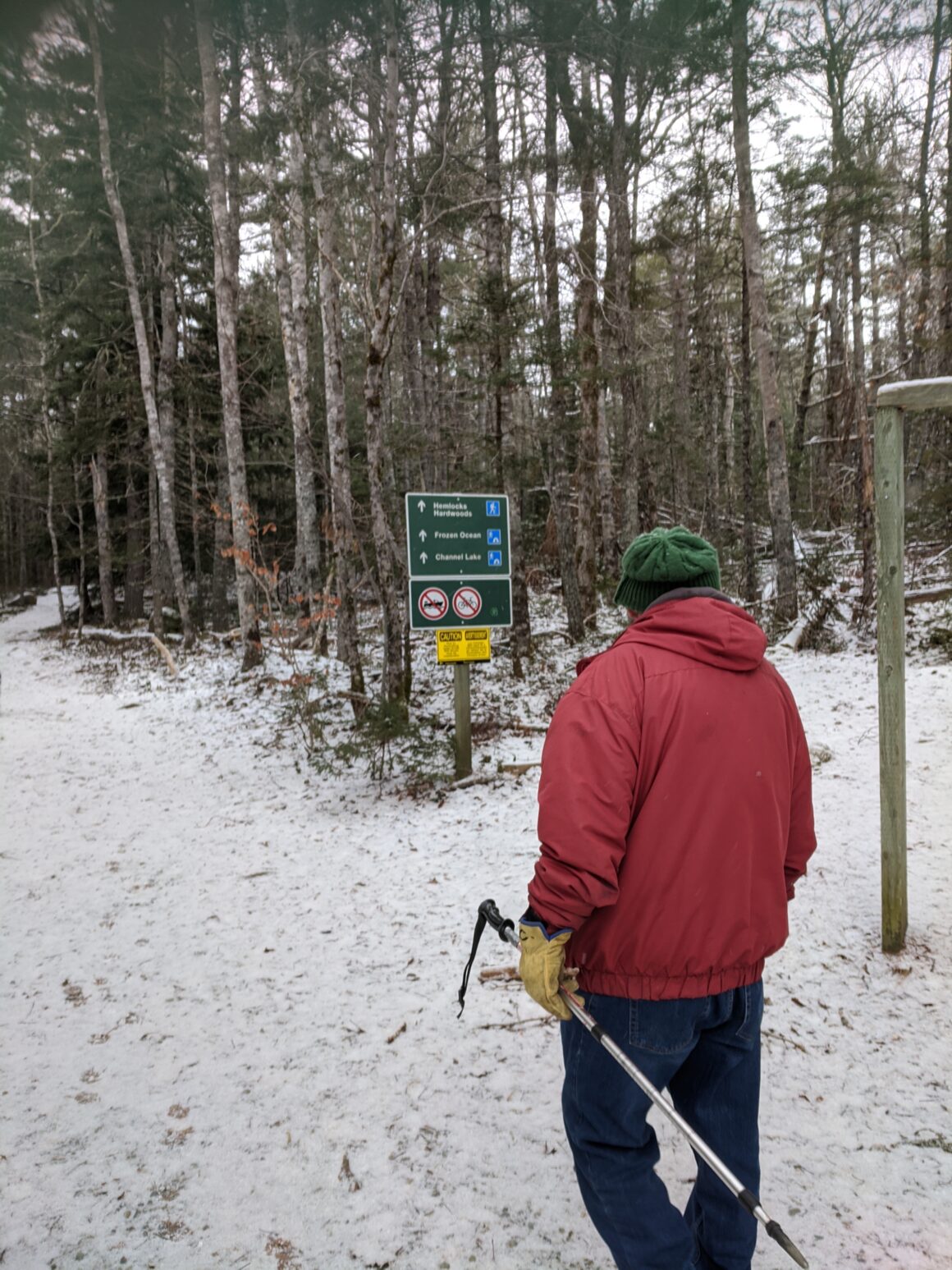 The trail starts at the parking lot at Big Dam Lake.  Unless you are like us and go in January, when  the gate to Big Dam Lake road is closed.This adds several kilometers to your hike (out and back) 
This trail is roughly a 5km mostly looped route  rated as moderate. I think most people would have no trouble with this trail at all- no roots snaking across the path or rocks to wiggle by, and it's wide too.
We trekked counter clockwise through pines and oaks and birch…reading the  interpretive panels along the way.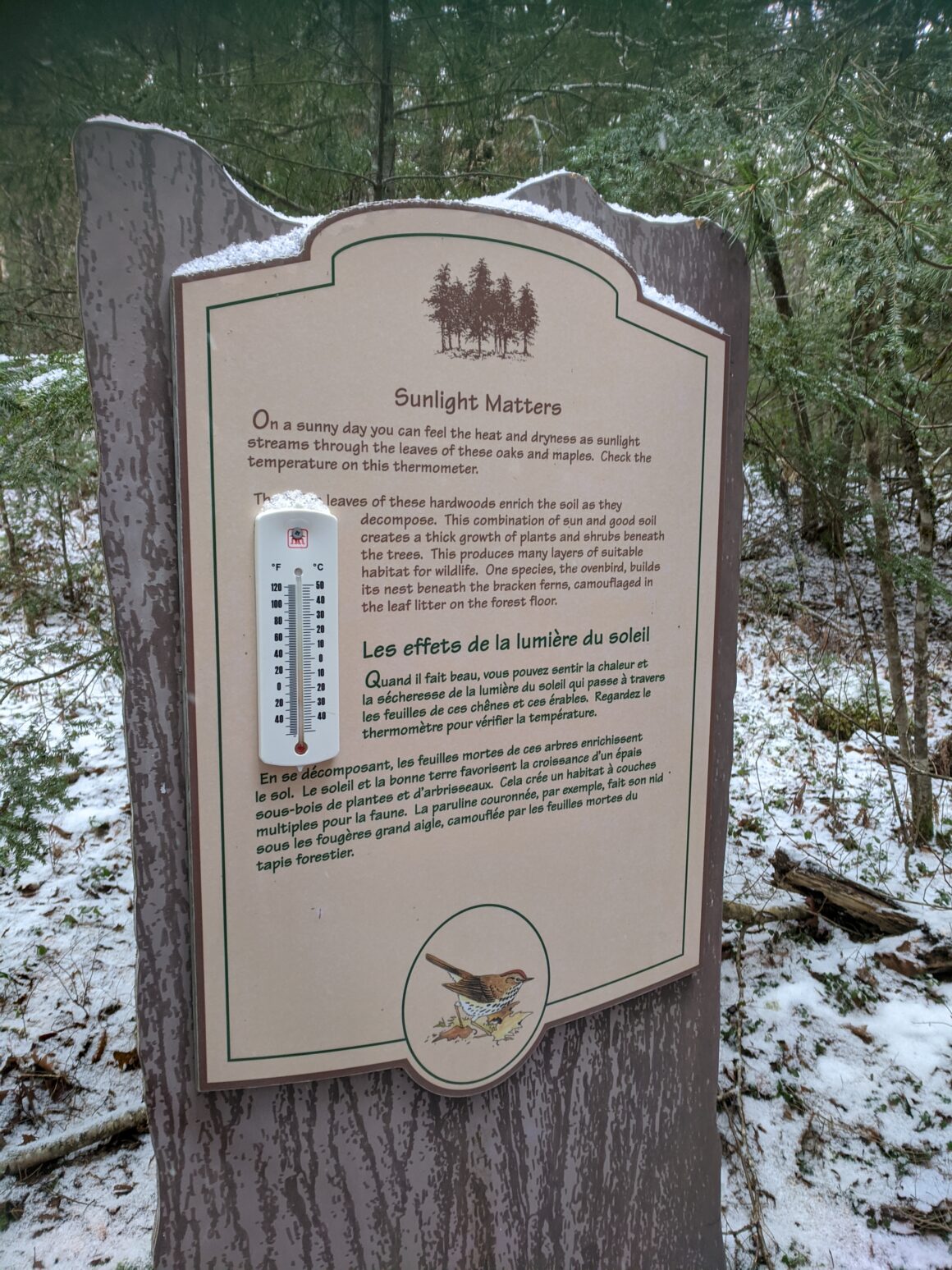 As we rounded the top of the loop and headed back we could see glimpses of Big Dam  Lake between the trees. There are several hike -in backcountry campsites a short way off the trail.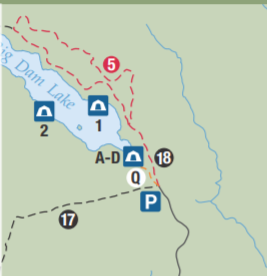 This is where we start to see  hemlock.Huge magnificent hemlock, some of which are 400 years old.
My favorite part is the boardwalk. While it's natural to think its there for our hiking pleasure-it's not. It's there to protect the very sensitive roots of these gigantic beauties.
Click To Tweet
What Else You May Want  to Know About The Hemlocks and Hardwoods Trail.
There is no winter maintenance in Keji. The main road is usually plowed as far as the Visitor Centre. The Visitor Centre is closed from October to June which means you don't need a day pass to go in and hike, snowshoe or cross country ski.
Regular season passes are found here.
Washrooms are closed but privies are open.
No biking on this trail
Dogs are welcome on leash.
Please pack out your trash. Garbage cans are found near the entrance of Big Dam Road
Directions to  Kejimkujik 


Kejimkujik National Park and National Historic Site, 3005 Kejimkujik Main Parkway, Caledonia, NS B0T 1B0
From the Annapolis Valley 
Take Exit 22 from Highway 101
Turn left on Highway 8 and travel about 42 km
Kejimkujik National Park and National Historic Site, 3005 Kejimkujik Main Parkway, Caledonia, NS B0T 1B0
From the South Shore 
Take Exit 13 from Highway 103
Then  right onto Highway 325 (Caledonia )
Turn left onto Highway 208 W (Caledonia/Kejimkujik)
And another  right on to route 8 and travel about 22 km to the park.