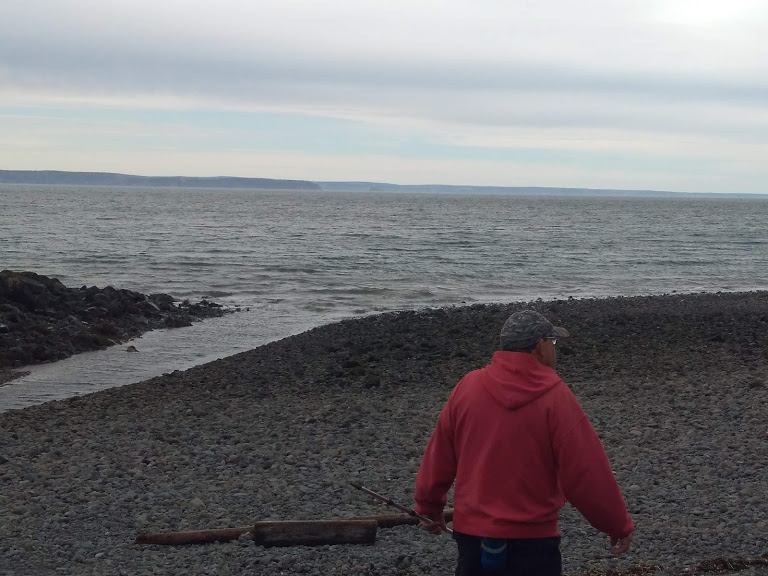 Black Rock Fundy Shore Trail-A Hike Uncompleted
This blog allows me to impart information-I hope useful-to others and to report my successes and also those outings that were….let's say less successful than I would like.
A recent hike along the Black Rock Fundy Shore Trail was one of those outings.
On a cool overcast May morning, we set out to do the 7.8 km Fundy Shore trail, starting from the Black Rock Community Centre. We weren't newbies to the trail system; we've done shorter trails there before.But I have always wanted to do the one along the shore line.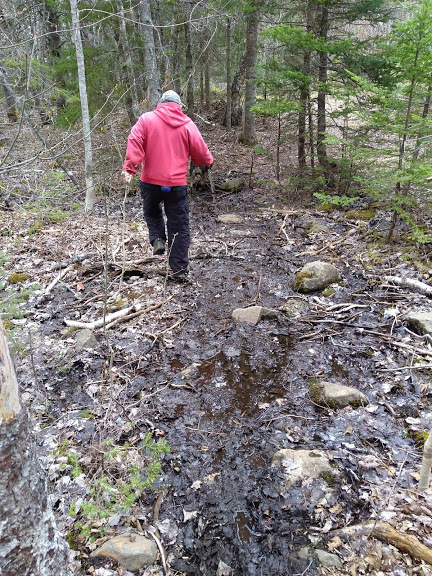 The community has done a wonderful job with trail upkeep and the Black Rock Fundy Shore trail is no different. It's a great trail, and as all the Black Rock trails, very well marked. Most of the Black Rock Fundy Shore  trail was through the woods, a .5 km section followed  a dirt road , where it dove off the the right for a short distance through the trees to come out on the pavement.From there it's a short walk down the paved road to the beach.
The beach. As many Bay of Fundy beaches, it's covered with those  rounded ankle twisting rocks. I don't mind them-just take your time and pick your way along. But that terrain hurts Hubby knees and those rocks can't be  avoided by hugging the cliffs where the beach surface is more like gravel-that's just dangerous. Those cliffs could crumble at any time.
We had no information of the distance along the actual shoreline to where it connected back to the main trail. So, we picked our way along and after about 1.5 km , hubby had enough. For the sake of marital harmony, I agreed to turn back. But I was disappointed. I hate leaving things half done. We retraced our path and returned the way we came.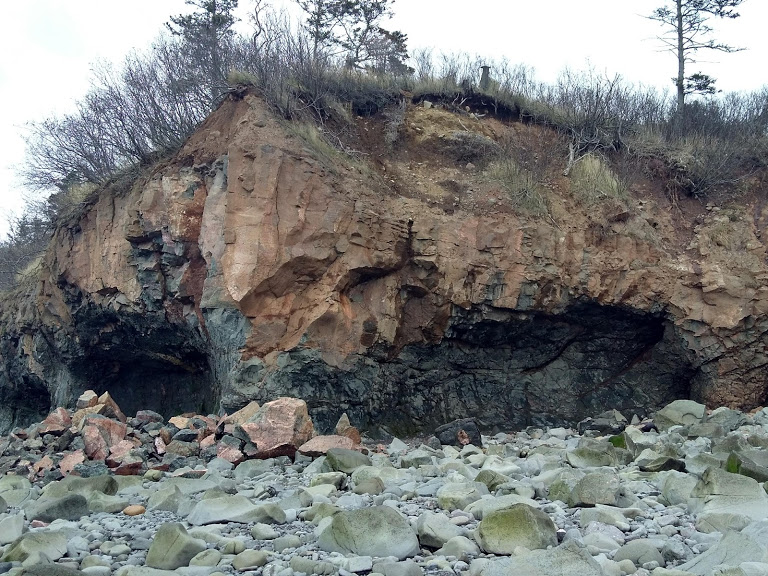 When I got home I did some research (always best done beforehand) and found out it was about 2.5 km along the shoreline to Canada Creek where we would have crawled up, tortoise-like, to rejoin the wooded trail. We had about another km to go.
I'm not sorry we did this trail, and there's a good possibility I will try it again.The scenery was beautiful along the shoreline-Advocate Harbour and even New Brunswick across the way, and Cape Split to the right of us. It's lovely in the woods too, but quite wet in spots and lots of uphill on the way back.
What You Need to Know About the Black Rock Fundy Shore Trail
To get to Black Rock and these Kings County Trails take exit 15 off Highway 101 onto
Route 360 north. At Welsford turn right onto Route 221 and go to Buckley's Corner
where you will turn left and go through Canada Creek and onto an unpaved road to Black
Rock. The community hall is on your right with loads of parking.
It's important to know the tide times.It's always best to start out as the tides starts to ebb-plan for about no later than 2 hours after high tide to begin the hike. Find tide times for Baxter's Harbour -which includes .Black Rock-here. 
It's suggested that 3 hours are the minimum you should allow to complete this trail. Plan so you are off the shoreline NO later than 3 hours before the next high tide. Much, if not all, the beach will be under water at high tide and with the cliffs you will have nowhere to go.
This trail is rated as difficult.
Sturdy shoes are a must
Beware the rocks with wet green moss-slippery!
There is no cell service in some of the forested areas of the trail
Enjoy the hike, and be safe out there. Let people know where you are going and bring along a friend