Chasing My Bucket List to Newfoundland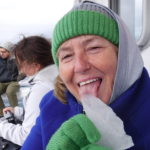 Icebergs? Will I or won't I? Anyone who knows me knows I am a Bucket List freak. So far, I have taken drum lessons,  bought a kayak (two of them, second hand- I love them)completed a sprint triathlon (coming in last, I may add), zipped along on an extremely thin looking line  high above the trees and  jumped in a icy lake on Jan 1st.
There is no rhyme or reason to what ends up on my Bucket List. And it doesn't look as if it will be finished  anytime soon, because new  ideas still seem to find themselves on it.
Last week, I got to check icebergs off the list.  Not only did I see them in the harbor,(trapped in pack ice) but we treated ourselves to a two hour tour on with Iceberg Quest Ocean Tours out of St.John's.( Iceberg Quest also runs out of Twillingate)
I'm glad I booked this tour ahead because they sold out with a waiting list-about 100 people hungry for icebergs. There was but one lonely iceberg in St.John's harbour , but the boat chugged around it multiple times, giving us lots of opportunities for viewing and snapping pictures. It was on the top of my to do list for Newfoundland.

Newfoundland has been a mecca for the media with the booming iceberg season this year. The Huffington Post  supplied it's readers with this article and accompanying amazing berg photos, as one example.
Icebergs are large chunks of ice that break off from glaciers,in a process  called calving.  Although icebergs float in the ocean,surprisingly (at least to me)  they primarily consist of  freshwater. Most  of these floating behemoths in Newfoundland likely calved from   glaciers in Greenland. And behemoths they can be indeed.The tallest known iceberg in the North Atlantic was 850 meters above sea level. Since the largest section of an iceberg hides beneath the water,this gigantic specimen   was estimated to be as tall as a 55-story building! Iceberg B-15, from  Antarctica,was three quarters of a km thick and covered an area of about 11655 square km.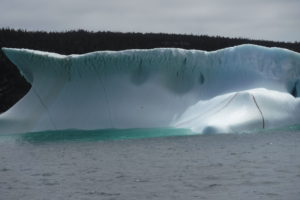 I only wish I had seen such giants.
But they are ice after all.  They crack. They melt. They split.The crew dipped some of the tiniest of these slivers out of the Bay to keep refreshments cold. What could be more appropriate than using ice from a 10,000 year old berg?
The crew looked after us,answered our questions and took group photos. The captain had a ton of historical information about the area to share-the crew danced  spontaneous jigs to entertain (or maybe they were just really cold)
They did all they could to make sure the trip was a memorable one.And it was.
Coming soon, I'll sharing my 5 day itinerary to give you some ideas for  a trip to Newfoundland!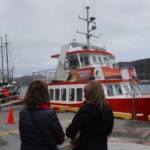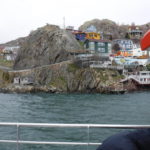 What You Need to Know If You have  IceBergs on Your Bucket List:
Icebergs are most plentiful  and easily viewed in May and early June in Newfoundland-even from land.
If you choose a  boat tour, dress warmly. And then put on another layer. Lord Liftin' Jasus- It's cold! And don't be afraid to have anti-nausea meds with you.I took some before hand but the wind and waves weren't too bad. Throwing up over the side does not a fun tour make.
You may also be able to view icebergs from shore in NL  at Signal Hill, Cape Spear, the Cape Race ,Twillingate and Point Amour Lighthouses.
Check out the handy iceberg tracker here,to see if they are around the area,
Do your research before booking to make sure it's the right time of year for bergs or whales. If not, you'll be disappointed. Best time for icebergs-May & early June, while whales don't arrive until later in June -it's not likely you'll get to see both on the same trip.