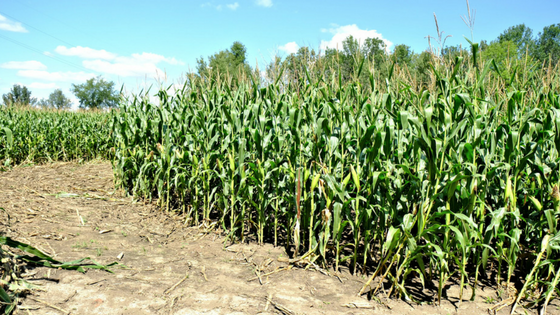 Corn Maze Terror and 6 Corn Mazes for You to Try
Who had the bright idea of a corn maze anyhow?
The history of mazes( aka labyrinths) goes back thousands of years, but ones made from corn-not so very long ago.  At Lebanon Valley College in Pennsylvania,Don Frantz and Adrian Fisher designed and built the first corn maze in the US in 1993.  Mr. Fisher of Dorset, England is considered the world's top maze designer, with 6 Guinness World Records, and numerous other awards- so, no slouch to corn maze patterns.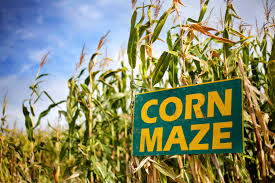 Corn mazes are all the rage for fall. Get the family outside in the fresh air, good clean fun for all,yada,yada, yada.
Still, don't knock it until you've tried it,right?
I've 'enjoyed' a corn maze trek  with a twist-Zombies!
Davison's Farm in Falmouth, NS  host's a Corn Maze every fall beginning in early September, and although I am not  a fan of being in a situation when I don't know where the exit is-I decided to try out.
View the video below to see if I did find the exit.
And then, you can check the accompanying list of corn mazes to try one for yourself near you! Always CALL before you go to ensure the property is open.
Central Nova Scotia Corn Mazes 
Fresh Family Fun Corn Maze & Fear Farm
RiverBreeze Farms
Admission to Corn Maze
Admission to Fear Farm
Find It: 660 Onslow Road, Truro, NS
Phone: (902) 895-6541
Annapolis Valley Corn Mazes
Noggins Corner Corn Maze 
Noggins Corner Farm Market
Admission
Wednesday – Friday: 10:00 am – 6:00 pm
Saturday -Sunday, Holiday Mondays (September 4th and October 9th): 10:00 am – 7:00 pm
Find It: 100089 Hwy #1
Greenwich,NS

Phone: (902)542-5515
Evans Family Corn Maze
Admission
Open Daily 10-7pm
Haunted Mazes-Oct 22 & 29,6pm
Trick or Treat Maze Oct 30 5-7pm
Find it: 13808 Hwy 1, Wilmot,NS
Phone: 902-825-3878
Willowbank Farm Corn Maze
Willowbank Farm
Admission
Open Daily
Find It: 110 Starr's Point Loop
( Exit 11 off 101 hwy )
Port Williams, NS
Phone: (902) 542-9153
Davison's Corn Maze
Davison's Farm
Admission
Open from noon -dusk Saturday & Sunday
Find It: 1119 Falmouth Dyke Road, Falmouth,NS
Phone: 902-798-0283
Cape Breton Corn Mazes
Hanks Farm Market Corn Maze
Hanks Farm Market
$4 pp
Find IT: 581 King Grove Rd
Sydney,NS

Phone:(902) 674-2646
Stay tuned for more frightful activities I'll blog about during the month of October.
Have your own gory favorites?? Comment with the informations below!