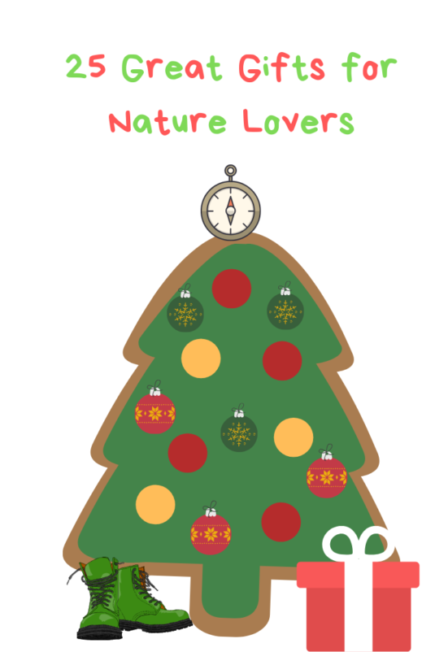 27 Great Gifts for Nature Lovers
I keep seeing all these enthusiastic Facebook posts counting down the days until Christmas. I sort of get it-I love Christmas too. It's all pine-y smell and Christmas music and choosing just the perfect gifts everyone. And,f you are like me, you put time and thought into getting the right gifts for the people you care about. So without further ado, here is a list of 27 great gifts for  nature lovers.
Please note: The below post contains some affiliate links. When you click on links to buy products, we may earn money to support our work.
 Stocking Stuffers and more-up to $25
1. Coyote Spray- We do have coyotes in Nova Scotia, although I have yet to see one on  a trail, thankfully.(I did see one in a field) Amazon calls it dog spray. Not sure why. I like this one  because it snaps on my backpack for easy retrieval.
Bear Bells. Really, I'm not trying to be an alarmist,I simply am helping you to help your loved ones be prepared. These bear bears won't break the budget at $5.97
Compass/whistle/waterproof match container -handy dandy stocking stuffer @under $2
Rips and tears-who cares? This repair tape holds your tent, sleeping bag or jacket together so you can stay outdoors! $10.11
Coyote Spray
Bear Bells
Compass/Whistle/Match Holder
Repair Tape
Personalized Emergency kit. Now, I know you can go into almost any store and grab a first aid kit-and they are available at any price point. But with this, you have the fun of filling it and can add items personalized to a particular interest-such as blister band-aids for hikers,  aspirin for the head ache prone, and a high SPF sunscreen for snow enthusiasts. $15 and up
Wigwam Men's Rebel Fusion Trekker Socks $16.90 
Camping Hammock. I have this-it's light weight, packs up small and is pretty comfy $19.99
Adjustable Campfire Roasting Sticks Every campfire needs a set $20.49
Peak Gear Water Bottle Belt– great for walking, running and hiking-and I love mine for cycling because it holds a water bottle, car keys, phone and cash. $21.07
Guide Books – For example, latest editions of Hiking Trails of Nova Scotia or Where to Bike in Nova Scotia. Yes, yes.I know you can get that stuff all online. I'm finding lots of folks enjoy perusing a hard copy. $25
Lifestraw Personal Water Filter. I learned how to use this system when I backpacked the Bluff Hiking Trail and it was simple to learn to use and took up little space. $26
Need something to put that lovely,fresh water in? How about this Klean Kanteen Classic Stainless Steel Water Bottle? $26.87
Waterproof Dry Bag- No one enjoys hauling on a damp sweater once the evening chill sets in over the water-or a mushy sandwich, either. This set includes a waist pack and a case to keep your precious phone dry (and photo ready)prices start at $26.99
Ice Cleats – Nature lovers in Nova Scotia do not stay indoors in winter. Well, many of us don't. Ok,  I go out once in a while. I don't always go out on icy conditions, but when I do, I prefer to stay upright. Ice cleats are a must when we have a icy winter like last year. From $32.99
Lifestraw
Klean Kanteen Water Bottle
Dry Bag
Walk Traction Ice Cleats
Hiking Poles- I have a set but I usually take just one-not looking to intensify my workout,(god, no) rather it helps with balance when climbing up,over and around things. These poles through Amazon are good for hiking, walking and trekking and come with different tips to keep you from falling on your arse in ice, snow or mud. $36
A dependable fire-starter can be a lifesaver.This one is highly rated and absolutely guaranteed $36
Black Diamond Spot Headlamp You can never be too careful when enjoy the great outdoors and that includes a reliable light source. Headlamps leave your hands free for other things such as lighting a fire or fending on critters. (I kid, but only partly) $39.97
Leatherman Squirt PS4 Keychain Multitool -Leatherman is a well respected name and this baby requires only one hand to operate! Great for fishermen, hikers,etc.,etc.,etc. Lightweight. $44.87 for the cool red one
Hiking Poles

Hiking PolesBlack Diamond Hea

Black Diamond headlamp

Leatherman Multitool
Tools to keep your bike on the road? Topeak Mini 20 Pro Mini Tool is 20 tools in one. $44.22
Keep your food out of bears' reach with this Selkirk Design Ultralight Food Bag Hanging System @ $49.99
Selkirk Bear Bag
Topeak Mini 20 Pro
Gifts for Nature Lovers That Are a Splurge, But Worth It
Sometimes, I wonder when the day will come that I can't carry my kayak from the truck bed to the water ( bitter tears) This gadget/kayak cart may just be the answer $79.95
 Platpus 2L GravityWorks Filter -$119
Sea to Summit X Set 32 Collapsible Pot Set– This is something I have never tried-never really knew existed. But I think it would be great for hiking and backpacking $166.95
Biolite  Camp stove– my friend toted one of these on our backpacking trip and it was the coolest gadget. It burns twigs or pellets, heats stuff up pretty fast and even charges your phone! $169.95
Mountain Hardwear StretchRain Pant rated 5 stars by Outdoor Gear Lab $199.99
This Panga 50 Dry pack will keep precious stuff like your expensive camera gear dry and is the ultimate waterproof dry bag-and it should be for the price.It's (gasp) $399.99
Satellite Communicator by Garmin Send/receive texts(satellite subscription required) , check the weather, or dispatch an SOS. It's pricey @ $449, but nice to have for the avid hiker, and backpacker.